Friday
Featured Stories
Among the Unique Treasures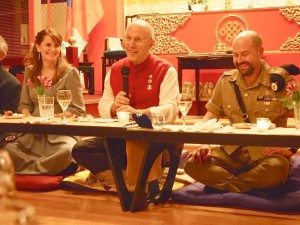 Among the unique treasures held by the Shambhala Mandala are the teachings on The Six Ways of Ruling. They were taught by Chogyam Trungpa Rinpoche to his senior students. With the publication of Ruling Your World, Sakyong Mipham Rinpoche opened them to the public. Now, Richard Reoch, the President of Shambhala, is offering our community multiple ways to connect with this. This week, he launches an online home study course, plus a package of recorded talks for evening and weekend classes at Shambhala Centers and, in addition, a set of guided contemplations – all accessible on his webpages in English, French, and Spanish.

He has recorded 35 talks, introductions and contemplations – in English and with French and Spanish translations (more are planned) – to create a rich learning mosaic for people throughout the mandala. Here he introduces the significance of this strand of societal wisdom from our lineage, available with English and Spanish captions:
The online package went live this week. Shambhala Times asked him about this remarkable development.

Why have you devoted yourself to teaching The Six Ways of Ruling?
Six years ago, the Sakyong asked me to prepare a set of contemplations, based on the teachings he and his father gave on The Six Ways of Ruling. This was his way of pointing to the deep significance of this wisdom, held solely by our lineage and mandala. It is heart advice for leading our lives and working with others in the dark age. The more I have dipped into the rich stream of this transmission, the more I have realized it is a rare – and little known – treasure of Shambhala. People are starting to wake up to this. I get many requests to offer programs. I am delighted that we are able to now offer these teachings and practices online simultaneously in English, French and Spanish, based on programs that took place last year in London, Paris and Barcelona.
What is the origin of The Six Ways of Ruling?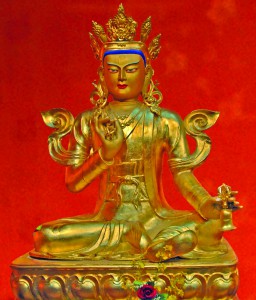 They are part of the stream of teachings on enlightened society that originated with the Buddha's transmission of the Kalachakra tantra to King Dawa Sangpo, the first sovereign of Shambhala. The Six Ways of Ruling were first presented in the West by the Druk Sakyong, Vidyadhara Chogyam Trungpa Rinpoche, in a Kalapa Assembly in 1978 and were held as secret teachings within our community until, in this century, the current Sakyong, Jamgon Mipham Rinpoche, published his commentary on them in Ruling Your World.
Are these teachings solely for Center Directors and other members of the government of Shambhala?
Oh no! Only recently when I was working with two experts in our community on distance learning, they said: "These teachings are so precious, everyone should have access to them!" And, indeed, they totally relate to how we can lead our own lives, understand the dynamics of the world in this age, and really help others – individually and collectively. When I was leading a course in Paris, one of the co-directors said to me: "The Sakyong has been teaching on basic goodness. That is the view. Now we are able to hear the teachings on The Six Ways of Ruling. That is the method."

How do these instructions relate to the creation of enlightened society?
They are instrumental to developing our understanding of the notion of enlightened society. They are directly related to the challenges of the times we are living in – driven by extreme greed and extreme aggression. How do we understand both the external and internal effects of that? How do we make sense of what we ourselves are going through, and what others are suffering? How do we work with our own confusion and frustration? How do we work with others who are also living through these difficult times? The Six Ways of Ruling provide incredibly helpful guidance as we reflect on these questions and ponder what it means to create enlightened society.
How has your experience as President of Shambhala influenced your presentation of The Six Ways of Ruling?
Actually, it's the other way round! My experience of The Six Ways of Ruling has really, and increasingly, influenced the way I try to fill the role of president. I try to help people see that in the talks I give. For example, I give lots of examples from my own experience of how The Six Ways of Ruling can help us answer emails, run a meeting, deal with conflict, bring out the wisdom in others, keep an open mind, handle irritation, frustration, impatience and despair.

You are offering to lead a programs anywhere?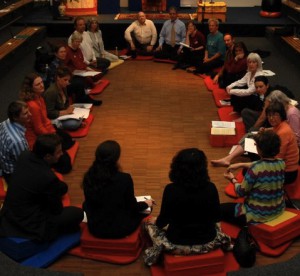 Yes. I'll be in San Antonio right after Shambhala Day, then Shambhala Mountain Center, then in Prague and Rotterdam later in the year. In fact there's a feature on the website where any center can make a request for a program. I am also asking the other senior leaders of the mandala who were involved in the Kalapa Governance Gatherings if they can lead these programs as well. But the whole point of the online package we are launching this week is to provide a full range of materials so that any center or group – or any individual – can access these teachings direct. I was just told we've had a request to start translating all this into Italian. So I hope the whole scene will completely open up in this way.

How did you make this happen?
A huge amount of work has gone into designing and delivering this multi-faceted and multilingual package. Some of the work has been done by volunteers: Hamish Maclaren, Peter Bancel, Catherine Eveillard, Rohini Schiff, Antonio Plana, Luz Rodriguez, Chris Calitz, Tony MacAdam, Sarah Farash and Brian McCorkle. Many others helped coordinate and staff the programs in London, Barcelona and Paris. Supplemental reading and study materials were provided by Acharya David Schneider, Shastri David Sable, and The Governance as Path Working Group. Pulling a huge project like this all together is one of the responsibilities of the central services of our mandala. This project involved the work of Anna Weinstein, Director of Centre and Group support, as well as Carolyn Mandelker, the Executive Director. The computer services were provided by Pawel Molenda, our international web programmer. So, it's team work – helped by The Six Ways of Ruling!

Here is the trailer for the Six Ways of Ruling series, English captions available:

The door is open! Click here to enter: The Six Ways of Ruling, in French, in Spanish
Post Tags:
From our President
,
International Programs
,
interview
,
online courses
,
President Reoch
,
Six Ways of Ruling