Monday
Featured Stories
Arrival of the Water Snake
Sssssliding into presence, slicing through confusion, sourcing wisdom, spreading steadiness, stabilizing fluidity, strengthening awareness, seeping elementally into being, the year of the water snake arrives.
More ssssimply put, the snake is a symbol of wisdom, steadiness and focus. Its form is fluid, elegant and elemental. This year it is enhanced by the element of water, which signifies awareness, flexibility, and the quiet strength that moves rocks. Just as water seeps through practically any barrier, so will the snake wield encompassing influence through its profound insight.

Different sources say different things about the meaning of the water snake. Some say that the water element has black as its color, winter as its season and north as its direction. Others say that this year provides a focus on transformation. Another points out that, "nothing is as it seems" because the water snake mesmerizes and hypnotizes the masses into believing that which is not really there. While yet others state that the year of the water snake paves the path for re-birth, new beginnings and transformation as she sheds her skin. Further, they encourage us saying that this is a time to "set your ship on course to manifest your wildest dreams."
President Richard Reoch shared his thoughts about the water snake year saying, "I painted a water snake and made a little film of that for Shambhala Day. It helped me feel the fluid energy of supple movement, artistry and the snake family's incredible power of intelligent alignment."
Shambhala Day marks the beginning of the New Year, and represents one of the most important traditions of Shambhala Buddhism. Based on the traditional Tibetan New Year's celebration of Losar, the day is calculated astrologically according to the Tibetan lunar calendar, and changes every year to coincide with the annual lunar cycles. In consultation with the Sakyong and Sakyong Wangmo, Wendy Friedman, Director of the Shambhala Office of Culture and Decorum, offers the following guidance for our upcoming Shambhala Day celebrations:
This is a wonderful time to spend together as we make a fresh start for the New Year. The Sakyong and Sakyong Wangmo have been placing much emphasis on the importance of gathering as a society, to enjoy each other's company, and to share our warrior cultural traditions of hosting, dining together and celebrating in an uplifted manner.
Predictions from Karme Choling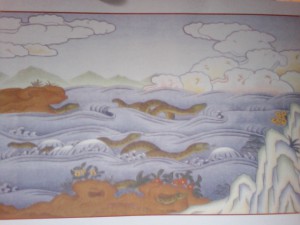 The Shambhala Times is currently housed on a small computer that usually resides at Karme Choling (more info about all that to come soon), so we took the opportunity to walk the halls and get reflections and predictions about this New Year from the community of Karme Choling.
"When I think of the water snake, I think of cool intensity," says Lauren Sanford.
Acharya Suzann Duquette shared that she thought of nagas saying, "They are very precious, realistic and practical."
Max Post's reflection was that this coming year was about conquering through water. "We're like water – we go through obstacles, but we keep rising. The sangha rises like water around obstacles. We dissolve barriers, and it starts first in our minds and then it goes on interpersonally. The snakes are nagas, from the lu. Just because lu is low people think it is not sacred, but obviously, we're human beings and without lu, we don't exist."
"I think of growing up in the South where we always had to think about cottonmouth snakes," Kim Robinson shared. "That's not the most positive thing, but that's where you tend to run into water snakes – in the swamps. I can just hear my mother's voice calling to me to watch out for the cottonmouths!"
Byron Wild shared that he thought of a river. "From above, a water snake looks like the aerial view of a river."
"I think of fear! I really do," says Douglas Stark. "When I was a kid there were water snakes slithering across the water."
Jonathan Myers shared that he is a snake. "This is my year!"
"I picture snakes skimming across the water, making tracks in the waves," shared Jesse Walter.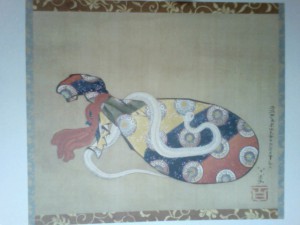 "My first thought is that it's water again," shared Albert Stephensen. "To me snakes are subtle, simple and gentle."
Scott Robbins shared that water makes him think of gentleness, flexibility and adaptivity. "Snake makes me think of something sinuous and also flexible. Looks like flexibility is doubled up this year!"
For Sara Kapp what comes to mind is richness.
"The first thing that comes to my mind," Shastri Bill Brauer shared, "is a memory of a small stream at my grandparent's farm where we used to fish with my cousins. We used to fish for blue gill and yellow pike and we would see snakes skimming on the water. It was all part of the enchantment of childhood." But he went on to say, "I'm certain it's going to be a good year! I think things are aligning. We're so inundated with warnings of how dire things are, but somehow I feel things are aligning for Water Snake to be a good year."
Caitlin Heinz said she has heard that the year of the water snake is supposed to be a fortunate year for relationships. "I have this image of the snake holding people together in a big hug."
Karme Choling's Executive Director Jane Arthur shared that she thought of the nagas. "I think of flexibility and a sense of easy movability, as well as a kind of nourishment."
What do you think?
Cheerful Shambhala Day from all of us at the Ssssssshambhala Times!
Post Tags:
Karme Choling
,
President Reoch
,
Sakyong Mipham
,
Shambhala Day
,
Water Snake