Tuesday
Sakyong and Family
Second Annual Leadership Tea at the Kalapa Court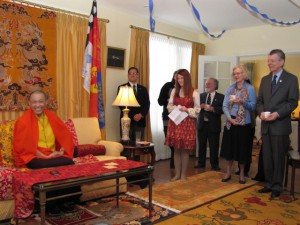 photos by Terry Rudderham
On Tuesday, February 12th, the Sakyong hosted the Second Annual Tea for Leaders at the Kalapa Court in Halifax. This event is particularly designed for new leaders or people taking on new leadership roles to make a pilgrimage to the Sakyong and Sakyong Wangmo's residence, to meet the Sakyong and to hear, in a more intimate setting, his vision for Shambhala.

As guests arrived, Mark Thorpe, Master of the Kalapa Court, and Richard Peisinger, Master of the Household for the Court in Halifax, guided them through a tour of the Court and its' lineage and personal treasures. Guests were then offered sweet tea, which is prepared according to the Sakyong Wangmo's recipe, along with scones and cucumber sandwiches. Social time was followed by a words from the Sakyong, President Reoch and Executive Director Mandelker. The Sakyong also showed prototypes for the 8″ Rigden rupa and the new Kalapa Court tea that will available in the future.
Then, Sangyum Wendy Friedman, Director of Culture and Decorum, acted as hostess and MC and introduced guests to the Sakyong so that each person could have some time with him. Guests included Ryan Kinghorn, the Rusung from Mississauga who flew in for the event, and members of the Kalapa Executive, such as Mary Whetsell, Director of Societal Health and WellBeing, who were in Halifax to celebrate Shambhala Day with the Sakyong and to have meetings with the Kalapa Council.
A delightful afternoon was enjoyed by all.
Click on photos to view as a slideshow.

Post Tags:
Kalapa Court
,
leadership
,
Sakyong Mipham
,
Shambhala Day
,
tea