Wednesday
Scene and Heard
A Shambhala Day Ball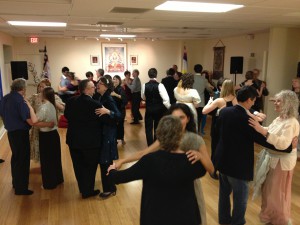 The Northern California Shambhala regional leadership invited everyone to attend this year's Shambhala Ball at Sharchen Dzong, in San Francisco. Story and photos follow.
Submitted by Kathryn Rile
We had a rich day of celebration! This uplifted affair was held for the whole region and included a ceremony for our regional Shastris and Acharyas, live music, dancing and good food.
There was an appreciation ceremony for the Shastris lead by visiting Acharya Judith Simmer-Brown. Charlene Leung is our senior Shastri, Sandra Ladley, Amy Conway and Manuel Medieros are our new Shastris. Manny and Sandra took their retirement oaths – his from Chairman of the Northern California Shambhala Board, and Sandra from P&E for Berkeley Shambhala Center. They were given the surprise request of creating a spontaneous doha, which is on the clipboard in Director Cody McGough handwriting.
Following this, we were serenaded by a string quartet, the same one that will be performing for the Sakyong at the Creating Enlightened Society event in May.
Members of the San Francisco dance community come in to teach waltz lessons to everyone. They were dressed in Victorian and Regency attire, and taught Victorian waltz and a lively polka, which we then got to enjoy on the dance floor. The participants enjoyed beautifully catered food and many friends and community members came from all over the region.
The Shambhala Ball is a tradition started by Chogyam Trungpa Rinpoche as a way to celebrate the New Year together with style, dignity, and cheer.
Post Tags:
San Francisco
,
Shambhala Ball
,
Shambhala Day