Wednesday
Community Articles
Beyond a Broken Window
COLUMN: In Everyday Life
In which we visit with Shambhala practitioners from all walks of life to hear stories about their life, livelihood and how their meditation practice permeates their everyday experience.

The Shambhala Times was delighted to interview Deborah Bright recently through skype. Deborah is both a Shambhalian and the Mayor of Drumright, a town of 3,000 in the Northeast quadrant of Oklahoma. We caught her at home. Deborah is a good looking woman, with blonde shoulder-length hair, wearing a dark dress and pearls, with a touch of Oklahoma in her voice. She shared with us her experience of bringing a non-partisan view based on basic goodness to her experience as Mayor of a small town.

article guest edited by Candlin Dobbs
Deborah is the first Buddhist mayor in Oklahoma, a state that ranks 47th nationally in the number of women in political office. (No data is available on the number of Buddhists in political office, however.) Being Mayor is a volunteer position. Deborah's day job is in Tulsa – she is a Program Manager for a Foundation that funds art projects in high poverty schools and sponsors a music conservatory. Deborah started by telling us a little about her town, saying, "Drumright has super high poverty. And yet people have great pride in their community and they have a lot of passion about issues that affect their daily lives."
Six years ago she agreed to run for the city council, explaining that, "People were begging me to run…it went on for weeks. One night, here at our house, at a dinner party, I had had several glasses of wine and finally blurted out: I'll do it!" She says she had no idea what that would mean. At that time, the city was coming out of a period of great challenge in city management and working to regain financial stability.
Since then Deborah's been re-elected twice to the City Council. The last time, she says that, "I only won by 7 votes. It was 207 – 200. It was my fellow commissioners that elected me to be the mayor." This all goes towards saying that, "Everyone needs to recognize that not only do you represent the people that voted for you but also the people that didn't vote for you."
In Drumright, day-to-day operating decisions are made by the City Manager. The Mayor and City Council set town priorities and budgets. "Part of my role," says Deborah, "is to shape the agenda. Not just the meeting agenda but what are our priorities for the limited resources we have?"
Deborah lived in Drumright as a child, and went to high school there. "At that time," she says, "the population was five to six thousand people; the economy was booming and we had a large retail area." Several oil companies had made their home in Drumright. There was a large tax base and, she says, "we were able to have wonderful streets. With the booming economy, we built an elaborate water system and a developed a huge gas infrastructure project."
Now, Drumright has half the population that it had in the 60's and it is dealing with abandoned buildings, crumbling infrastructure and declining revenues.
"The Broken Window Theory is my guiding principle for trying to make something long lasting happen in this town," Deborah shares. (Click here for a link to an article in the Atlantic Monthly on the Broken Window Theory.) The theory says that, "In any neighborhood, if a window gets broken then it's not long before all windows are broken… The environment is stimulating negativity, so to speak." Yet, Deborah points out, "You don't have to fix the streets and make everybody clean their stuff up. You don't have to become punitive, you just have to fix that first broken window."
In response to this, Deborah started a program of yearly abatement. This means that every year they put money in the budget to tear down the worst of the worst and, as Deborah says, "We make a nice lot, a nice empty lot. By uplifting the simple things we can, we change the whole environment and culture."
This past summer, Drumright had quite a scare. "We came within one wind-shift of having a good part of the town burn down in August," Deborah shared. "In all, we had 68,000 acres burn in our county." Many regional groups worked with the communities in the aftermath of the fire, including the Southern Baptist Relief Organization, the Red Cross, and FEMA. There was one small group that came up from East Texas that taught Deborah something she particularly wanted to share.
"One afternoon, I stopped at the Olive Baptist Church because I wanted to meet the crew leader, named Jesse, and to tell him thank you so much for coming. I walked in to the church, with my niece Taylor by my side. She had been the registrar at Shambhala Mountain Center and was one of those that had been evacuated in the High Park Fire. She came here and had to get evacuated again!"
Deborah continued saying, "We walked in and went up to a table of elderly women. I said, 'Hi, I'm Deborah – I'm the Mayor over in Drumright, and I just wanted to come and check on y'all and see how everybody's doing, and meet the fire crew.' And these ladies turned around and they looked at me and they looked at Taylor – she's 21 – and they said to Taylor, 'Oh, Honey, you are going to want to meet this crew – for sure!' So we started laughing and the ladies told us that the crew were all first-responder trained paramedics. It turned out they were all super cute, young and physically fit and, as the ladies said, 'anytime anyone opens a bible they sing like angels.'"
Deborah and Taylor met Jesse and his crew, and found they were all the ladies had said – just darling, and they were covered in soot from the top of their heads to the bottom of their feet. They had been out since 6:30 that morning digging through ashes, helping people recover anything they could, and hauling off the debris.
"Now that is service," Deborah enthusiastically exclaimed. "That is giving, it is generosity – it is all the things the Sakyong talks about. It is doing something for others – it's ruling your world." It didn't matter that Deborah knew Jesse and his crew came from an organization in Texas known to be on the extreme edge of the right wing. "I realized that standing right there I was seeing basic goodness in the flesh. I knew I was seeing that everyone has basic goodness."
This is a message that comes home to her again and again. "I have people that I work with and that I respect," she shares, "that are completely on the opposite end of where I stand in National politics, but in local politics I often find myself on the same side. I try to gather information about every issue from people on both sides. Then there's no point at all in taking a side. I think many people feel powerless to make change in the national situation or global situation, but at the local level you can feel empowered." Ultimately, she says, "There is no side,
and
we're all on the same side."
What we see in politics these days, Deborah explains, is that everyone wants to take a side. Once that happens, you can no longer hear objectively what anyone has to say. But the truth of the matter is that there's wisdom coming from the full circle. "Wisdom arises from all the directions, not just the direction that you lean towards more heavily," she says.
In a position of leadership, like being a Mayor, Deborah says it's crucial to cultivate equanimity. "In Shambhala it's not like you 'learn', it's like you get processed and then different qualities become more accessible to you. I draw heavily from a sense of equanimity," and, she says, "sometimes it takes an effort to hear everything. But it's absolutely imperative that you are able to." Practice, she points out, makes it possible to "hear from all the directions."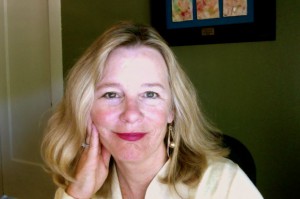 ~~
Deborah Bright was born in Texas and attended high school and college in Oklahoma where she currently lives with her husband Ben Pressman in Drumright. In February 1995 she moved from Austin, Texas to Shambhala Mountain Center where she lived until October of 2003, serving in various positions and finally as Associate Director. She currently works as the Program Manager for the Barthelmes Foundation in Tulsa, Oklahoma, a grant-making organization that supports a local music conservatory as well as Project CREATES, an art support program for children in high poverty elementary schools in the area. She and Ben are currently teaching a class in Tulsa on "Turning the Mind into an Ally" to a large group of new meditators. They are hopeful that Shambhala Training might happen there in the fall.
Deborah just finished signing the papers for a $6.9 million dollar waste water treatment plant. They were given a grant from the Water Resource Board for $2.6 million and are borrowing the rest at 3.38% interest. This is ironic because her husband, Ben, built the "constructed wetlands" wastewater treatment plant at Shambhala Mountain Center as well as the existing system. "I feel proud that my name will go on a plaque at the new facility that will serve our town for at least the next 50-75 years," shared Deborah.
Post Tags:
government
,
In Everyday Life
,
interview