Sunday
Featured Stories
Buddhists Converse in Montpelier, VT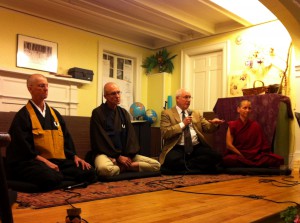 article by Gayle Hanson
reprinted with permission from the Barre-Montpelier Times Argus
photos by Anne-Marie Keppel
It's a given that everybody wants to be happy, but at the end of a long Vermont February it's sometimes hard to find the silver lining in the endless clouds. That said, several hundred Central Vermonters packed the vestry of Montpelier's Unitarian Universalist Church Thursday hoping to find the answer to the ongoing search for satisfaction in our challenging and chaotic world from some of the regions' most respected Buddhist teachers.

In a move that might have been considered a bait and switch for those hoping for a laundry list of tricks to making life more joyful, panel moderator, former Vermont Life editor, and Zen practitioner, Tom Slayton started out the evening by recognizing the elephant in the room. "The Buddha's first teaching was that life is suffering. How does happiness fit into that?" The good news, according to the four individuals seated around the floor, is there is a path to happiness. The complicating factor is that it starts with a recognition and exploration of our own suffering. In other words you can't have the silver lining without that big gray cloud. And we need to get really familiar with that cloud.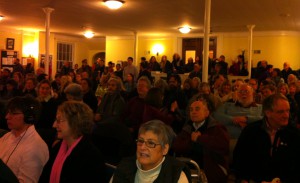 "I think there is a basic happiness we aren't giving attention to," said Rev. Taihaku Priest, the resident teacher at East Calais' Shao Shan Zen center. "Our suffering is obstructing that."
Instead of turning away from the things that make us unhappy, whether it is the state of our woodpile, or a life-altering illness, if we can let go of our desire to have the world turn according to our plans we can access a genuine happiness, or contentment, not based on circumstances. How we get there is by intensively exploring the nature of our own mind and we do that by developing a meditation practice.
"Spiritual practice is about being comfortable with the uncomfortable," said the Venerable Amy Miller, an ordained Tibetan Buddhist nun, and head of the Milarepa Center in Barnet, VT. "Not trying to escape from our reality…not trying to put a bandaid on a hemorrhage. We need to understand that happiness is not the absence of suffering. What we are seeking is known as calm abiding."
"We need to cultivate being in the now," said Shastri Bill Brauer, a senior teacher in the Shambhala Buddhist tradition. "Having been born human in our profound nature we are fundamentally good. We can be playful and engaging, and we have the capacity to fully belong to a community of people who will take care of each other."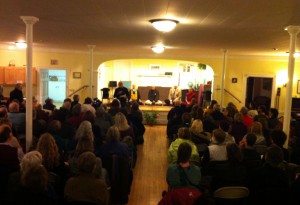 That such a conversation can pack a church vestry to the rafters on a Thursday night in the
smallest state capitol in the country can be directly linked to the, now deceased, charismatic and controversial Tibetan Buddhist meditation master Chogyam Trungpa who planted the seed for an American Buddhist movement in the wilds of the Northeast Kingdom town of Barnet. Today, more than forty years after he founded Tail of the Tiger, now Karme Choling, Buddhism has entered the nation's mainstream and Vermont has become a national center for Buddhist practice and study with retreat centers, and meditation groups drawing teachers and students from around the world.
This growth in Buddhist study in the west is vastly transforming the 2500 year old religion, as the practice and study of meditation was widely limited to monastic situations in the East. Here it is understood that a key to understanding Buddhism is the willingness to engage in meditation practice. And it is in meditation practice that the various flavors of the different Buddhist lineages can emerge.
Speaking from a Zen Buddhist perspective Konrad Ryushin Marchaj, abbot of the Zen Mountain Monastery in Rochester, NY, talked about simply relying on awareness of our own breath as a basic practice. Sit up straight and relaxed, breathe, and let go of the thoughts that arise in between breaths. As we deepen our practice, our understanding of the nature of our world shifts. When we look, said Marchaj, those thoughts become more transparent and less solid.
Miller, who studies and practices in the lineage held by the Dalai Lama, spoke about the need to intensely examine our thoughts during another variety of meditation. But whether you're watching your out-breath, or examining the depth of your neuroses, meditation is the key.
This spring Vermonters will have an opportunity to study meditation with one of the country's best loved Buddhist teachers, the American Buddhist nun Ani Pema Chodron. Chodron, who will teach at Pema Osel Do Ngak Choling, is a student of Dzigar Kongtrul Rinpoche, one of the most popular in the second wave of Tibetan Buddhist teachers in the west. The program, a benefit for the construction of a Buddhist temple in Crestone, Colorado, will likely sell out within hours after the tickets go on sale March 10th at 7 a.m.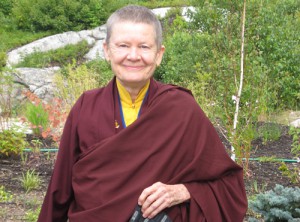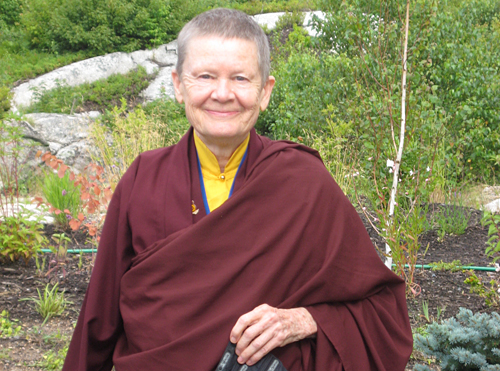 "Pema really draws people to her," said Joey Waxman, a teacher at the small and elegant center that sits on side a hill amidst gardens. "She really sees the basic goodness in people. She is a very reassuring presence. The last time she taught you had to be sitting by the phone when the tickets went on sale, and I have no reason to think it won't be the same this time."
For those curious about learning to meditate and are unable to attend Pema Chodron's program, there are myriad opportunities to receive basic meditation instruction in and around Central Vermont, and all of the teachers concurred that anyone interested should do some individual exploration to find the best fit for them. It is important, said Miller, that we remember that there is a reason that it is called meditation practice. Like learning to play an instrument, "practice makers perfect."
"There's just something in the air right now," said Brauer who was a long-time student of Trungpa speaking about the rise in interest in Buddhism and meditation. "Everywhere I give a public talk I'm seeing more students. Other teachers are all saying the same thing."
As for enlightenment, none of those speaking claimed any realization for themselves. When asked by an audience member whether or not meditation practice got deeper with more and more levels as one studied, Marchaj, looked straight at the audience and concluded, "never more than right now."
~~
This article is reprinted with permission from the Barre-Montpelier Times Argus.
The photo of the panelists at the top of the article, from right to left:
Venerable Amy Miller
Milarepa Center
Shastri Bill Brauer
Karme Choling
Konrad Ryushin Marchaj
Sensei
Zen Mountain Monastery
Reverend
Taihaku Gretchen Priest
Shao Shan Temple
Post Tags:
buddhism
,
Karme Choling
,
Outreach
,
Vermont