Tuesday
Mandala Projects
Daring to Lead, Authentically
by Jayne Sutton
Shambhala Times Correspondent
In the late 1990s, Susan Szpakowski was working as a curriculum writer for the Nova Scotia education system. She and other like-minded students of Chogyam Trungpa Rinpoche began exploring a question that will sound very familiar to Shambhalians in 2013: What does it mean to create enlightened society — how do you do it, and what does it look like?
Clearly the Shambhala view points us in this direction; we understand that any genuine and worthwhile change on any level must begin with individual exploration of, and confidence in, one's innate awakened nature — basic goodness. We see the transformative power of this path in our relationships, home life, and workplace interactions, but how does this relatively small-scale magic make the jump into the complexities of entrenched social patterns, workplace dysfunction, and well-meaning but outmoded systems of management and governance?
This group of Shambhalians, intrigued by the possibilities of intersection between Great Eastern Sun vision and emerging schools of thought about organizational and social change, created a connection with some of these thought leaders to explore how they might work together to create an entirely new kind of leadership training. This connection came to fruition in June 2001 in the form of a weeklong Shambhala Institute for Authentic Leadership.
This first gathering attracted about 300 participants from around the world — many with no prior connection to or experience with Shambhala or Buddhism — for the opportunity to work closely with such pioneers as Meg Wheatley and Peter Senge in a format that incorporated groundbreaking theory and practice, along with meditation, contemplative art, and community. Since then, the program has continued annually in Nova Scotia, and has evolved into the ALIA (Authentic Leadership in Action) Institute, under the leadership of Executive Director Susan Szpakowski. A European program was launched in 2010, and the Institute continues to expand in a multi-faceted network of collaboration that has given rise to regional programs as well as rural community partnerships in Nova Scotia.
Thus, in keeping with the vision of the Dorje Dradul and Sakyong Mipham Rinpoche, the evolution of the Institute has turned the flower of Shambhala outward — forging connections and partnership with organizations like the Berkana Institute and Society for Organizational Learning, and generating new collaborations such as the Art of Hosting, Presencing Institute, Reos Partners, and Human Systems Dynamics.
"The Institute is too porous and too alive to ever be completely pinned down. It is defined by the nature of its roots, rather than the shape and colour of its branches and leaves. Those roots are both ancient and current, as they tap into the wellspring of universal human goodness and aspiration."
— Susan Szpakowski, in ALIA Institute's Little Book of Practice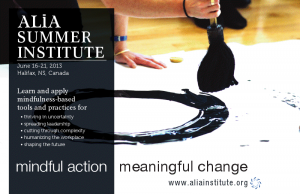 The ALIA model combines ageless wisdom tradition with leading-edge theory and tools, infused with the experience of building culture. Artist Barbara Bash, a member of the Institute team since its inception, wrote from Holland on the eve of the 2013 ALIA Europe gathering, "ALIA is a form of lively and deep social nourishment! Through interweaving Shambhala meditation, creative process and organizational thinking, the joining becomes stronger and more resilient than the parts. This is Shambhala vision facing out and inviting the world."
In practice, participants work and live three intertwined streams:

Foundation — through mindfulness meditation, creative process, and contemplative arts, they develop awareness, resilience, and the capacity for being authentically present.
Skill-Building — through experiential learning and exploring applications, they gain a working knowledge of new tools and methodologies. (Participants choose from a variety of specialized 15-hour small-group tracks.)
Community — through the container of the program itself, they participate in a culture of learning and teaching that encompasses reflection, expression, communication, art, and play.
It is this unique blending of work on many different levels that sets the ALIA approach apart from other forms of training. The Institute's Little Book of Practice puts it this way, "…practicing authentic leadership is key to bringing new ideas and more authentic, flexible, and emergent ways of organizing into the world. It is something we do, as opposed to something we merely believe in or think about. Otherwise we are left with some good ideas layered on top of the same old ways of doing things, with no real change." In today's environments of tumultuous change, packaged and programmed responses fall apart; leaders must develop insight and resilience at a profound personal level in order to empower those around them to come together to find solutions and new ways forward.
Leaders of all stripes — business, government, NGO, public service, finance, law — from all around the world are drawn to ALIA because they see that around them the traditional models are not serving the needs of either their organizations or the human beings they comprise. There is a certain cadre of individuals who sense there might be a way for organizations to be more sustainable — that there may be a way of organizing that is more sane and more humane, and that it might be time to look at all endeavors more critically, and not just in terms of some predetermined, externally established set of goals. Barbara Bash describes this atmosphere of inquiry and bigger questions: "At ALIA we share our stories and see the common themes. The experience is refreshing and provoking, and has a haunting quality…What are we in service of?"
Actress Lanny Harrison, also an original member of the ALIA team, notes that she observes in Institute participants an openness to working with organizational theories, models, and tools within a container of contemplative practice. "People get tired of the speed and the greed," she says. And she remarks about the community of leaders she has worked with over the past dozen years, "They have a kind of daring quality."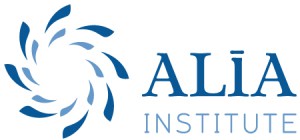 Daring individuals from around the globe will be traveling to Halifax for the 2013 ALIA Summer Institute, to be held June 16–21. Skill-building tracks will include
* Action Inquiry
* Courage to Lead
* Cutting Through Complexity
* Presencing
* Adaptive Action
* Designing Strategic Change from the Inside Out
* Laboratories for Social Change
To learn more, visit aliainstitute.org.

Post Tags:
ALIA Institute
,
Authentic Leadership
,
leadership