Monday
Featured Stories
Shambhala Times' New Acquisition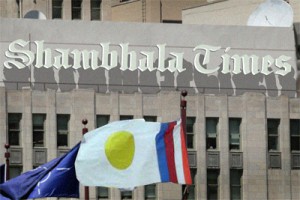 by Ernst Dumfredder
Shambhala Times Regional Correspondant
Shambhala Times Chief Editor Sarah Lipton reclines in her post World War II-era, Austrian leather-backed chair, behind her century old white oak slab desk. The light falling through the floor length, leaded windows of her luxuriant corner office here in the new Shambhala Times Building is a golden hue; it's the sunset hour. She's working late, again. "But I don't mind it so much," she notes, "since it's here." Setting down her martini glass, Lipton sweeps her hand, indicating the plush office she now inhabits. "I used to manage the Times in whatever space I could find—coffee shops, living rooms, my bedroom. I worked in an unheated toolshed for two weeks, once. In February." She shudders, her gaze growing distant. "I hated that toolshed," she mumbles.

The new Shambhala Times Building is a far cry from a toolshed. Six-stories tall, it's an art deco masterpiece, a concrete and steel triumph from the midpoint of the last century. "We're pretty proud of it," Lipton acknowledges, leading a tour down a darkened marble hall. She hands me a headlamp. "We're still working out some kinks, though." Further on in the darkness, she opens a door and we enter a dazzling, spacious room wherein a half dozen people are clattering away at laptops. Corinthian columns punctuate the uncubicled space, a wall of glass looks out over the bustling avenue below. In the center of the room, amidst the rolltop desks and swivel backed chairs, an ivory, winged figure soars up out of a massive white, marble shell. "That's a fountain," Lipton indicates. While we're admiring the nineteenth century piece a young scribe approaches. "We're out of toilet paper, again," he announces.
Lipton rolls her eyes.
"Well, did you talk to the copyeditors?"
"No."
"Talk to the copyeditors. That's their department. And for goodness sake, get the lights going in this hall." She calls over to another young man who is banging away on a classic, Drummond extended-key typewriter. "Frank, come on," Lipton says. "You can't post on-line with a typewriter."
"But I love it, boss," the man says.

Lipton sighs.
"There are drawbacks to inheriting an intact 1940's-era publishing shrine," she notes, leading us back out into the darkened hall. The building itself was bequeathed to Shambhala by a wealthy heiress whose family publishing empire went belly-up fifty years ago. "She paid to keep the place maintained just as her father had kept it. She was a news junkie, apparently, and read everything out there. We got this when she died because, as she said, 'we're the most cheerful voice in current events.' What a gift!"
We turn a corner in the hall and come to the center of the building, where a skylight high above streams light all the way down to the ground floor. The walls are worked with raised figures in tin depicting major news events in human history. There's the moon landing, there's the invention of the printing press, there's the Buddha beneath the Bodhi tree. While I admire the art, Lipton pulls an industrial floor buffer out of a darkened closet and begins to buff the floor as we move along. She handles the machine like a seasoned pro. "Thing is, there's a bit more overhead than we counted on—but doing this kind of stuff is a great way to connect with the building, you know?!" she calls out, over the din of the roaring buffer. "Makes it feel like home!"
Down on the marketing floor we find half the staff hanging out windows, washing the panes of the impressive glass fronting the building. The other half is belaying them, holding the ropes inside the office.
"Good work, guys, good work. Oh, have we sold the advertising for the June edition?"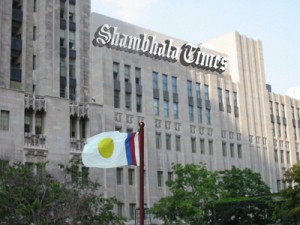 "We got some good leads, Mrs. L." one brave young climber calls out, feet planted on either side of the window frame, a squeegee in hand, leaning back over three stories of space. "I'm hoping that by the time we get up to the fourth floor, we'll have that new contract with the Nova Scotia Tourism Board done and sealed!" The young woman's cell phone rings and she deftly holsters the squeegee on her belt, pulling her phone out her sleeve. Lipton scribbles a note, slips it into a plastic cylinder, and slides it into the pneumatic tube on the wall. It zips along, out of sight.
"Where does that go?"
"Not sure," she says, watching the tube disappear. "But I keep writing messages. One day we're going to figure that one out."
We descend one more floor, using the stairs (no one's mastered the depression-era elevator, and everyone's scared to use it since an editor got caught between three and four and had to climb the lift cables to escape). When we open the door, I'm shocked to find myself awash in disco ball refracted light, dazzled by a pulsing strobe, and listening to dubstep. My eyes adjust, and I find myself staring at a swarm of rollerskaters circumambulating a wide-open space.
"This was the cafeteria," Lipton shouts out over the bone-rattling base. "We lease it out for roller skating parties. A nice extra revenue stream, and a real lungta raiser!"
A man skates up as we're standing at the door and hands the Editor-in-Chief a pair of sparkling gold Rollerblades. Lipton laces up. "Dive in, if you like!" she invites me, but I hang back, instead, to watch her enter the stream of skaters. She moves with the grace and ease of one finally at home, at last, and disappears far off in the cavernous space while above the Times hums on.
~~
Click here to donate for the upkeep of the new Shambhala Times Building.
Click here for more recent Shambhala News.

Click here to see previous posts in the Shambhala Time Out series…gotcha!
Post Tags:
April Fools
,
Shambhala Timeout