Wednesday
Shambhala News Service
Practice for Victims of Oklahoma Tornado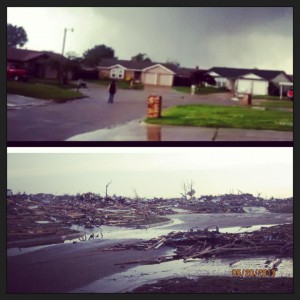 Our hearts are with the victims of the tornado which struck Moore, a suburb of Oklahoma City yesterday. (May 20, 2013). Winds of 200 mph destroyed large parts of the city, destroying entire neighborhoods and killing at least 24 people. The Sakyong has advised us that in cases of such tragedy, we can individually dedicate our practice to the victims and everyone who was affected. Centers and groups who wish to practice for the victims can also include tonglen, and the heart sutra, reciting the mantra 108 times.
"Many Shambhalians know Ms. Deborah Bright, the mayor of Drumright Oklahoma. Her messages, posted on Facebook, provide a heart-window into the personal tragedy that people are experiencing and the local efforts being made. I urge everyone to hold the entire situation in your heart and practice," says Shambhala President Richard Reoch.
Deborah's Facebook page describes some of the best ways to contribute to the relief effort, please click here to view.
For an article that Deborah recently wrote about Shambhala vision and politics in her capacity as mayor, please visit Shambhalanews.com
Post Tags:
Oklahoma
,
Shambhala News Service
,
tornado
,
tragedy