Saturday
Featured Stories
Invitation to Co-Creation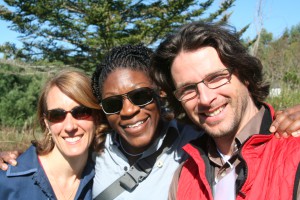 Report on Three Pillars Leadership Gathering at Karme Choling
by Dan Glenn
Executive Director, Shambhala Center of Boston
photos by Rick Fiske
Shambhala Times photographer
Over 200 leaders from the Shambhala community gathered this past week at Karme Choling for the Three Pillars Leadership Gathering with Sakyong Mipham Rinpoche. The event was facilitated by the core leadership team of President Richard Reoch, Kalapa Acharya Adam Lobel, Executive Director Carolyn Mandelker, Chagdzo Kyi Khyap Connie Brock, Kalapa Envoy for Enrichment Robert Reichner, and Director of Center and Group Support Anna Weinstein.

The four-day program was highlighted by three addresses given by the Sakyong, in which he continued to elaborate on and further unpack his vision for Shambhala Centers around the world. He emphasized food, conversation and meditation, which he correlated with body, speech and mind, respectively, as three key components that are essential for moving forward in the continuing evolution of Shambhala Centers. Additionally, the Sakyong outlined that the next step in this evolution will be centers manifesting increasingly as cultural centers, which includes but is not strictly limited to being places where people can come to learn meditation. He drew from the Latin root of the word culture, and said that Shambhala Centers can be "a place where the cultivation of human qualities can flourish."
The gathering began on Wednesday evening with opening remarks by Executive Director Mandelker. Ms. Mandelker spoke about the immense change happening at almost every level within the community and how this can often be quite challenging and uncomfortable. She asked the assembly to contemplate what it means to be a leader at this particular time in Shambhala, which the Sakyong has repeatedly referred to as a time of historic transition.
The participants also created a geographical map within the Pavilion at Karme Choling by standing with others in their city or region. While there was a strong contingent from the Northeast region, including over twenty people from Boston as well as a similar number from Vermont's Northeast Kingdom, there were leaders that had come from as far away as South Africa, Belgium, and the Western and Southeastern United States.
On the morning of the first full day, the program officially began with a lhasang ceremony on the front lawn, followed by a guided meditation by Acharya Lobel. The members of the assembly then renewed their Shambhala Vow and Enlightened Society Vow, and contemplated and discussed a section of the Treatise on Enlightened Society.
Click on first image to view all as a slide show.

In the afternoon, President Reoch presented an overview of "where we're going" as a community and spoke about the way in which the Sakyong often "gestures" in the direction of the metaphorical horizon, which he called an "invitation to co-creation" for the leadership and the community. Following President Reoch's talk, the participants engaged in a dialogue exercise that is part of the "Preparing for The Shambhala Principle" event that many centers will be holding in the near future. The dialogue included an exploration of our own personal experience of basic goodness in difficult, or even catastrophic, events in the world and in our lives. People spoke openly about the challenges in that, the doubts and questions that arise, and the beauty that can be discovered within darkness. The day concluded with a panel discussion with four participants about how they personally bring or see the principle of basic goodness in their professional lives.
On Friday morning, Ms. Mandelker introduced the notion of our Shambhala Centers as villages, and discussed the shift in model from being primarily a "school" to being a "village that includes a school." The assembly broke into smaller groups and did an exercise in physically enacting this transition as a group, which brought much laughter and delight.
Friday afternoon focused on "the villages within the mandala" and included Mr. Reichner offering reflections on our relationship with wealth as a community and Shambhala's finances as "basically good." Mr. Reichner has prepared a report on wealth around the mandala which outlines a proposal for strengthening our resources, which will be shared with the community soon. Ms. Mandelker then introduced the "Unified Giving Model Project," which will be underway throughout the summer. The project involves five teams looking at different aspects of the view of Shambhala as an integrated mandala and how our funding model can express that relationship. This includes explorations of how this view can be reflected in the way we welcome people into our centers, the way we think about and talk about membership, and how our finances flow.
The Sakyong's Saturday and Sunday morning talks were the highlight for many. In addition to his presentation on Shambhala Centers, the Sakyong also spoke about his experience meeting the members of the Ceasefire organization during the "Imagining Peace" event in Chicago. He also taught on "confidence-based leadership," saying that basic goodness could be likened to "basic confidence." He said that contrary to how it is often thought of in Western culture, confidence is "not bravado, but immense, deep relaxation and trust in our mind."
The weekend also featured a talk by Karme Choling's Executive Director Jane Arthur, who will be retiring this fall after seven years of service as the Director. Ms. Arthur offered a heartfelt, personal reflection of her experience of leadership and how she has grown and changed over the course of her tenure.
The gathering had a feeling-tone of incredible inclusivity, and the leadership team very much embodied the Sakyong's teachings on leadership. They manifested with a gentle confidence that was rooted in palpable vulnerability and tenderness. Although this was often expressed through each person's way of being and speaking, a concrete example that was set after each presentation or talk, was the presenter sharing the process decisions that she or he made in choosing how to approach the session. Since many of the people assembled would return home to their centers to find themselves in similar leadership positions working with others, this was a very helpful approach and created a feeling of transparency and mentoring.
The program concluded on Sunday evening with a Shambhala Sadhana feast with the Sakyong, followed by a rousing late-night group cleanup session. Magic and blessings were in the air, and the leaders assembled left with a great deal of inspiration and forward movement to bring back to their home centers.
"I definitely feel more clear about what our vision is," said Caitlin Cianflone, Shambhala Boston's Program Manager and Head of Finance. "It feels more inclusive than ever. The whole approach of personal, cultural, and societal transformation will allow for more and more people coming from various backgrounds and experiences to be affected by Shambhala."
There will be two more Three Pillars Leadership Gatherings held this year: in June at Shambhala Mountain Center and in September in Cologne, Germany.
Post Tags:
Kalapa Governance Gathering
,
Karme Choling
,
leadership
,
Sakyong Mipham
,
Three Pillars