Sunday
Community Articles
Ordinary and Extra-ordinary Magic
Meeting Gesar at Casa Werma
by Gabriela Cordova
In the spring of 2008, a group of friends from the Mexican sangha from Shambhalacalli went to Dechen Choling, France, to the Gesar Festival and to Rigden Abhisheka. We were very excited about our brand new practice.
That next fall, we went to a Werma retreat lead by Acharya Allyn Lyon, the first public program at the brand new Casa Werma. This awesome property in Patzcuaro, Mexico, owes its name to the fact that in 1980, during a retreat/vacation here, Chogyam Trungpa Rinpoche received the Werma Sadhana and wrote it down.
I had never been to Casa Werma and, to tell you the truth, I had never felt a real heart connection with Chogyam Trungpa Rinpoche. He was more an intellectual teacher for me. My heart was with his son, Sakyong Mipham Rinpoche. So I was not prepared to have such a profound experience of "meeting" the Vidyadhara, feeling his presence and, in a very joyful way, his sense of humor. It felt as if a gentle and wise trickster was around me, pointing out important things with humor and wittiness. It was pure ordinary magic that felt extra-ordinary.

In the middle of our program, the most astonishing event happened. My sangha friend Rebeca and I were strolling around Patzcuaro after lunch. Next to the Surtidora restaurant, there was a huge gateway open and the patio inside looked so beautiful that we went in.
At that moment a middle age women told us that it was private property, that we couldn't visit it. I apologized, telling her that it was a temptation for us to come in because it was such a gorgeous colonial residence. Behind her was another woman, the owner. She was a very old and gentle lady who told us that a member of her family, a cousin, owned another house much more beautiful than hers and that it was just there, crossing the Plaza Grande. She told us "my last name is Diaz but the actual owners of that house are the Guesar Diaz family."
Imagine our surprise! "Guesar" in Spanish is pronounced Gesar and "Diaz" is an old spelling of dias (days), so "the days of Gesar family"! Incredulous, I asked her to repeat the name and it was "Gesar" Diaz!
She told us to go and visit it. She instructed us to tell the people in the house that it was herself that was sending us. Of course we obeyed even if we were going to be late for the afternoon Werma practice. How many times in your life are you invited to visit Gesar's house?
The moment we entered the house, we were overwhelmed by its beauty and elegance. It was a 16th century palace. The owner's widow, another very old lady, was home so she introduced herself. "Mucho gusto. Soy la viuda de Gesar." That translates: "Nice to meet you. I am Gesar's widow"! She told us that the palace had been in her late husband's family for centuries. We visited the patio and then she asked us if we wanted to see the most important element of the house. It was in the first floor terrace that overlooked the patio.
We went up the stairs, really majestic, and then we saw it, the "most important element" – a huge wooden column, 3 or 4 meters high. The column was a 16th century sculpture of a warrior… A WARRIOR! He was dressed as a Roman centurion with a sword and had a black mustache and big black eyebrows.
We couldn't believe it, it was too extraordinary, pure magic. Rebeca and I, well … we couldn't utter a word, we just stared at the warrior. Having such a thrilled and silent audience, Gesar's widow kept on talking and told us that this palace was known in Patzcuaro as "la casa del Gigante" (the Giant's house) and that her late husband used to say that the warrior was their family protector and that everybody was convinced that it was true.
When my friend and I finally could react, we thanked the old lady and ran back to Casa Werma, giggling like teenage girls. We had the feeling that we had entered a parallel reality and also we were so, so late for the practice. When we came into the shrineroom, dear Allyn just gave us a supposedly "angry" look.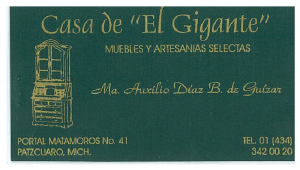 Because we were late, we didn't hear the announcement that after dinner there would be a bonfire to celebrate that today, October 15, was the anniversary of the day that Trungpa Rinpoche received and wrote the Werma Sadhana. When around the fire they told us that, I understood that the extraordinary event of finding Gesar's house was a "wink" from the Vidyadhara. And with that wink, I fell head over heels in love with Casa Werma and Trungpa Rinpoche's all-pervading presence there.
The epilogue of this anecdote is that two days later I bought some flowers and brought them to the owners of the two houses to thank them for their hospitality.
In Gesar's house there was nobody that answered, but adjacent to the main gate was an artcraft shop (Casa de "el Gigante"). The goddaughter of Gesar's widow was the attendant. We chatted about the house and she told me that the family name is really Guizar (sounds almost like Gesar), an old Spanish name that is quite ordinary in Patzcuaro, so … ordinary magic. She also told me the full name of the owner's widow: la señora Auxilio Días de Guizar. "Auxilio" means "help." If you translate the whole name, it's: "Help Guizar's Days." Symbolic, isn't it? She even gave me a business card and a marker with the photo of the giant that I keep with my Werma Sadhana to remind me that it really did happen, that ordinary magic happens.
~~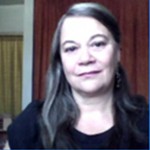 Gabriela Cordova has been a practitioner in Shambhala Buddhism since 1996 and worked in her own center in Tepoztlan, Mexico. She has also spent extensive time at Dechen Choling as a volunteer and core staff. She is a founding member of the Casa Werma board where her heart is set on opening Casa Werma for more teachings in Spanish for the Mexican community. She taught a weekthun there last year and is planning another one for next July. Presently she is the Director of the Tepoztlan Center and an active Shambhala teacher.
Post Tags:
Casa Werma
,
Gesar
,
Mexico
,
stories