Thursday
Featured Stories
Arts Speak the Shambhala Principle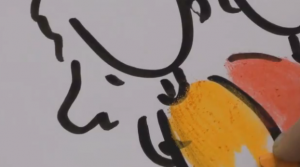 News Report
A team of Shambhala artists have come together to make a visual online graphic presentation of one of the key messages in The Shambhala Principle. In the opening pages of The Shambhala Principle, Sakyong Mipham invites us to a global conversation about the future of humanity. He writes: "We may never before have considered human nature, but in order to move forward as a global community, it is vital that we do it now."

Inspired by this call, Acharya Noel McLellan made a suggestion: "Let's get more and more people contemplating this – why don't we come up with a graphic presentation of this message on film?"
He shared his idea with the President of Shambhala, Richard Reoch, who invited Marguerite Drescher, one of the leading graphic artists in our community, to do the graphics. He filmed her as she worked on a large scroll of paper with various graphic media, including chalks, charcoal and felt tip pens — conveying a message drawn from 14 sentences in The Shambhala Principle.
He also invited Sophie Leger, our new Director of Multilingual Development and a professional actress, to record the accompanying text from The Shambhala Principle.
You can see their work here:
You can also view it on From our President.
"Please consider this videographic offering both an invitation to a global conversation," says President Reoch. "It is also an invitation to anyone else who would like to make artistic or other offerings to share the inspiration of The Shambhala Principle with others!"
~~
Send in YOUR creative responses to the Shambhala Times for a shot at being featured. Email Sarah Lipton, Editor-in-Chief at: [email protected]
Post Tags:
news
,
President Richard Reoch
,
The Shambhala Principle
,
Video