Friday
Community Articles
Momo's View of a Supermodel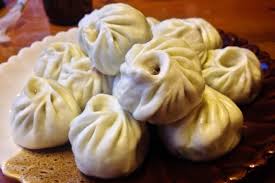 COLUMN: In Everyday Life
Sangha Member Profile
by Aaron Delong, Shambhala Times Regional Correspondent

In which we discover the story of one woman in service to the Shambhala vision. The author, Aaron Delong is currently a gardener at Karme Choling and here profiles a long serving member of the Shambhala community: Sara Kapp.
The supermodel's in the kitchen making momos. Tibetan dumplings. It's something she learned decades ago, when the Vidyadhara, Chogyam Trungpa Rinpoche was new in Vermont and she was barely twenty.

"I came here, I was basically a kid," she tells anyone who cares to listen, those working in the kitchen or just passing through. "I was the babysitter back then. I didn't know anything. I'd say to Rinpoche, 'Rinpoche, Rinpoche, all these people are taking refuge. I don't even know what that means. Should I be doing it?' And he'd say, 'Sara, just take care of the kids. It's all right." She laughs at the memory, hands fluttering like sparrows over the pastries, one careful crimp after the next. Today, she's a Scorpion Seal practitioner, the head of Ikebana at Karme Choling, and the only cook in the kitchen who wears high heels. She moves another tray of momos into the oven, flitting through the space with quick, precise grace. Ostensibly, she wears heels to slow herself down, but she walked runways for too long for that trick to work.
"Rinpoche had a dream about momos, once," she offers, moving through the space. Her memories come a bit unexpected, like birds flushed from trees. Her stories emerge like a collage or mosaic. "He dreamt of momos with shrimp wrapped up in cow's tongue, served with beer. We decided to do it, of course. First, though, we had to figure out what momos were." While she's talking a participant comes in, asking for herbal tea. Rather than irritation at the interruption, Sara perks up, strides across the space to the tea closet, and gets them a box of tea. In a labyrinthine building of closets and shrines, bedrooms and dorms, bathrooms and offices, the kitchen is the pulsing heart, the center of motion and sound. People are always passing through, asking for things, tasting things, breaking things. Distractions are par for the course, and Sara's at the center of it all, signing for deliveries, caring for participants, and creating dinner.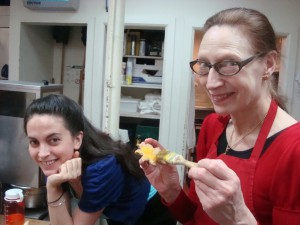 "Well, once we got what a momo was figured out, we had to get a cow's tongue. So we went to a local farm, got a cow's tongue, and then drove an hour to get shrimp. Then we proceeded to make the most bizarre momos in history. Rinpoche took one bite and said, 'It was better in the dream.'"
She laughs while showing me how to fold the momo with my fingers, how to seal it. Outside the summer night is falling, the trees going to black silhouettes against the star-struck Vermont sky. The kitchen lights take on a brighter glow and the fans at the windows push the damp, summer night through the screen. The clock ticks on. Dinner is going to be a little bit late tonight. Dinner's often a bit late when Sara cooks. This isn't food, it's art.
Post Tags:
In Everyday Life
,
interview
,
Karme Choling
,
Sara Kapp