Saturday
Scene and Heard
Summer's Fruit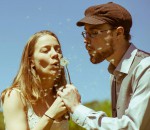 Celebrating Three Weddings and A Baby
Shambhala Times is delighted to share these delicious tidbits with you, gathered from this summer of love and delight. Join us in welcoming these new babies and these new happy couples!
Did we miss your news? Send it to us! See below for how to do so.
Click through to view photos.
~~
Do you have a new little one to announce? Did you just get married? Lose a loved one? We want to know! Please share your life's milestones with us, and send an email to us at: [email protected]
Post Tags:
Birth Announcements
,
Wedding Announcements