Thursday
Featured Stories
Message from the Front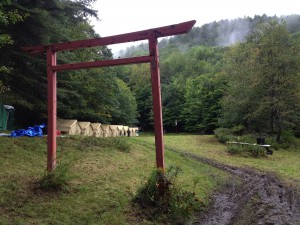 Report from a Dorje Kasung Regional Encampment held at Karme Choling
by Trident Regional Commander Tara Halwes, Kado
It was mid-September, and very rainy. We were almost thirty people, residing up on the hillside in the woods above Karme Choling. The mini-encampment was fantastic and extremely rough. It felt like ngondro practice. The intense miserable weather made the first few days seem a lot longer, which made up for it being a short program. It forced us to simplify. More than that, I think it made surrender the only option, so by Saturday afternoon Kasung were very deeply in the program.
We made the call to gather everyone inside the Nagarjuna retreat cabin sometime on Friday, and at a certain point added "tend woodstove fire" to the camp rota. We set up lines inside the cabin so people could dry their wet clothes (some people had no dry clothes and wet sleeping bags and it was really cold at night). We will need to set up an outdoor shelter the next time we do this. If we had not had the retreat cabin, we would have had to march down the hill and take over one of the unoccupied changing tents.
It stopped raining only when it needed to, including Saturday for skirmish practice and our humble but tasty banquet. There was one One-Year Kasung Oath taken and seven Kasung took the Lifetime Oath. That night we had marshmallows and songs until lights out.
Sunday, the sun came out for takedown and a closing circle. Kasung were finally able to sit on the ground for the first time and there was much playfulness and wrestling while waiting for the trucks to come up for takedown.
By the time we came down the hill all smelly and beaming, the weather was hot and sunny and there were kyudo practitioners and other program participants on the lawns and porches. We ate sandwiches among them and dissolved. It was glorious. I have no regrets. Certainly notes for next time but no regrets. I do not think I have ever had the experience of relaxing into command quite that much before, which feels paradoxical. I can explain it some other time.
There were twenty-nine people in attendance including Dapon Will Ryken. There were representatives from the New York City, New Haven, Boston, Providence, Montpelier, White River Junction, St. Johnsbury, and Karme Choling squads.
These two poems came from our experience in the woods.
Snake
A snake asked me to
Stop searching elsewhere
For who I am
And be here.
Be the wind
Through the trees
Feel the earth
Damp & rich beneath
Just be
Broken hearted
On a spine of rock
I asked the snake
Who I am
And it answered
With the breeze
Idiot
You idiot!
Use me – be with me
This ground is for walking on
These limbs to hold
We're not different, you and I
Your seat is right here –
There is no higher, and no lower
Look at my many scars –
How proudly I wear them
Look at my new, tawny growth –
How effortlessly it springs forth
What are you looking for?
Stop looking and you will find it.
~~
For more information about the Dorje Kasung, please click here. Ask your local center Rusung for information on any upcoming regional encampments.
Post Tags:
Dorje Kasung
,
encampment
,
Karme Choling