Friday
Community Articles
Considering Food in a Shambhala Household
COLUMN: Living Shambhala Culture
This series of articles is brought to you by the Shambhala Office of Culture and Decorum. We hope that these offerings will bring fresh perspectives on living our principles, invoking drala and enriching culture in our homes, centers and communities. If you have any suggestions or contributions, please feel free to contact Wendy Friedman, Director of the Shambhala Office of Culture and Decorum:
[email protected]
by Karen Iglehart, Culture and Decorum representative for the Pioneer Valley Shambhala Center
We all prepare food and eat in our homes. We all have a kitchen. We all have to shop for food. There are times when we enjoy cooking, or at least preparing a meal, and then there are times when it seems like a daunting task just to get some semblance of dinner prepared. Then there are times when we pick up something "to go" because we have no time to prepare anything. All of these situations happen to all of us.
The question is how does "Shambhala Household" manifest in these situations?
If you are an experienced cook, enjoy cooking, or are a "foodie" then you can usually
pull a healthy meal together, without too much effort, in a short amount of time.
But what if you aren't, or are too busy. What if you are often working late, have children with after-school sports or music lessons, work far from home with a long commute, work at home but are so immersed in work that you forget to shop or stop in time to cook? Or you want to practice and not spend hours in the kitchen?
These situations offer an interesting challenge to creating a Shambhala Household dinner, as we generally think of it, ie: sitting down with a full, nicely prepared meal, candles and conversation. How do we manage it when there is so much demand on our time?
One way to "uplift" any meal is to have a cleared table without papers, computers, or stacks of magazines…make it a place to eat. Light a votive candle and sit down. Do a bow before eating. It is simple, but it creates a few moments of being settled, and it shifts our awareness to our food and that we are actually eating. We can notice that we are human, and can appreciate sitting and pausing to have a meal. Even if we are eating alone.
With active children, lighting a candle changes the atmosphere, and it sends the message that it is dinner time, even if you are having sandwiches so that homework can be started soon. And of course keep electronics away from the dinner table..it isn't that long a time. It will create the habit of paying attention to dinner and family, rather than the next Facebook posting. That goes for adults as well.
Another way to care for your environment and yourself is to clean up immediately after dinner. Whether you are in a family, have housemates, or living alone, it is a gift to yourself that in the morning you will have a clean kitchen. It takes the same amount of time to clean up at night as in the morning. And you have the satisfaction of caring for your space. Don't forget the stove!
In relating to food itself, there are many quick and easy ways to prepare healthy food. You don't have to get into complicated recipes. Just paying attention to what you're eating is treating yourself with respect and caring, expressing basic goodness towards oneself. Preparing food for others is an act of kindness and generosity. There is much pleasure in creating a meal for others to enjoy. That could be the focus for a weekend once in awhile…sharing cooking, eating and then cleaning, together. It creates a sense of community and is a building block for society. It doesn't have to be elaborate or expensive. A meal of bean tacos and fresh salsa can be a wonderful offering to friends. If you aren't sure about finding simple recipes ask friends who like to cook, they will love to share their ideas and favorite recipes!
All of this is just a reminder that we can do simple things to slow down a bit, to enjoy food and friends in a healthy and appreciative way. We are creating Shambhala Culture for ourselves and others. Sharing food is a basic human activity.
Let's enjoy sharing food and each other's company…and don't forget to enjoy the food!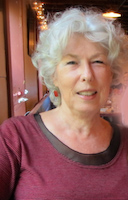 ~~
Karen Iglehart is a painter, photographer (has taken many of the images on Shambhala websites) and Classical Homeopath. Karen has been a student of the Vidyadhara, Chogyam Trungpa Rinpoche and Sakyong Mipham Rinpoche for many years. She has had the opportunity to work at some of the Courts, new and old, often as a Court Cook. In the past few years she has been involved with Ikebana, and this month will be doing her first Kado Instructors Training. This is an interesting and relevant connection with her role as the Culture and Decorum representative for the Pioneer Valley Shambhala Center.
Post Tags:
Kitchen Wisdom
,
Living Shambhala Culture
,
Shambhala Households