Monday
Featured Stories
A Warrior's Send-off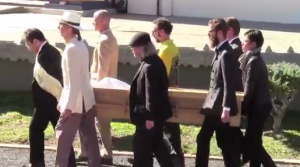 Last Friday saw the Sukhavati and Cremation Ceremony for Kanjuro Shibata Sensei XX.
Warriors gathered at 7am at the Boulder Shambhala Center for a moving Sukhavati. The shrine room was full, and there was surprise among the gathering when Johnny Cash came over the sound system, singing "Danny Boy." Amidst the laughter and tears, the news spread that this had been one of Sensei's favorite songs; he loved Johnny Cash and used to play his albums again and again.
After the Sukhavati, family and friends drove north to Shambhala Mountain Center for Shibata XX Sensei's Cremation Ceremony. The following video, courtesy of Greg Smith, features a song sung by Shibata Sensei about a flock of geese. The song is called "Gun" and talks about how in the flock of geese, one or two may fly away from the 'V'. The arrowhead shaped flock wings across the sky. Even as a goose or two might fly away, another goose or two will join the flock in its arrow shaped course across the sky. It's a very old Samurai song. The ceremony was held at Shambhala Mountain Center, Red Feather Lakes, Colorado.
Shibata Sensei has been a source of wisdom and authenticity in our midst for over 30 years, an irreplaceable national treasure. His passing is a great loss.
Post Tags:
Shibata Sensei
,
Warrior Tribute