Wednesday
Mandala Projects
Spark. Radiate.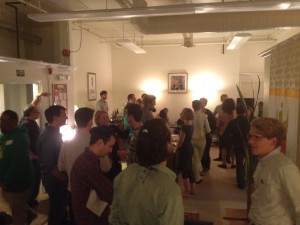 News from the Ziji Collective
by Leslie Gossett
The San Fransisco Shambhala Center is filled with people whose eyes are all sparkling. They are eager to meet each other, eager to talk, excited to see dear familiar faces. Jazz plays softly in the background, and there is a feeling of curiosity as people sip their wine and munch on pizza and persimmons.
In what seems like no time, 45 minutes has passed, and we are invited into the shrine room which has been transformed. Lights off, projector screen set up in the front of the room, people file in and take their seats.
As we wait, Richard Vogler takes a seat and reads to us from a book of 15th century poetry. The room finally fills, and Alex Van Gils and Katrin Welch introduce the evening, organized and presented by the Bay Area Ziji Collective.
We have all come here for an event called Spark. Radiate. As Katrin says, it is really very simple. There is nothing to explain. You just have to experience it.

What transpires is an evening full of inspiration and, well, sparks. We invite people who are doing uplifting work in the local community to come and give a 7 minute multi-media presentation about what that work is. The space that follows is a chance to talk and connect more with these presenters and the work they are doing. It's like enlightened networking. We hope to connect ideas to resources, to engage in uplifting collaborations with groups who share the vision of good human society, we hope to spend less time reinventing the wheel and more time creating relationships with the amazing things that are already happening. This was the 3rd
Spark Radiate
the Ziji Collective has hosted. We intend to create these evenings regularly.
Last night's presenters included some of the incredible humans from the Bay Area. Daniel Rekshan, founder of The Found, helps people connect their dreams to their livelihood. Alana Siegel organizes the Bay Area Public School which offers free community classes and alternative education. Magenta is director of the Evolver Network, an organization devoted to creating a love-based society through fostering connection with each other (sound familiar?). Dave Moschler is founder of the Awesome Orchestra Collective which offers musicians a chance to play orchestra music and the public a chance to hear it for free. Food For Beings, a group from the Silicon Valley Shambhala Center presented the work they have been doing to feed the hungry in local shelters. Akil Truso, scheduled to present, wasn't in attendance because he was doing the very thing he would have spoken about – interrupting violence on the streets of Oakland.
To hear these people talk about their passions, their dreams, their inspirations – to see what epic and wondrous things they are doing in the world – to see how very much we are all trying to create good society, supportive community, intentional connections, and healthy relationships with ourselves and others – well, it left me feeling confident in our ability to create enlightened society right here, right now.
And as if that wasn't enough to inspire and spark, the evening ended with an enlightened dance party. Presenters, community members, Shambalians, and ziji-ers radiated their good human dance moves late into the night.
We intend to create the space for exploration of the ways in which relating directly with ourselves can lead to the creation of a wakeful culture which allows us to support one another in creating good human society, and to celebrate the amazing things that are happening in our communities!
Ziji is the Tibetan word for the innate, brilliant confidence possessed by all beings. Inspiration is sitting right next to you. All it takes is one spark to start a fire.
Spark. Radiate.
~~
Visit us at zijicollective.com or find us on facebook.
You can also connect with the presenters mentioned here through our facebook page, or by contacting us.
Post Tags:
Enlightened Society
,
San Francisco
,
Ziji Collective