Friday
Shambhala News Service
Being Brave in California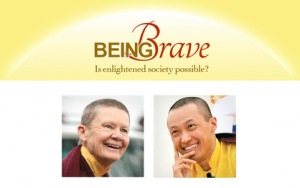 Sakyong Mipham Rinpoche and Ani Pema Chodron to lead Being Brave retreat May 2-4, 2014 in Richmond, California
The Sakyong, Jamgon Mipham Rinpoche, and Ani Pema Chodron will lead a Being Brave meditation retreat in Richmond, California on the weekend of May 2-4, 2014. Ticket sales open today, November 15th. You can register here: Being Brave: Is Enlightened Society Possible?
In 2011 the Sakyong and Ani Pema teamed up for the first Being Brave retreat in Halifax, Nova Scotia. Since then, the Sakyong has devoted himself to teaching a series of major public events on the theme of enlightened society across America and the world. We invite you to watch a short video excerpted from their collaborative 2011 event.
The Sakyong is once again delighted that Ani Pema will join him this coming May. It will be her only public teaching on the West Coast in 2014.
This will be a weekend retreat of teaching, meditation and dialogue with two of the world's leading spiritual teachers. They will speak to the inner challenges we face in these difficult times and the relevance of meditation to the urgent need for societal transformation. They will be joined by The Rt. Rev. Marc Andrus, Bishop of the diocese of California.
Live streaming:
Unable to attend the Richmond event? The weekend's teachings will be streamed live worldwide. Shambhala Centers will be invited to organize local programs, inviting their communities to participate in this global event. Individuals will also be able to subscribe to the event online, and more information about this will be posted on the event website soon. Registration for live streaming is not yet open.
For further information for people interested in attending the event at the Craneway Pavilion in Richmond, California, please see below. This comes from a regional announcement issued by Sarah Woodard, the Being Brave Event Producer:
Children's Program:
Supporting the growth and development of our community, we are excited to include a children's program as part of this event. Paid child care staff will work in coordination with the Sakyong, Ani Pema and Acharya Lobel, to integrate the children's experience into the main event. The Children's program will take place at the Craneway Conference Center, the same building as the event pavilion. Tickets for your children can be purchased along with your own.
Food:
The Craneway Pavilion is not close to restaurants or stores. Lunches during the program have been considered in three ways: Bring Your Own – most suited for those with any sort of food allergies; Gourmet Food Trucks with food for purchase; and a Catered Lunch Service from Assemble, the onsite restaurant. The restaurant will not be open to our program for seated service as there are too many of us, and too few seats in their establishment. Tickets for Catered Lunch Service can be purchased as an additional item while registering. If you have any more than mild food sensitivities, please consider bringing your own food.
Weekend Parking Pass:
Onsite parking is available with a parking pass only. To support this as a green event, please consider carpooling. As we near the program, we will update all participants about the ride share board, and public transportation options. Parking Passes are available as an additional item for purchase with registration.
Work Study:
Over the years, we have found that when diverse people, from diverse backgrounds work together on meaningful efforts, they develop a rich sense of community and commitment. We anticipate over 300 people joining our work study team to help produce this event. Please register for Work Study if you are able to offer 8 hours of your time and join us in manifesting the shared aspiration of enlightened society. Select "Work Study & Scholarship Signup" on the event registration page and add your name to the mailing list. Our work study coordinator will contact you soon, and discuss how you might join in.
Requesting Scholarship Funds:
If you are considering attending the program and cannot participate in the Work Study program, you may apply for a scholarship, by selecting "Work Study and Scholarship Signup" list on the event registration page, and adding your name to the list. Our scholarship/work study coordinator will contact you soon.
Donations to Support Work-Study/Scholarships:
Our aspiration to have a diverse and collaborative community program will be supported by your generosity. Please contribute whatever you can to sponsor your fellow community members in attending. When purchasing your own ticket, turn your mind toward those needing sponsorship, and use the "Donate Scholarship" button to help them. When you purchase your ticket, you can also contribute specific amounts on the registration purchasing page.
Post Tags:
Being Brave
,
Pema Chodron
,
Sakyong Mipham
,
San Francisco
,
Shambhala News Service