Wednesday
Shambhala News Service
Ikebana Masters Honoured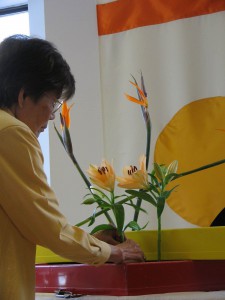 The Office of the Kalapa Court is pleased to announce Seibi Watanabe Sensei has been awarded the Order of Shotoku Taishi of Shambhala, in recognition of her decades of service to Kalapa Ikebana. The award reads: "For outstanding achievement in teaching in the Kingdom of Shambhala." Watanabe Sensei celebrates her 90th birthday today with students at her home in Montreal.
Kyoko Kita Sensei, holder of the status of Riji, the highest rank in the Sogetsu School, has been posthumously awarded the Order of Elegance of Shambhala, "For outstanding contribution to the culture of the Kingdom of Shambhala." Kita Sensei was a root ikebana master for many Shambhala students, especially those in Colorado.
Senior Ikebana teachers, Stéphane Bédard of Montréal, Wendy Karr of Halifax and Alexandra Shenpen of Boulder have been appointed Master Kalapa Ikebana Instructors. They join Marcia Shibata, who was appointed Master Shambhala Kado Instructor last year for her work with Shambhala Kado in Europe. With these appointments, these Master Instructors are now awarded the title "Artists to the Kalapa Court."
Please read more about Watanabe Sensei and these Kalapa Ikebana appointments here.
Post Tags:
Arts and Poetry