Friday
Arts and Poetry
Poetry Space
Welcome to the first installment of Poetry Space on the Shambhala Times!
by Jeff Fink, Column Host
When we went to the sangha in early October with a request for original work from members, we had no idea what might arise. In point of fact, in the first couple of weeks we received submissions from more than a dozen poets from, quite literally, around the world.
In beginning Poetry Space, we envisioned a conversation. To that end, we've opened a thread on the Shambhala Network with the hope that this thread might expand upon the admittedly static nature of printed poetry (even electronically printed poetry…) Please comment, add your own poems, engage (with kindness of course!) Click here to visit the group on the Shambhala Network.
Now to the work. Our editors have chosen three poems from two different poets for this first installment (yes, we have real live editors — see the closing note on process below). We're immensely grateful for all who shared their work with us. Please consider submitting if you haven't, and if you have, thanks, and feel free to submit again.
Companion to the Moon

Three gas lamps
illumine
the cottage at
Lake Menominee

Twin lights droop
from the rafters
a pear shaped third
rests
on the kitchen table

Lighting the gasoliers
is a delicate matter
suspending the
silken mantels
priming the rotund tank

But, aglow
their aura
shines through the window
companion to the moon

The burning gas hiss
accompanies nightfall
the rafters
deep shadows, and
beneath cedar boughs

lamplight warms
the night lake

~ Joan MacIntosh
St John's, Newfoundland Canada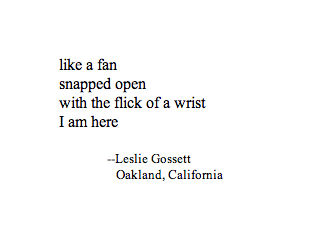 Astonished

In my dream
a ginger cat
with diminutive
half-moon wings
soared through
the window of a low sedan
sanguine
whiskered face
high in the air

Astonished
I called
to passers-by, but
no one heard me

My cries chased the
winged cat
down the boulevard
where it vanished
after the gleaming
dolphins, moons and stars

~ Joan MacIntosh
St John's, Newfoundland Canada
Note on process
We are receiving new submissions continually, and we collect these until we have a sufficient number to review for possible publication. While it's still early days, it feels like we will be publishing new work quarterly, although if we do receive a large number of submissions, we may choose to publish more frequently.
We have a panel of three editors who review all submissions; the submissions are stripped of all identifiers when they're sent to the editors. To that end, please submit your poems left margin justified in a simple black font so it's easier to collect them for review.
Please submit no more than three (3) poems in the body of an email to [email protected]. We will remove the poet's name from the submission before it goes to our editors for a blind review, and will make every effort to let you know whether your poem(s) have been selected for publication within three or four weeks. All rights revert to the author 30 days after publication.
Post Tags:
poetry
,
Poetry Space