Sunday
Community Articles
A Flower Turns Outwards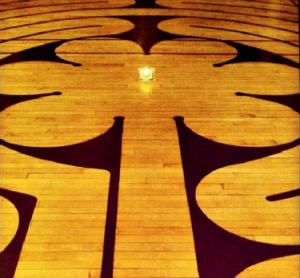 Advent "Holy Pause" with Mindfulness
by Eloise Ullman
sister of Patricia Hayward
Tuesday evening, December 17th, Patricia Ullman Hayward led members of the Broadneck Baptist Church in Annapolis, Maryland in an Advent mindfulness meditation. For each of the four weeks of Advent, the church has held a weekly "Holy Pause," and other holy pause programs have included practices such as walking a labyrinth, writing haiku, listening to music, quiet prayer including child-like prayer, gazing at art work and laughter. Patricia's sister, Eloise, lives in Annapolis and is a member of Broadneck Baptist Church. As a member of the church's Worship Ministry Group, charged with planning worship services, Eloise realized that her sister's expertise and experience guiding mindfulness meditation programs would be a perfect fit for the Advent Holy Pause theme.
Seated in a circle around the labyrinth on the sanctuary floor (created in masking tape by Pastor Abby Thornton for the Holy Pause programs and for the Advent/Christmas season), participants told something about themselves and why they appreciate a holy pause during the Christmas season. Patricia then provided a brief introduction on the concept of mindfulness – of giving ourselves over to the moment, rather than being trapped in past or future plans, fears and memories. She reminded the group that we miss so much when we're unable to focus on what simply IS, as our focus meanders between what was or might be. When our mind is undistracted and full of the vividness of the present moment, our ordinary experience is complete and sacred. Participants realized that mindfulness of others – where they are right now and their immediate needs – and how the church is called to help is certainly a tenet of Christianity as practiced at the church. Taking action to seek social justice is rooted in mindfulness because we need to get out of our own way and see clearly with true compassion.
As part of her sermon on Sunday, December 22, Pastor Abby cited two of the images Patricia had brought to the mindfulness session. Her sermon focused on passages from the Old and New Testaments of the Bible where God interrupted various Biblical figures in order to get their attention and cause them to be mindful of what it was God wished them to do. The Pastor cited an image Patricia had used of our lives as a river, where we are each in a little boat, so caught up in paddling, avoiding rocks and rapids, and reaching our destination that we forget to consider the beauty of the water, the surroundings, and the journey itself. She asked the group to imagine taking the boat to shore and just sitting away from the rapids to appreciate the quiet and richness of that peaceful place on the riverbank.
Patricia also told the group about the Sakyong's work with Violence Interrupters in Chicago, where perpetrators of past violent acts work with gang members to interrupt the cycle of revenge and retribution that plagues so many U.S. inner cities. Former gang members, who have served prison terms for revenge crimes, seek out potential perpetrators to encourage them to wait, consider, and think about the consequences of another violent act and how one split second of retribution will change their lives forever. Pastor Abby found in her research that this group was active in many cities around the U.S. seeking to break the cycle of violence that kills and irreparably damages many young people, their families and society in general.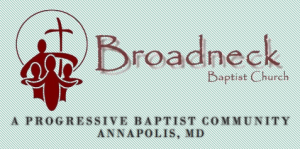 Broadneck Baptist Church is located in Annapolis, Maryland, and is proud to call itself a "progressive Baptist church." Founded 32 years ago as a mission church of Heritage Baptist Church of Annapolis, this small church is a community that honors asking questions, serving its neighbors, seeking justice, celebrating diversity, and welcoming all of God's children. The church seeks to be a place where all people are embraced for their unique gifts and invited to participate fully in all areas of ministry. At the same time, Broadneck Baptist Church honors traditional Baptist principals, such as the autonomy of the local church, the priesthood of the believer, the separation of Church and State, believer's baptism, and congregational leadership. To learn more, go to Broadneckbaptistchurch.org.
Post Tags:
Interfaith
,
turning the flower outwards