Friday
Community Articles
Re-Inventing the Future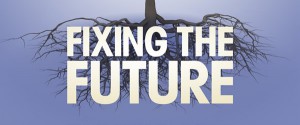 reported by Cara Thornley, St. Johnsbury, VT
On Friday, January 24th the St. Johnsbury, Vermont Shambhala Center hosted an energetic and innovative program entitled "Re-inventing Local Prosperity." The event was organized and moderated by Madge Rossinoff who is Head of Societal Health and Wellbeing for the St. J Center. The program was held at the local library and showcased the NPR documentary, Fixing the Future. This was followed by a discussion led by three Vermont women who are actively involved with some of the community oriented economic practices illustrated in the documentary.
The film is hosted by David Brancaccio of public radio's "Market Place." It depicts his trans-America journey to learn about groups actively involved in community practices geared towards increasing local prosperity.
He showed us worker-owned business cooperatives like the small scale Yo Mamas Catering Cooperative, operating out of home kitchens in Austin, Texas, to the industrial scale Evergreen Cooperative Laundry in Cleveland, Ohio, which is committed to providing environmentally friendly laundry services.
In Bellingham, Washington, we were introduced to a community that cares about keeping its jobs at home. This included a network of people and businesses, called Sustainable Connections, whose purpose is to nurture regional and local economic relationships. He clearly savored visits to member restaurants, salmon fisherman, and a high-end stove manufacturer who in order to keep his factory in Washington rather than moving it to Asia for economies of scale, had purchased Finnish robots to use in his manufacturing process thereby increasing his local employees by six.
Bremer Bank
, a community bank with over a hundred branches stretching across Wisconsin, Minnesota and North Dakota was depicted as a bank deeply involved with the wellbeing of the community it serves. Interviews with a banker and its customer farmers, in Fargo, N.D., revealed a mutual profitability and respect. A for-profit bank started in the Great Depression by Otto Bremer, a German immigrant, it is now 92 percent owned by the non-profit charity:
The Otto Bremer Foundation
. Bank employees own the other 8 percent. About 60% of the profits goes to paying for bank operations and the remaining 40 percent goes to the Foundation, which makes philanthropic grants to help the communities it serves.
(These figures were provided on this web site.)
Brancaccio featured the Baltimore Green Currency Association whose motto is "Local Money – Making Change." Their local currency, called "B" notes, exist solely to facilitate commerce within their community which the currency never leaves. Currently over 35,000 BNotes have been exchanged into circulation and are being accepted across Baltimore. Over 220 independent businesses accept BNotes, and more are joining the network every week. Their website, baltimoregreencurrency.org, lists the businesses accepting the "Bnotes" and includes at least one clearly identifiable Shambhala-owned business in Baltimore.
In Portland, Maine, we saw Broncaccio participating in the Portland Hour Exchange, also known in other locations as "time banks" since the 'currency' is one hour of labor no matter what service you provide. Members "bank and spend" hours. An hour is 'banked' when 60 minutes is spent helping another member with something they need. For example Broncaccio earned/banked an hour by helping a woman weatherproof her basement. Later he spent that hour on a sailing lesson. Social capital, the resource created when folks work together in a community, is at the center of Hour Exchange. Both earning and spending are social capital; every time a time dollar is spent, somebody else is earning one and both spending and earning contribute to the fabric of the community. An added benefit is that hour exchanges are not taxable.
Following this provocative presentation, Madge Rossinoff introduced the three panel members who spoke to the questions the documentary inspired in participants and particularly their relevance here in Vermont.
Gwendolyn Hallsmith is the founder and Executive Director of Global Community Initiatives (GCI). An international specialist on sustainable community development, Gwendolyn has worked with numerous international organizations. Her book is The Key to Sustainable Cities: Meeting Human Needs, Transforming Community Systems, and she has a new workbook called Taking Action for Sustainability: The EarthCAT Guide to Community Development. These are being used by several communities to initiate an innovative new planning process – including the City of Calgary in Alberta, Canada, and the City of Newburgh, NY. The co-author of Creating Wealth, Growing Local Economies with Local Currencies, Gwendolyn has more than 25 years of leadership experience in municipal, regional, and state governments.
Well known for her desire to have a public bank in Vermont, Gwendolyn Hallsmith answered several questions and provoked a lively discussion about why and how that would benefit Vermont. Namely keeping millions of dollars a year in Vermont that currently go out of Vermont because of banking regulations. Gwendolyn is active in the movement to get the public banking proposal on Vermont town meeting ballots so local citizens can express their views on this subject. So far 20 Vermont towns have signed on to have this on their ballots.
Gwen also answered questions about the local currency in Vermont. Though not in wide use there is some here in the Northeast Kingdom.
Susan Cherry is Director of the
St. Johnsbury Community Justice Center
and an original founder of the
Equal Exchange Time Bank
in St. Johnsbury. Susan gave a history of the growth of the bank in St. Johnsbury, explaining how to join and what the benefits are that accrue to members.
The third presenter was Jane Arthur, the newly retired Executive Director of Karme Choling, which is located in Barnet, VT, 10 minutes from St. "J". Jane spoke to the exchange between Karme Choling and people who volunteer there, pointing out that Karme Choling could not provide the services they do without the exchange between volunteers who trade their time, answering phones, working in the kitchen, running the KCL store, and working on the web site in exchange for programs and training.
Jane also pointed out that all the cooperative practices that had been discussed in this provocative evening speak to the desire we all have to be part of a society that cares for each other – an idea that clearly resonated across the more than 60 people in the room.
~~
How is your Center engaging in the local community conversation? We want to hear about it! Send us an email with your story to: editor at shambhalatimes.org
Post Tags:
Merit Exchange
,
St. Johnsbury
,
sustainability
,
Time Banking
,
turning the flower outwards
,
Vermont