Sunday
Scene and Heard
Dinner with Jane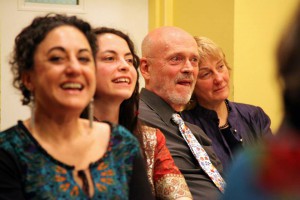 A Tribute to Jane Arthur upon her Departure from Karme Choling
by Aaron Delong, Karme Choling
At the end of January, Jane Arthur left her position as Executive Director of Karme Choling after seven years of service. A farewell dinner was held in her honor. The dining room was reconfigured earlier in the day as Karme Choling staff puzzled over diagrams of different possible table layouts. They counted the chairs again and again to try and make sure there was enough room for everyone. Still, in the end, folks were sitting in the hall, as more and more people poured into the old farmhouse to celebrate the service of this remarkable woman. It didn't really matter where a person sat, though: the warmth of the celebration filled the house.
For someone who had initially come to Karme Choling on a whim, who had begun by answering phones at the front desk, it was a grand event. There were pillars festooned with balloons. Garlands of evergreen boughs looped down from the rafters. There was wine and bubbly and servers dressed to the nines. In the kitchen, every chef Karme Choling has to offer (and a few others, besides) worked through the day and on into the night to create a most memorable feast. Gifts were lavished upon the honored guest, from a flashing, sweet, silver necklace of York Peppermint Patties, to a golden Manjusri rupa, brought from Tibet and blessed by Lama Pegyal. One after another, people stood up to pay tribute, some with tears, more with laughter. At the head table, Jane was shining. On her right, was seated the Rupa Acharya, Suzann Duquette, and, on her left, was seated her partner, John McClung, or as Jane referred to him in her speech, her 'secret weapon'.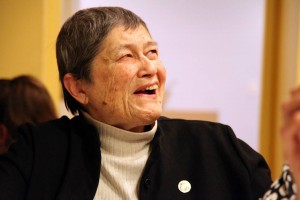 When she rose to speak, most of what Jane said was about other people. As she gazed about the room at all of those gathered, her gratitude appeared to overwhelm her, and what had begun as a tribute dinner to Jane, culminated in Jane paying tribute to us. One by one, she went through the crowd, giving thanks to dozens of people individually, not wanting to miss anyone in the room, knowing she inevitably would – there were simply too many – but pouring forth, anyhow, fearlessly, with all of her heart. It was characteristic. When she was a girl, Jane was a cheerleader and, as sophisticated as she has become, her heart has remained that of a cheerleader. She is always pushing those around her forward, drawing out the best in everyone with gentleness, warmth, and exertion.
Acharya Duquette spoke of Jane's increasing sophistication as a leader. She also spoke of the culture of kindness Jane has fostered, a culture that has arisen from the wisdom, understanding, and love Jane has brought to every person coming into this community. More than once, people related being welcomed by her at the front door of Karme Choling, being welcomed with a hug, being welcomed home.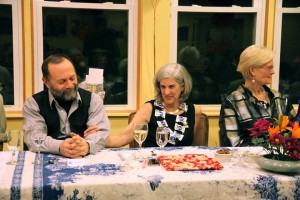 Jane's time at Karme Choling intersected with nearly 150 other staff members. She treated them all as family. Her tenure as director is the longest of anyone who has served. She has had a tremendous role in creating what Karme Choling is today, just as Karme Choling has had a tremendous role in creating what Jane Arthur is today. We are proud of her, inspired by her, and delighted to see what comes next.
Jane will stay in Vermont. She will continue to lead. The Sakyong has asked her to assume the post as head of all residential land centers, and she has accepted. She will also serve as president of the St. Johnsbury Rotary this year, 2014. She will also continue to teach, both within and outside of the Shambhala mandala.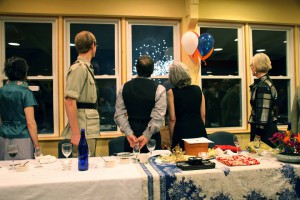 At the end of the dinner, a small group of staff members took the stage to sing the Beatles' song, 'In My Life.' The singers sang the last lyric, "In my life, I love you more," and, then, outside on the lawn, the fireworks commenced. The guests rose. Eventually, cleanup began. Jane stayed on in the dining room, embracing us, thanking us, saying goodbye. And then she was gone, off with her husband, out into the star-studded night.
Post Tags:
Jane Arthur
,
Karme Choling
,
Tribute