Tuesday
Featured Stories
Shambhala Meditation App: Now Live!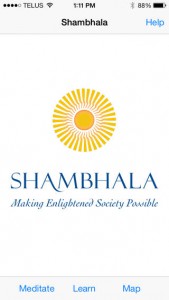 Look for the new Shambhala Meditation App on an iTunes near you…
article by Gordon Shotwell
Shambhala just released its first meditation app, which is available now on the iTunes store. I've been involved in this project since its inception and so thought it would be helpful to provide the history of the app, its functionality and design, and where we hope to go from here.
The app was produced in stages by Sara Maldonado and James Walsh, two volunteer Shambhala developers. Sara produced a prototype version in 2012, and James brought the project to fruition over the past ten months.
Our main design goal for the app was to complement the existing Shambhala infrastructure. From a Shambhala perspective, however, the most important thing about learning to meditate is the personal connection that one makes with an individual meditation instructor, and a community of practitioners. The basic transmission of meditation and enlightened society which occurs when people enter a Shambhala Center is impossible to replicate digitally, and so we didn't try to.
Instead we focused on doing a couple of simple things very well, and providing a clear way for people to learn more about the Shambhala community, and to find their local center. The app has three main functions: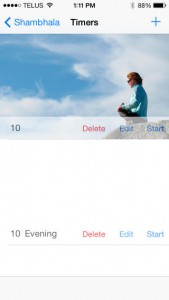 Timer
The core functionality of the app is timer built for meditators. The timer allows users to construct meditation sessions by combining different practices. For instance, if you want to sit for five minutes, then do ten minutes of tonglen, then return to shamatha for 15 minutes the timer can accommodate you. In this way the timer solves the main meditation timing problem, which is keeping track of the timing of various practices which often make up a meditation session.
Learn and Connect
The app includes a set of audio teachings from the Sakyong, as well as links to the Shambhala Times, the Shambhala Community YouTube Channel, and recommendations for further reading.
Map
Finally the app provides a map to every Shambhala Center or Group in the world. It identifies your nearest Shambhala Center, points you to its website, and provides directions.
The general idea is to provide a full featured meditation timer, some inspiring content, and an opportunity to go further.
Future Development
This release is just the first step in bringing Shambhala into the mobile computing space, and in the future we hope to add some of the following functionality:
– Regularly updated audio teachings from Shambhala teachers
– Pre-packaged meditation and contemplation sessions
– Statistics of meditation habits
– Integration with the Shambhala Network
– Notification of introductory programs in your area
– Tracking of one's personal practice path
– An implementation of the app for Android
This app would not have been possible without all of the hard work that's been done to make Shambhala a global community. When we started work on this app, Shambhala had already developed a comprehensive style guide, a database of center locations, a beautiful set of audio teachings, and most importantly a global network of communities who are all committed to the same vision. The physical network of Shambhala Centers is the chief strength of the app itself. Anyone who becomes inspired by the app can know that there is a center near them which embodies the teachings expressed in the app. That's something that none of the other online meditation products can provide.
This global network is also the reason the app is free. Early on in the development process, we thought of producing a paid app which might raise money for Shambhala International. The cost of a paid app, however, is that far fewer people would download the product, become interested in Shambhala, or attend their local Shambhala Center. A free app, on the other hand, generates revenue by connecting people with their local practice programs and membership structures, which in turn enriches the entire mandala. In line with the aspiration of being a global community with a unified financial structure, we decided to release a free app which would help bring people into Shambhala Centers.
The best way you can help this project is by downloading the app, telling your friends, and emailing us ways to improve the product.
Visit us on Facebook and share with your friends that way by clicking here.
Post Tags:
communications and technology
,
community videos
,
meditation
,
shambhala international
,
Shambhala Meditation App
,
technology
,
timer