Saturday
California, Arizona, International Programs, Northeastern States, Regions, Shambhala News Service
Sakyong Teaching in Boston, Bay Area, and Live Online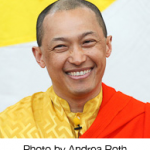 The Year of the Wood Horse is off to a galloping start. Here are two unique opportunities to see Sakyong Mipham Rinpoche speak –­ in person or via live webcast — and bring people together to celebrate basic goodness.
On April 12, the anniversary of the Boston Marathon bombing, Sakyong Mipham Rinpoche will be in Boston to speak about our incredible capacity to meet challenges with strength, courage and compassion. Shambhala Online will broadcast this event live at 7pm Eastern, via Livestream. This is a great reason to host a gathering of runners, folks who were touched by the event in Boston last year, and/or anyone who wants to see our Sakyong. Online tickets are $15 per person, $50 for a group. Tip: Television and print media will be looking for stories or content related to this anniversary. Let them know your plans! Visit movingforwardboston.com or register here for the webcast.
"I feel very deeply that if we can gather together in this way — meditating, contemplating, and sharing our hearts — we can create a genuine and non-aggressive, yet powerful, force for transformation in our world." — Ani Pema Chodron
May 2 – 4, Sakyong Mipham Rinpoche and Ani Pema Chodron will lead a socially enriching meditation retreat: Being Brave: Is Enlightened Society Possible in the San Francisco Bay area. Shambhala Online will present the entire program via Livestream for $125 per person; $300 per group. Let local booksellers and your favorite Pema fans know about this chance to spend the weekend with these two beloved authors. Visit beingbrave.com for more information; register at streamingbrave.org.
Post Tags:
Shambhala News Service