Sunday
VCTR Tributes
Brief Encounters with a Dragon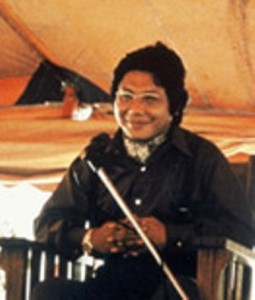 Remembering Chogyam Trungpa Rinpoche
These few "Brief Encounters" are brought to you courtesy of the wonderful work of the folks at The Chronicles of Chogyam Trungpa Rinpoche
"The Usual"
from Valerie Lorig
During 1985 and 1986 I attended Rinpoche weekly. Upon entering his room, there was often a vast sense of space. This particular day, not unlike other days, he wanted me to sit right next to him and proceeded to stare at me for a long, long time. The space felt dense as he fixed his dark eyes upon me. I looked back at him for a short while … then looked away … looked back again, only to return to his piercing gaze. This was not the first time I squirmed under his intense inspection, but this time I came up with what I thought was a great question. I said: "Sir, What do you see?" Without the slightest hesitation he answered in a flat voice: "The usual." It took me aback. I must have been hoping that such scrutiny would yield something a little more exotic. Never have I met anyone so deeply inquisitive about "the usual."
"No Place to Go"
from Meera Flint
Setting: Karme Choling, 1972
Trungpa Rinpoche and I are sitting side by side. There's a long period of silence. Out of the blue, he looks over at me and says: "Why don't you just let go?"
I say, "I can't let go. I'm afraid I'll never come back."
[More silence]
Rinpoche looks at me again and says, "That's because you don't understand that there's no place to go."
"A Half Hour in His Company"
from Dan Barnes
I was not part of Naropa in Boulder, but one day I smoked a cigarette on a bench next to Boulder Creek with Trungpa Rinpoche. I knew who he was, but never told him so. I will never forget the relaxed way he breathed in the smoke and the way it bellowed out on each exhale. Like a dragon. I passed a half hour in his company, then he moved on.
"The Day I Shook Hands with my Guru"
from Alan Ness
Note: This story takes place in Boston in March of 1982. The talk mentioned is the same one that was videotaped and titled "Creating Enlightened Society."
It was a beautiful spring day. The sky was sunny and bright, without a cloud. The Vidyadhara had just finished a talk at a packed house in a large church in downtown Boston. We were all pouring out of the church into the splendid weather. I was with two friends who were interested in Buddhism but not part of the Sangha. I noticed Rinpoche standing over by his black limo, waving to everyone. I felt such tremendous joy and simplicity after the talk that I turned and waved to him. He motioned to me to come over, so I did. The kasung parted and I was able to walk right up to him. We shook hands and I felt an incredible warmth that is indescribable.
At this point it is important to note what I looked like: a young Jewish boy with a beard and dark hair. Rinpoche asked me if I meditated. I said that I did. He asked me what kind. I was so proud to be able to say "shamatha." He said "Shmata?" (which is Yiddish for 'rag'). I got so confused at that point, my mind was a blank. I didn't know what to say. Then Rinpoche asked me what I was doing. I said that I was going to have ice cream with my friends. He let me go and I went off.
~~
View more stories at The Chronicles of Chogyam Trungpa Rinpoche by clicking here. Share your stories! Comment below.
Post Tags:
Chogyam Trungpa
,
Chronicles of CTR
,
stories
,
VCTR Tributes
Share: