Saturday
Video, Audio, Photos
Trusting Everyday Magic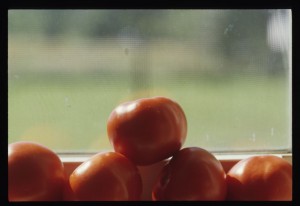 A Contemplation On Snapshots of Basic Goodness versus Contemplative Photography
article and photos by John McQuade
Is there a difference between "feeling good" and the connection with basic goodness? How do images communicate basic goodness?
Miksang is a Tibetan word that translates as "good eye." This form of contemplative photography brings together the art of photography, the discipline of meditation and the dharma art teachings.
Take, for example, the images in the Shambhala Times "Snapshots of Basic Goodness" section. If they were presented in a Nalanda Miksang class, they would not be acceptable as "fulfilled" equivalent contemplative images. They would be corrected. They would be corrected in the same way that an Ikebana teacher (contemplative flower arrangement) corrects the flowers and branches to the formal harmony.
Here we need to pause for some key points — correcting these images does not mean that they do not express basic goodness. They do, and that is decisive.
In part, Nalanda Miksang is a formal contemplative art discipline. There are two aspects: the connection with true perception and the forming of an equivalent image. The correction of the Shambhala Times' images is with regard to the second aspect: the formation of a formal contemplative image. Besides the content and feeling aspects of perception — the sense and sensibility — there is also a formal feature of perception. It has a structure. In Nalanda Miksang, we fashion an image that has an equivalent form as the form of perception. There is a formal intensification and purification of the image.
There is something gained and something lost. What is gained is an artistic focus and impact. The images become extraordinary. They become art in a particular style, and not everyone appreciates the Miksang style. In fact, many other kinds of photographers do not understand this style.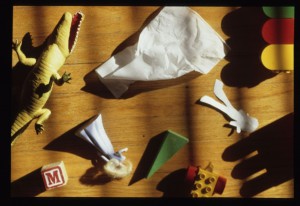 What is lost? A more ordinary communication. I recall my sainted mother requesting photos of our young children. She wanted "cute" images of her grandchildren — not Miksang images of toes, light in their hair and so forth. In exasperation, she finally bought her own camera and made her own images. Thank goodness! We now have a record of recognizable images of our children. When the Miksang practitioners travel to other locals, I remind them to take some "travelogue" images. Don't come back from your trip to Paris with just Miksang images of corners of windows, cracks in walls, patches of light, etc.
Miksang does not hold the franchise on clear seeing and even less so on basic goodness. This, too, is true of meditation. It would be absurd to think that the Shambhala meditators were the only ones who connect with basic goodness.
So how does one connect with and express basic goodness? There are many ways in. It is said that when the Buddha attained realization he said something like: "Wonder of wonders, all sentient beings are buddha-nature but because of their inverted views they do not realize this." Note that he did not say all rational beings or even all human beings.
The communicative nature of perception rests in the play of sense and sensibility: feeling. So we need a term that joins perception and feeling. In the Chinese contemplative traditions that word is "heart".
In the contemplative traditions sometimes we say "heartfelt" where heart and mind are joined. We deploy sense" to embody the somatic, mind and "spiritual" dimensions. Things "make sense" or we have a sense of something. Or a sensation. Or something is sensational. The same with "feeling". Sometimes that is emotional but it can also be "intuition". And then there is "heart connection". Something "touches us". We feel moved. Or we feel "in touch". In Shambhala this is called the "soft spot". Something communicates; we feel touched and in touch.
I am a Shambhala Training teacher. Sometimes, as a pedagogy, I ask participants to articulate their personal sense of basic goodness. The inquiry is structured in two sections. The first is to give a personal expression or example in your experience of "goodness." The second round of inquiry asks to give an expression or statement concerning one's understanding of the "basic" of basic goodness. For this phase of the exercise, I rule out a substitution of terms for basic: fundamental, primordial, inherent, etc.
I urge you to ask yourself these questions.
Always, the first exercise is a more or less an easy run. Everyone has some telling experience or example. Sometimes it is a little conventional, a sort of hallmark greeting card — but that's okay. The second phase of the exercise is more difficult, but participants find their way to the account of groundlessness, panic, unaccountable magic, a trust, bottomless support, buoyancy, a thread, an electric charge and so forth. It is beyond concept. In negative terms, it is precisely that which is beyond conceptual grasp.
We work with the Shambhala teaching on drala, which concerns the manifestation of basic goodness as perception and energy. Drala is not a difficult engagement, but it is a subtle engagement. Often in approaching the issue of drala, people get tied up in conceptual knots — is it real or spiritual, is it an entity, is it energy, is it pantheism?
To excerpt from Shambhala: Sacred Path of the Warrior (pg. 105) by Choygam Trunpa Rinpoche, our recommendation is that rather than trying to figure out drala, go with the actual event. "Anything that connects you with the elemental quality of reality," go with that. "Anything that reminds you of the depth of perception," go with that. "When you meet that elemental quality of the world," go with that. "Discovering magic," go with that. Trust it, and go with it. It could be a rock, mountains, or a clod of earth.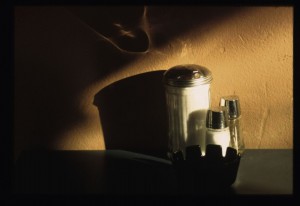 Just go with the event, phenomenal manifestation and open experience. Go with what is going on the spot. And then make an image. Chances are it will be an image of basic goodness. Trust the process. Something stopped or held your mind. There was a "gap" in the ongoing momentum, the flow of experience. Now you are that gap. As that gap you are touched and in touch. On the spot. The soft spot.
So keep it simple. Connect with the connection – the sense and sensibility. You do not have to make it better. As basic goodness it cannot possibility be better: it is always, already underway. In particular, the virtue of the contemplative space of "Snapshots of Basic Goodness" is to empower the "everyday". These images highlight the "ever" – the basic – in the everyday.
From certain points of view – like Nalanda Miksang – the contemplative orientation can be directed and the images can be "improved". But this involves particular views and interventions concerning contemplative aesthetics and pedagogy.
There is room for a more ordinary and everyday approach. There is a contemplative space for "Snapshots of Basic Goodness."
So keep it simple, heartfelt, and true to your connection. Trust the everyday magic.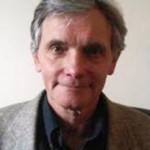 ~~
John McQuade is the founder of the Nalanda Miksang Society the principle Miksang teacher in Toronto. Along with Michael Wood, he co-developed the Miksang teachings and co-authored Looking and Seeing: A Contemplative Photography Sourcebook. See more here: www.miksang.org
Post Tags:
basic goodness
,
contemplative photography
,
miksang
,
photography
,
reflection
,
Snapshots of BG