Friday
Featured Stories
Khenpo Gawang Rinpoche's 10 Years in America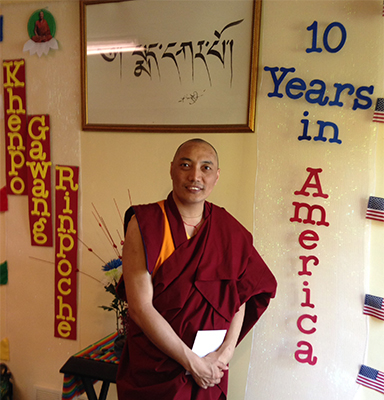 Khenpo Gawang Rinpoche's Ten Years In America Celebration
by Candia Ludy
Khenpo Gawang Rinpoche arrived at the Denver, CO airport from India on April 20, 2004. Immigration had many questions for him that he couldn't answer with his limited English.
Ten years later on April 19th he arrived again from India at the Newark, NJ airport with an American passport, good English skills and no questions from immigration.
The next day on April 20, 2014, at Pema Karpo Meditation Center in Memphis, TN, we celebrated his first 10 years in America and the West.
A letter, from the Kongma Sakyong, Jamgon Mipham Rinpoche, was sent expressing his "deep appreciation, heart-felt prayers, and warm wishes".
I could see the joy in Khenpo Gawang Rinpoche's face as I read the letter aloud to everyone present.
LINK 2 LETTER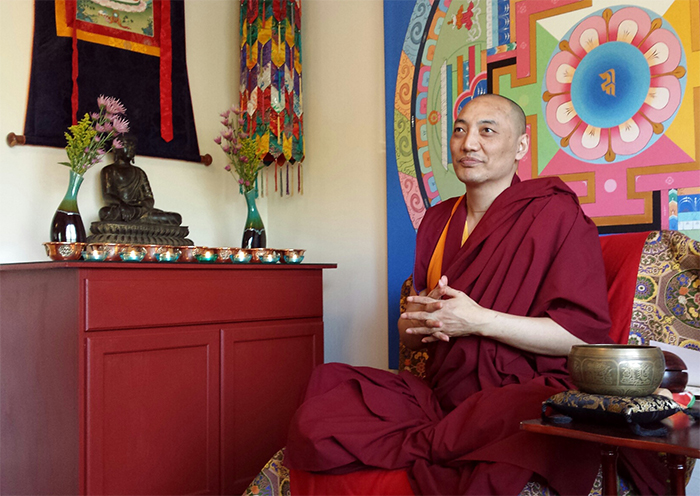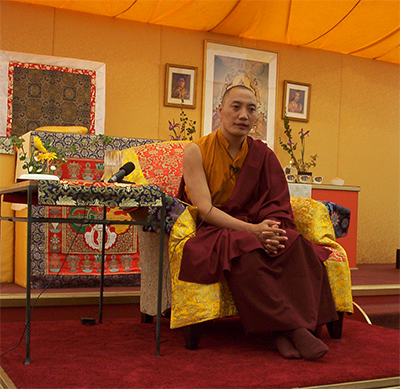 From 2004-2007 KGR traveled and taught within Shambhala International accompanying the Kongma Sakyong, Jamgon Mipham Rinpoche.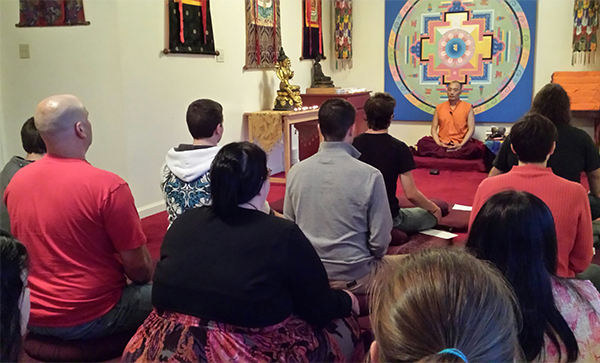 At the end of 2007, with the Kongma Sakyong's blessing, KGR  moved to Memphis, TN were he started a dharma center named Pema Karpo Meditation Center. There each Friday and Sunday he teaches giving time for questions and answers and leads the meditation.
Khenpo Gawang Rinpoche lives in semi-retreat in his secluded home one mile from Pema Karpo on a hill overlooking a small organic farm and woods. HE Garchen Rinpoche named it "The Forest Retreat of Samantrabhadra" when he stayed there during a visit.
His days are measured by mornings spent in meditation, afternoons in translation, reading and listening to dharma teachings and Rosetta Stone based English study, and evenings spent watching Buddhist teachers online and what's happening in the world on cable TV.
He keeps fit by doing prostrations and with breathing exercises which he has begun to teach on Friday nights.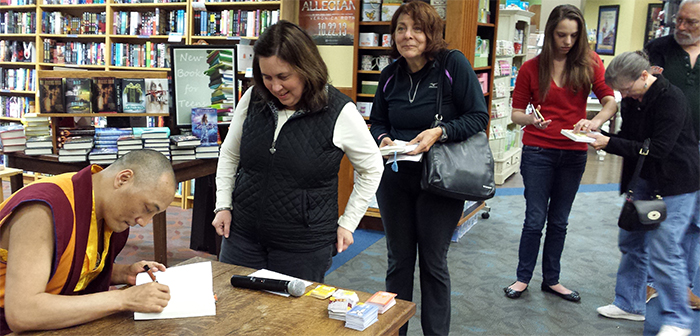 In July 2013 Shambhala Publications published Your Mind Is Your Teacher. KGR feels that this book is his main accomplishment during these last ten years. A quote from a foreword written by His Holiness the Dalai Lama, to be included in the 2nd printing, sums the book up beautifully, "Khenpo Gawang Rinpoche has prepared this meditation handbook, Your Mind Is Your Teacher, for Western students based on the teachings of Mipham Rinpoche. He presents a clear explanation of analytical meditation, based on the Four Seals and the Heart Sutra, with the intention of making it as accessible as possible even to those who may not consider themselves Buddhists. Presenting the Buddha's teachings in a way that makes it easier for people to use them to effect a transformation of their minds is a work of true spiritual friendship."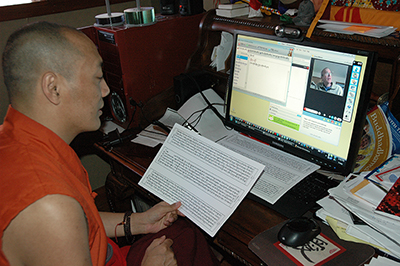 KGR uses Skype to work with various translators and translation groups such as the Nalanda Translation Committee. During the celebration I also read a letter from Gerry Wiener that summed up their main translation accomplishments which include the Wheel of Analytical Meditation, the Treasury of Blessings of the Liturgy of the Buddha Shakyamuni, and the Guru Yoga of the Seven Line Supplication of Guru Rinpoche all by Ju Mipham Rinpoche and the soon to be published Longchen Rabjam's Excellent Path to Enlightenment.
Invited by the Kongma Sakyong, Jamgon Mipham Rinpoche, and repeatedly told to stay in the West by His Holiness Penor Rinpoche, the karmic path of Khenpo Gawang Rinpoche has been laid out clearly. Over these last ten years he has accepted and embraced this new trajectory.
From the book, Your Mind Is Your Teacher, "In my fourth year, I began to reconsider my assumptions. There were many good teachers at Namdroling and more were being trained. If, instead of returning there, I lived in America, I could be helpful in bringing Buddhism to the West. This change in my view then led to the next question: where should I go? I was invited to visit Memphis, Tennessee, to see if it felt like an auspicious place for me. Meeting sincere students there, I felt it was a good place to establish my Dharma center, Pema Karpo. I enrolled in English classes at a local university and began to hold meditation sessions.
At first, giving just a three-minute talk in English was very difficult. It seemed to take forever to get the words out, but at least we could all meditate together in silence. To this day I continue to meditate along with the students at our twice-weekly sessions because I feel it is important for teacher and students to practice together. Today, I can speak for an hour or more in English and the time flies by swiftly.
Finally I had the great opportunity to take the U.S. citizenship exam. I studied very hard to pass the test and learned a lot of American history and law. The principles this country was founded upon are amazing. Because of our First Amendment rights — including freedom of religion and freedom of assembly — people of all faiths, or no religious faith, can come and go freely at Pema Karpo, united in our common wish to practice the Dharma. "Life, liberty, and the pursuit of happiness" could be another way of expressing basic Dharma. We have our human life, we have the liberty to discover our true nature, and we can and should pursue happiness by understanding the true causes of happiness. These are the rights of all sentient beings.
I am glad I decided to stay in the United States. I passed the citizenship test and in July 2011 became a citizen. My path of being helpful to others and my own Dharma practice have grown stronger from this unexpected change in my life. Recently a new student asked me, "Are you happy?" and I could honestly reply, "Yes, I am happy!"

Post Tags:
Khenpo Gawang
,
Memphis
,
Pema Karpo
,
Sakyong Mipham