Saturday
Arts and Poetry
Eyes of the Heart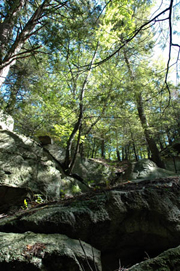 COLUMN: Celebrating the Arts
When It's Time to Go on Retreat
article by Jude Robison
I unroll a long piece of paper on the grass. Next, making marks with a found-object brush, moving my body along with the brush, then moving my body without the brush, I conclude by rolling up the paper and putting it in the recycling bin. The movement discards itself as it is made. Very ecological – all that remains is space. And a smile.
I know when it's time to go on retreat – when I find myself disconnecting, enclosed by timetable/deadlines/to-do lists that are impossibly long, impatient and inclined to fixate. When this occurs, the retreats that attract me are retreats focusing on creativity, art practice in the broadest sense – the art of being awake, refreshed, present to the wisdom of the senses and life.
Then comes an invitation to OPEN EYES / MOVING IN SPACE: An Artists' Retreat with Acharya Arawana Hayashi and Barbara Bash. I have done retreats with each of these master warrior artists separately, but together. This is a no-brainer! And the place – Sky Lake Shambhala Retreat Center – a nurturing gently provocative place of practice. Woods, trails, croaking frogs, delicious food. Yes, sign me up!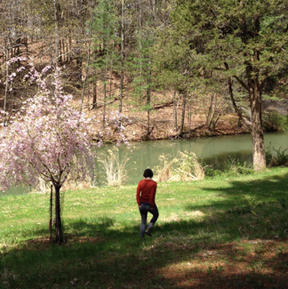 The beauty of this retreat is in the design. At times I return home, inspired from retreat, and find that I can't quite figure out how to apply the group experience to my solo life. So here's a retreat schedule that builds in the "taking it home" piece; beginning with meditation and movement, followed by a morning of individual art practice time, exploring movement, or mark-making, or writing, or maybe simply walking in the woods, investigating whether or not the sense perceptions are infinite. In the afternoon, drinking at the well of collaborative community and teachings. Next morning, again making it personal – bringing the creative inspiration to the personal path of practice. Taking time to digest/explore/reflect on the aspects of ourselves that are revealed to us in the previous day's teaching and group work.
And who are these master teachers, Arawana Hayashi and Barbara Bash? Both are deeply trained in meditation, both are students of Chogyam Trungpa Rinpoche and Sakyong Mipham Rinpoche.
And both are deeply trained by master teachers within their respective art disciplines. They also share a commitment to personal and social change, for which artistic expression can be a vehicle. Beyond that deep training and commitment, what makes them extraordinary teachers is their relationship with space. In different ways, they are both skilled at pointing out the space of every situation, illuminating it, intensifying it, and inviting everyone to become co-creators within the space of whatever energy/activity is occurring.
I don't go on these retreats to learn art techniques – how to draw, how to dance, how to write poetry. I go to inhabit that playful, provocative space – to be reminded of my inherent human creativity, whatever that means at the time. Sometimes it's related to an art practice – re-invigorating an old one, cultivating a new one. But fundamentally it's about seeing myself and my life with fresh eyes – open eyes – eyes of the heart that are fearlessly willing to acknowledge the basic goodness of being.
That said, I always arrive with plenty of baggage – hope/fear, competitiveness, wanting to be the best, the most genuine, the exceptional team player, etc. And after a day, those habitual little mind games haven't entirely disappeared, but they have softened around the edges. They begin to float around the space of the practice and the teachings, sometimes obstructing the view, but not staying long. My curiosity about how things unfold begins to take precedence over how they might turn out.
The first walk in the woods on the Sky Lake grounds is the unfolding process. Yes, there are bugs . . . and white tailed deer and red tailed hawks; moss and lichen for the finger tips; decaying trees and delicate jewelweed for the nose; warblers and quarrelsome squirrels for the ears, and my favorite, the tiny orange newt, unmoving on the path. In the face of all that, there is nothing to do, but to accept the invitation to simply be. Nature expresses itself without artifice.
The natural world has parts that it shows and parts that it hides, parts we discover if we are curious and patient and willing to recognize the unexpected. In the group, it becomes apparent that the same is true of each of us. Once we have exhausted our usual "repertory," less familiar things emerge – the self that we don't show, that we don't know. The group begins to evolve, from being "other," to being a mirror in which different aspects of our being are reflected. When we can stay with – really experience – that less familiar reflection, we feel bigger, more whole.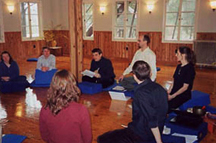 Alternating between community and solitude, my experience becomes integrated with the open space of letting go. In these retreats there is joy, as well as poignancy and gentle sadness. Self-seriousness can be left behind in the openness, replaced by delight and humor. Okay, not entirely left behind. It does re-emerge, perhaps to remind me that it isn't quite finished with me, nor I with it. So next morning, square one, begin again.
~~
OPEN EYES / MOVING IN SPACE: An Artists' Retreat
with Acharya Arawana Hayashi and Barbara Bash
Sky Lake Shambhala Retreat Center, Rosendale, New York, July 25 – July 31, 2014
Click here for program details.
Post Tags:
Acharya Arawana Hayashi
,
arts
,
Barbara Bash
,
Sky Lake Lodge