Sunday
Video, Audio, Photos
Crying to the Sky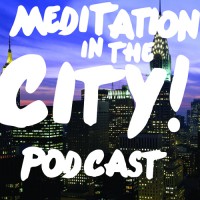 Offering Meditation In The City – the Shambhala Meditation Center of New York's very own podcast.
In this episode, Joe Mauricio turns the tables again. Can avoiding unhappiness actually cause our unhappiness? What would it mean to open up our heart and our mind to the entirety of our lives? To cry out to a greater world?
Click the link below to listen to this month's podcast, and look forward to more coming soon!
Click Here to Play: Crying to the Sky
If you enjoy Meditation in the City, throw us a buck or two (or five, or fifty!). Any amount will help support this podcast. It's easy, just click this link!
Podcast production by sonamgray.com
Touch the world by telling your friends about our podcast!
~~
Joseph Mauricio, a senior teacher in the Shambhala Buddhist Tradition, is a student of meditation master, Sakyong Mipham, Rinpoche. He is a writer, performer, lecturer, and founder of LIFEWORK Personal Coaching Services, a meditation, performance, public speaking and personal actualization life coaching service.
Post Tags:
Meditation in the City
,
nyc
,
Podcast