Wednesday
Scene and Heard
A Spontaneous Wedding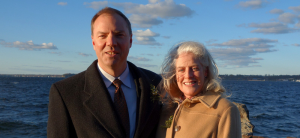 Shambhala Times is delighted to announce the marriage of Bob Taylor, Rupon and Dapon Bonnie Hankin (now Taylor)!
story by Bob and Bonnie Taylor
Getting married is daunting, especially in Shambhala! Our regard for form and aesthetics sets the wedding bar quite high. But Shambhala aesthetics are just one of many considerations, especially because Bonnie and I had been engaged for 4 years.
The "when's the date?" question began pressing in on us from all sides. The church ladies raffling off crocheted blankets in front of the local store would ask. Our families were worse. Every phone conversation devolved into the "when" question. We're life-long Dorje Kasung. Should we get married in our uniforms? Rifles? Canons? Horses?
In the midst of trying to stabilize this challenging visualization, elopement became more and more appealing. Elopement is wedding-lite. A lot of the fun and much less of the stress – or so we thought. We hatched a plan centered around a trip to Burlington, VT. Bonnie and I pow-wowed about the ceremony elements that mattered to us and the elements to leave to chance. However, even the things we carefully planned took on a life of their own. We became guests at our own wedding ceremony as it unfolded around us.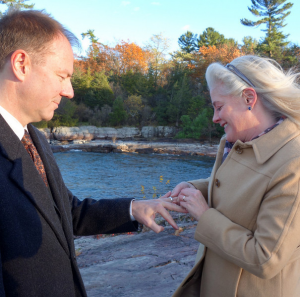 Morning of the wedding: November 3rd. We are staying at a hotel. We call the Justice of the Peace we had carefully selected and made arrangements with to confirm her taxi pickup and the 3pm ceremony start time. No answer. We call the taxi driver who was going to serve as our "limo" driver and photographer. He informs us that he has to bail because a long-time customer needs a ride somewhere. Uh oh.
The crazy thing about an elopement is you can call the whole thing off at the last minute without consequence. No jilted relatives or event hall/catering/dance band commitments. We consider this briefly and then speak to the bell hop. Would you be our driver and photographer? Yes, he says. Phew. We call the JP again. Still no answer.
Bonnie and I huddle. The JP is such a sweet person. Let's give her one more hour, but we need a plan B. We dial local JP's randomly and find someone who's willing. We explain the plan A/B thing to him and he's understanding. Plan A has one more hour to return our calls.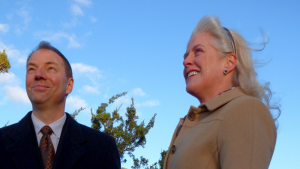 We drive to a park on the shore of Lake Champlain which neither of us has been to before and find a lovely, although chilly, rocky point covered in juniper bushes with a view across the lake to the snow-covered Adirondack mountains. Bingo! This is the place. A lhasang with local juniper gets added to the ceremony. We go to the Burlington Shambhala Center on the off-chance someone is there and that they might have access to lhasang charcoal. The door is locked. Bummer.
Then Bonnie knocks some more and who appears coming down the stairs, but Myra Woodruff! She's delighted to see us and we go up and greet a bunch of folks who are sitting down to practice Werma. We leave with charcoal and smiles. Our plan A JP is still incommunicado. Time for plan B. We call him and he's good to go.
We put on our wedding finery and at 3pm walk downstairs into the lobby of the hotel. We're escorted to our Corolla by the bellhop/driver/photographer. Bonnie and I sit in the back. He drives us to pickup the JP at his house. On the drive to the park we learn the JP is married, gay, and a stand-up comic! He has opened for Joan Rivers. There isn't a lot of time to process this.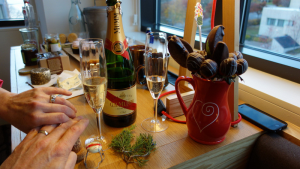 We arrive at the park and walk to the rocky point. We show our photographer how to use the camera. The weather is good and the sun is low on the horizon. The four of us are freezing due to a stiff wind. We light the charcoal, break off some juniper sprigs, and perform the very short form of a lhasang on our wedding bands. The JP offers us additional sprigs to stick into our jackets as corsages. He then makes some inspiring and lovely remarks about relationships, marriage, and new beginnings that we had no idea he was going to do.
We hold each other's hands, look into each other's eyes and say together 3 times, "We vow to love and protect each other." We exchange rings. The JP then says "Do you Bob take Bonnie to be your wife?" I say I do. He then says "Do you Bonnie take Tom – I mean Bob – to be your husband?" Bonnie says I do. The JP replies "By the power vested in me by the state of Vermont, I now pronounce you married."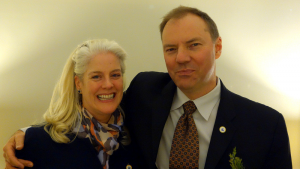 ~~
Bonnie, Bob, and their furry friends live just south of Karme Choling and are planning a wedding celebration for family and friends. They expect this to happen in another few years.
Post Tags:
Burlington
,
Dorje Kasung
,
marriage
,
wedding
,
Wedding Announcements