Friday
Community Articles
Joys and Sorrows
COLUMN: Aging in Enlightened Society

Buddhist Perspectives on Caregiving, Dementia and End of Life Issues

article by Andrea Sherman and Cynthia Spencer, coordinators of the Conversations on Aging group at the New York Shambhala Center
The Conversations on Aging group at the New York Shambhala Center hosted a wonderful evening with Olivia Ames Hoblitzelle, a teacher and writer who has practiced meditation for over 40 years and has taught contemplative practices in a variety of settings including Behavioral Medicine.
Olivia shared stories of comfort, connection, and inspiration from her journey with her husband Hob, who was a psychotherapist and senior buddhist teacher in the vipassana tradition, through decline and dementia. Her award winning book is entitled Ten Thousand Joys & Ten Thousand Sorrows: A Couple's Journey Through Alzheimer's.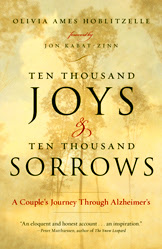 Her book is a story of how they lived with his illness and dealt with it from the perspective of Buddhist practice, finding lightness, humor and inquisitiveness intermixed with the pain and loss. As an example of the peculiar humor that could arise, Olivia described a conversation where Hob asked: "What's the name of that disease I have? Horse blinders?" A playful rhyme which also reflected his experience of Alzheimer's.
Along the way the couple found many "wisdom treasures" – sources of inspiration who offered helpful outlooks and reinforced the spiritual dimension of the journey through illness and dying.
Among those wisdom treasures were Olivia's Buddhist teachers. Tulku Thondup Rinpoche advised her to, "Take it as a blessing. Any situation can be a source of growth. This is difficult, but it is a teaching, a training, a blessing." In this way caregiving became a practice of awareness. Viewed from the perspective of the paramitas – such as patience, exertion and generosity – simply feeding a spoonful of food could be imbued with sacredness.
The shadow side of this progressive disease – loss, sorrow, and anger – were also part of their journey together through Alzheimer's disease. Facing the "grace of diminishment," as described by Teilhard de Chardin, another of their wisdom treasures, they questioned how to find beauty in diminishment, and found it through a meta-reality, a dimension in which "everything is perfectly okay." Drawing no doubt on the depth of his Buddhist training and understanding of ultimate and relative truths, Hob said, "It's a different truth. It's not to be worried about."
As the disease progressed, the certainty of death and truth of impermanence became an increasing part of their daily life and daily practice. Hob had expressed from the start that he did not intend to go to the late stages of the disease. He seemed to have a strong sense of acceptance about the inevitable, and faced it directly. At one point he said: "Get me out of this life – everything is dissolving," and another time, "I think it's time for me to get off the bus." For both Olivia and Hob, life became a continual practice of letting go.
The deepening of family and relationship was essential. Their willingness to embrace the unfolding reality consciously and lovingly helped them navigate, with the dharma as their compass, through the gradual and progressive affects of Alzheimer's disease. They were able to experience both the joys and the sorrows of their lives together.
The topic of dementia has arisen frequently in the Shambhala New York Conversations on Aging group. The discussion which followed Olivia's talk revealed even further how close to home and heartfelt this topic is. People shared poignant personal experiences along with questions and insightful comments. It is notable that the audience included many who had come to the center for the first time.
The evening provided an opportunity to question and discuss practical issues and concerns of living with dementia, as well as to hear how Buddhist teachings became a "container to hold the shifting realities of the disease." Olivia, through her personal narrative, revealed the fruits of the dharmic path she and Hob chose, the potential for increasing love and compassion under duress, and the tremendous value of dharma as a framework for navigating the duration and difficulties of Alzheimer's disease.
To read more articles in this Column, please click here.
~~
Andrea Sherman, PhD, serves on the Mandala – Aging in Shambhala steering committee, is a gerontologist with an extensive background in Creativity and Aging, Director of Transitional Keys/a lifecyle program, and is a graduate of the Foundations of Buddhist Contemplative Care program. She has been active in the Shambhala Center of NY since 2008.
Cynthia Spencer is a meditation instructor, teacher, and practitioner of dharma arts including calligraphy and kado. Her interest in the support of aging and dying arises from working with friends and family members. She has been part of the Shambhala community since 1979.
Post Tags:
again
,
Aging in Enlightened Society