Wednesday
Community Articles
A Year of Sharing Meals
COLUMN: Kitchen Wisdom
article by Lisa Harris, Column Co-Host
Investigating some of the many places where we share meals, and the different connections we find at each table.
Outside
This summer I took a long road trip with a friend and her four young children. I caught up with them in North Central Indiana to accompany them on their return journey, as they traveled by car all the way back home to Oregon.
It was great to have a few of our meals in one of my favorite settings – outdoors on a picnic table, in a campsite, at the edge of the woods. No television, radio, or smart phones took our attention away from our simple plates of food, prepared with water from a hand pump, a couple of pots, and a Coleman stove. The only real distraction, at least for the kids, was the sparkling of fireflies as the day turned to dusk. My friend and I were happy to have adult time to settle and talk, uninterrupted by the needs of restless little bodies sitting all day
in the car, as they chased the flickering bugs under the trees.
Potluck
Around the end of March, a friend offered to host a potluck in an attempt to summon the arrival of spring. The winter was a snowy one, and it seemed like it would never cease. So we asked the invited guests to prepare dishes with ingredients that represent the approaching season, reminding ourselves of what was soon to come.
It was great to gather and meet new people, share our winter woes and spring dreams, or simply bypass that misery and learn about each others' lives. The weather outside was still hovering around freezing, but inside the house it was warm and lively, buzzing with ebullient discussion between new friends.
Wild Edibles

Another friend of mine lives in the country, tending a farm where heritage breed farm animals graze in fenced pastures, a permaculture garden is taking shape, and a tallgrass prairie dances at the edges of woods and ponds and fields. She always looks for ways to share this beautiful landscape with the community, since it produces and provides so many wonderful things to see, do, and eat. It also provides a place for people to connect with others.
One recent evening she invited some folks from Amish country to take a walk around her land to see what bounty grows there. Ground nuts, pond lilies, and cattail roots and stalks were pulled from the ground and water, tasted and discussed, as we savored their flavors and textures. The farmers in the group also marveled at the ease of access to these edibles, compared to the labor of cultivating food on a farm. Wild black raspberries dotted the edges of the woods, and golden May Apples lay scattered on the forest floor like Easter eggs ready for the hunt. Wild cherries, sassafras leaves, and wild leek bulbs also provided new flavors for us to try. It was a lovely day out there, and a great opportunity to share our questions, knowledge, and recipes with people from cultures that are less familiar.
After the walk we made our way up to the house for a meal made from different plants and fruits found on the land. May Apple and elderberry jelly, sautéed lambs-quarters greens, wild bergamot tea, sumac lemonade, and persimmon pudding were just a few dishes prepared by some of us and offered that day. Sitting on the back deck, looking out over the prairie, and learning about each other was a great way to build bridges with each other.
Tasting Chocolate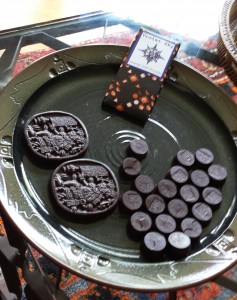 I love knowing people who enjoy good foods. Recently I was invited to a friend's house for a chocolate tasting. There were over 12 different chocolates for us to explore, and we were doubly blessed with two local chocolatiers who joined us that day.
It was obvious that we were chocolate lovers, but we pushed our own envelopes by attempting to taste them all and try to identify what made each one unique. A flavor wheel was provided to give us some vocabulary to use, along with a list of the different chocolates. But it was a blind tasting, and only numbers labeled the little piles on each plate. Some of us were able to distinguish certain flavors, textures, and characteristics. Others just followed along, learning more with each bite. New connections were made as we developed a greater understanding about a common love between all of us. And how often do you get to meet someone who creates such wonderful delicacies?
In Retrospect
Meals come to us in so many ways, in different locations and endless settings. They provide us the opportunity to connect with different groups of people, and bring new sets of social customs along with them, depending upon the particular occasion and reason for each gathering. It can frame a focus that is joyful and entertaining, or thoughtful and inspiring. I encourage you to take full advantage of the meals you share with others, and see what arises at each table. It's more than a full belly that we receive. It can also result in a full heart.
~~
In an effort to share the wisdom that many of us experience in our daily lives, meals, and our own kitchens, this column will be including voices from around the sangha, Please continue to join us as we expand our view and hear the many voices of Kitchen Wisdom.
Lisa Harris is a free-range chef, freelance writer, and consultant. She is always on the lookout for seasonal, local foods, and the farmers who provide them in Northern Indiana, where she currently lives, and wherever she travels. You can find more of her experiences and stories in her blog, earthskybelly.wordpress.com and other food related publications. She can be reached at [email protected].

To read other entries in this column, please see: Kitchen Wisdom.
Post Tags:
Kitchen Wisdom