Monday
Featured Stories
Back to "School"
Shambhala Times Updates from the Inside Out
Editor's Column

by Sarah Lipton
Shambhala Times Editor-in-Chief
This morning I sat in my garden listening to crickets and ravens, wind rustling the trees, and the slow, riveting sound of tomatoes ripening.
In the chilly clime of northern Vermont the trees are beginning to doubt their summer coats of green – already visible are a few splashes of orange and red. When the sun shines down, it's not hot. When the clouds race overhead, it's actually cool. Pickles are fermenting in the cupboard and pesto is nestled in the freezer. I remember wistfully the long-gone peonies and day-lilies, the iris and lupine. It's the end of summer, and my mind turns back towards thoughts of "school" and the busy working season approaching.
I have been listening, this summer, to the voices of our world-wide community. It seems that across the Shambhala world, we are heeding the Sakyong's wish that we turn our practice out into the world. We are turning our Shambhala Centers into community gathering places (see more on Shambhala on the Move Column), the arts are flourishing, and our activities are manifesting kindness in ripples. Each small community is hard at work discerning ways to bring greater benefit of the meditation practice and the Shambhala teachings to themselves and to the communities they live within.
As we turn now to the season of harvest, it is time to look outwards again. Many of us have had the luxury to attend a retreat this summer, and it is time now for us to turn that depth of experience into action. As we head back into the world in this autumnal season, we can bring our senses with us. We can learn to study our experiences of mind, body and speech – on the train or bus, in the office or bedroom, at the grocery store or out in the woods. This will be our classroom.
Let us question…Are we being kind to ourselves and extending that to others? Are we pausing to listen and allowing our responses to resonate before reacting? Can we feel what we are feeling and therefore tune in to what others are feeling? Are our actions arising from genuineness or habit? Are we holding back or are we allowing ourselves to manifest?
As we head back to the schoolroom of life, I would like to urge each and every one of us to feel our bodies, experience our minds, and allow our hearts to open. This burgeoning gift of awareness will extend out and touch the people in our lives. It will go a long, long way towards facilitating the ongoing, never ceasing dance of creating enlightened society.
So sit on your cushions, but get up and dance! Harvest the heck out of your experience, till under the summer abundance and enrich your life with meaning and connection. This is the warrior's path, and I look forward to meeting you there.
~~
The Shambhala Times is the Shambhala community's international news hub. We are all about communication, and we want to hear from you. Join the conversation, share your stories, ask your questions. We are all on this journey together.
Make the Shambhala Times your homepage.
Donate to help those of us behind the scenes continue bringing you this wide array of news and features.
Get involved at your local Center by starting or writing for your Center's blog.

Email us your stories, photos, videos, and news announcements.
Join us in the social mediasphere on Facebook and Twitter.
Volunteer your time as an editor, writer, tweeter, videographer, or photographer. Click here to see how.
Share your voice. Share your perspective. We want to hear from you.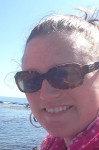 ~~
Sarah Lipton has been the Shambhala Times Editor-in-Chief for over three years. She lives in a two hundred year old farmhouse in the woods with her husband and large garden in north-central Vermont. Besides running the Shambhala Times, Sarah spends her time writing books, gardening and providing leadership mentoring to leaders in her community. See previous editorials here.
Post Tags:
editorial