Tuesday
VCTR Tributes
The Early Years, part 2
Celebrating a collaboration between Naropa University and the University of Colorado on a Buddhist Studies Lecture Series in honor of Chogyam Trungpa Rinpoche
The Early Years in Colorado, part 2
by Clarke Warren
The First Public Talk and Poetry Reading at Macky Auditorium
Trungpa Rinpoche's first public talk in Boulder took place at Macky Auditorium on the campus of CU Boulder in the fall of 1970. Arriving at Macky, Trungpa Rinpoche was led down the aisle to the stage by Marcia Usow, the wife of Professor Karl Usow. He was seated in a chair in the middle of the otherwise bare stage, then introduced by Professor Usow. Trungpa Rinpoche presented a talk on the teacher-student relationship in Vajrayana Buddhism. He tracked the relationship from its initial vital and interpersonal role through to the point at which the student had internalized the Buddhist teachings and the guru to the point that "the guru becomes another pebble on the path."
Another seminal early event on the CU campus related to Trungpa Rinpoche, again at Macky Auditorium, came during the fall of 1971. It was a poetry reading organized to benefit the budding Buddhist community in Boulder. Poets who traveled to Boulder to participate included Allen Ginsberg, Gary Snyder, the Japanese poet Nanao Sasaki, Robert Bly, and Trungpa Rinpoche himself, who had been trained in poetry from an early age and had ventured into writing poetry in English. The auditorium was flooded with people. There was even a large circle of hippies in the foyer who could not afford the price of admission, holding hands and chanting the mantra "Om" repeatedly with the intention that they would generate the magic to be let in for free.
The reading began with the recitation of The Heart Sutra in a few different languages. Trungpa Rinpoche lead off in Tibetan, followed by an enthralling Japanese version composed and sung by Nanao Sakaki, then in English by Allen Ginsberg. The reading then proceeded from poet to poet, each reading from their own repertoire of poetry. Toward the end of the reading, the atmosphere started to get a bit rowdy. Trungpa Rinpoche, who by then was more than a little inebriated, began to try and put a meditation gong over Allen Ginsberg head. At first Ginsberg was resistant, but then relented, and took formal meditation posture with the gong covering his head. Robert Bly, at the same time, was reading a very serious poem of William Butler Yeats with a feigned Irish accent. Perturbed by laughter from the audience, Bly interrupted his reading and asked why people were laughing at such a serious poem. He then looked down the row of poets seated on the stage and saw the mischief being conducted by Trungpa Rinpoche and Ginsberg. He was not amused.
Shortly after that, Trungpa Rinpoche announced the end of the reading by stating, "Please do not believe what we poets say. We do not mean what we say. Please go back to your everyday depression!" The evening initiated a long relationship between Trungpa Rinpoche and American poets, sometimes highly collaborative, such as with Ginsberg, and sometimes adversarial, such as with Bly.
Origins of Naropa Institute

Trungpa Rinpoche continued to develop the community of his students in Buddhism in Boulder, naming the new meditation center, Karme Dzong. In 1974, Rinpoche, together with a few of his students, formulated the idea and plan to create a college based on Buddhist principles of education, and on the study and practice of both Eastern and Western contemplative, scholastic, and artistic traditions. Trungpa Rinpoche provided the name for the college, Naropa Institute, after the famed scholar of Nalanda University in India, who then later left his post to pursue tantric training under the Indian tantric Master Tilopa. Later Naropa became himself a renowned tantric master and forefather of Trungpa Rinpoche's lineage, the Kagyu.
Plans were quickly implemented for a 1974 summer opening of Naropa Institute. The idea and vision for Naropa Institute captured the attention and interest of a wide range of spiritual teachers, scholars, artists, and poets. The first summer featured courses and talks by Trungpa Rinpoche, Ram Das, Karma Thinley Rinpoche, Herbert Guenther, Gregory Bateson, Agehananda Bharati, Maezumi Roshi, Bill Kwong Roshi, and many others. Allen Ginsberg and Ann Waldman launched the Jack Kerouac School of Disembodied Poetics with a summer of visiting poets and writers, among them William Burroughs, Robert Creely, Bobbie-Louise Hawkins, Diane DiPrima, Diane Wakowski, Gregory Corso, Peter Orlovsky, and others. Musicians and actors such as John Cage, Meredith Monk, and John Claude-Italie visited, performed and taught. Classes in Tibetan language were taught by Jan Nattier and Janet Gyatso. The Naropa Institute summer sessions were rich and packed, far exceeding original estimates of interest and attendance. The next couple of summers featured similar illustrious faculties and intense schedules.
Meanwhile, Naropa began work on becoming a more regular full time college, finally receiving accreditation from the North Central Association of Colleges and Schools in 1988. Programs were formed in Religious Studies, Buddhist Studies, Psychology, Education, Environmental Studies, Visual Arts, Music, Poetics, Performing Arts, and Traditional Eastern Arts.
During ensuing years, Trungpa Rinpoche worked on developing increasingly sophisticated education programs both within the Buddhist community and at Naropa Institute, later to be renamed Naropa University. He invited a number of other Tibetan Buddhist lamas and scholars, as well as teachers from other traditions, to visit and teach in America, both at his Buddhist centers and at Naropa University, and continued his own intense schedule of teaching. He expanded his artistic activities in photography, flower arrangement, calligraphy, drama, poetry and writing, forming around him groups of students dedicated to those particular artistic pursuits. More books were published from his corpus of teaching, and more centers dedicated to the practice and study of Buddhism were established. He formed the Nalanda Translation Committee, which translates into English and publishes major works of Tibetan Buddhism as well as Buddhist practice texts. He created a program of advanced Buddhist studiesfor his practitioners of Vajrayana, called Ngedon School of Higher Learning. Trungpa Rinpoche cultivated and trained many of his Western students to become teachers of both his Buddhist lineages as well as his more innovative approach to spirituality, such as Shambhala Training, a secularized approach to meditation and its applications to culture and society. He also trained some of his students in the application of Buddhist sensitivities to the arts forming, among other endeavors, the "Explorers of the Phenomenal World."
Trungpa Rinpoche passed away in 1987. The volume of Trungpa Rinpoche's teachings over his seventeen-year residence in the West is massive, and his list of publications extensive. Trungpa Rinpoche may have seemed unsavory to some academics and more traditionally inclined Buddhists for his unusual style of teaching and his sometimes unconventional behavior. Yet his legacy of teachings and publications, his masterful ability to express the most subtle and experiential depths of the Buddhist teachings in accessible and often poetic language, and his creation and nurturing of Naropa University attest to his many contributions to the study, practice, and understanding of Buddhism in the West.
~~
For the extended version of this article, click here.
This history was composed to celebrate a collaboration between Naropa University and the University of Colorado on a Buddhist Studies Lecture Series in honor of Chogyam Trungpa Rinpoche. The annual lecture brings scholars of Buddhism to Boulder to give a lecture, free and open to the public, hosted on alternating years by Naropa and CU Boulder.
This year, John Makransky of Boston College will be delivering the second annual Chogyam Trungpa Lecture in Buddhist Studies at Naropa. For more information, visit this website.
Please help endow the Chogyam Trungpa Lecture Series with a donation.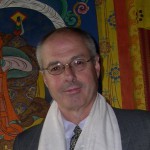 Clarke Warren studied Asian Religions briefly at the University of Colorado before becoming a student of Chogyam Trungpa Rinpoche in 1970. He was involved in the founding of Naropa University, as a student, then a teacher. In addition, he has taught Buddhist philosophy, culture and meditation at Naropa, and in Buddhist communities for over 30 years, and was a senior teacher for Chogyam Trungpa Rinpoche. From 1994-2007, he directed and was lead faculty for the Naropa University Study Abroad Program in Nepal, and then Sikkim, living for 13 years in Tibetan communities. Clarke and his wife Pemba Dolma currently live in Erie, Colorado.
Post Tags:
Chogyam Trungpa
,
Naropa
,
VCTR
,
VCTR Tributes
Share: