Thursday
International Programs, Sakyong and Family
View and Intention for Our Lives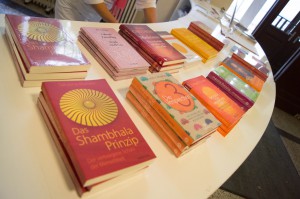 Sakyong Mipham Rinpoche teaches a Shambhala Training Level I in Berlin, Germany
article and photos by Katja Aßmann
An international group – about 150 people from Germany, Denmark, Poland, Czech Republic, Austria, Norway, England, Croatia, United States and Switzerland registered for this weekend with Sakyong Mipham Rinpoche in Berlin.
After a wonderful Friday night talk with a book signing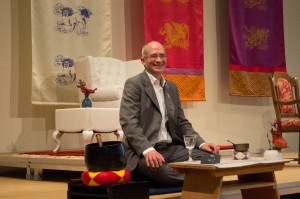 we all gathered on Saturday morning when Acharya David Schneider introduced the notion of basic goodness again and offered meditation instruction. The meditation hall, which was the newly renovated villa of the St. Elisabeth Church, provided the perfect place to learn and practice meditation and contemplate what was being presented.
In the afternoon, Rinpoche joined us to give a long, deep talk. He emphasized the importance of view and intention. "Meditation is the act of orienting and being proactive for the direction of our life," he said. "Without intention, your meditation is like a rock in a lake. After some years the rock is still a rock."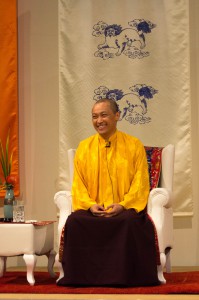 The Sakyong then invited us to contemplate basic goodness with him. Contemplating and thinking about the possibility of basic goodness includes working with doubt, hesitation and inspiration, it turns out.
"There is something mysterious about a human being just sitting," Rinpoche continued. "What happens? Meditation is about becoming familiar with and getting used to something. Meditation is the theme, the element, a principle, that you are getting used to. And what we are looking at is whether basic goodness is real, if it is worthwhile."
The Sakyong encouraged the group (which consisted of complete beginners and quite experienced people) to ask yourself every time you sit down: "Do I want to be here, do I want to be present in my life?" Encouraging us to reengage every time we practice and set our intentions. Furthermore, Rinpoche asked us, "Do we want to meditate because something is wrong with us? Or is our view based on there being something basically good and intact about us? Can meditation foster that?"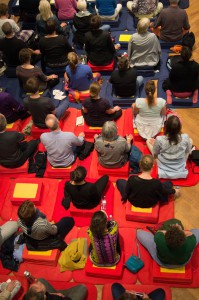 Eventually Rinpoche focused on the quality of feeling. He explained that in our society we don't allow ourselves to feel. Then feelings get hurt and not acknowledged. Violence and tragedy might follow. When we block our feelings out, we block out our life. "Meditation is a ceremony where we connect with our feelings. Through feeling we connect with our humanity."
On Sunday the group came together again for meditation in the morning and to listen to the final talk by the Sakyong around noon. He finished at the end with best wishes and the encouragement to again and again reengage our intentions. "Contemplate on and make it clear what your intention is," the Sakyong encouraged, "clarify what your aspiration is, then make your decision and act with gentleness and determination, without any regrets."
In speaking with some of the participants, a very young practitioner shared how surprised she was how down-to-earth and practical the Sakyong's teachings were, saying that she could perfectly connect what he said with her own experiences in daily life.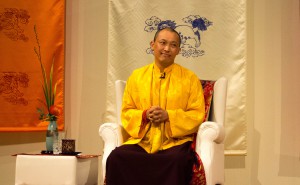 A more experienced mindfulness practitioner said he understood the notion of basic goodness much better and feels more equipped to carry it into his life now. Some people felt deeply touched, while others also felt a bit overwhelmed by the intensity of the program.
After the weekend event, the Berlin sangha was received by the Sakyong who expressed his appreciation for the organization of the weekend and his interest in the city of Berlin. He promised us he would come back.
After leaving on Wednesday, the Sakyong will be traveling to Amsterdam for the Bright Now Festival.
Post Tags:
basic goodness
,
Berlin
,
Europe
,
Sakyong Mipham
,
Shambhala Training