Wednesday
Community Articles
Confessions of a Would Be "Prepper"
COLUMN: In Everyday Life

by Sara Demetry, Barnet, Vermont
For as long as I can remember, fear has been a constant companion. A few years ago, this fear ballooned in response to what I was reading about the possible outcomes of climate change, peak oil, and population overgrowth – the potential outcome, according to some, being the collapse of industrial society.
I couldn't wrap my mind around the possibility of collapse, of societal breakdown, of the extinction of human beings and the destruction of this beautiful planet without becoming intensely anxious and fearful. I felt a certain amount of dissonance between my fearful mind which kept me obsessed with a profound urge to buy land and engage in a major sustainability project, and a voice inside that said "what about enlighted society?"
I wondered why no one else in Shambhala seemed to be talking about this. I felt badly about my not so optimistic outlook. So I kept quiet, at least publicly, but continued to read and to take actions that helped to assuage my anxiety. I somewhat secretly engaged in "prepper" (preparing for collapse) behavior, purchasing a sun oven, respiration masks, iodine for water, and stored some extra beans and rice in the basement.
I fantasized about having a wood or pellet stove and going off the grid. My mind turned toward thinking of things we could have on hand to trade or exchange if things got really bad. I began to engage in practices of "re-skilling", which inspired me to explore herbal medicine, gardening, knitting, and the art of fermentation. I joined my local time bank and food coop, traded my car in for a better mileage vehicle, and took shorter showers. I experienced what felt like waves of denial (which sounded like "what, collapse of industrial society, are you crazy?") and then the return of fear and grief when I came to the conclusion that it was possible and when I saw the signs all around me.
All this as I continued to practice as a Shambhalian and tried to bring this to the cushion and to listen for answers in the Sakyong's teachings. My interest shifted from the practical issues around collapse to the emotional and psychological implications.
The "Transition" movement pointed me in the direction of several authors, among them Joanna Macy and Carolyn Baker, and I read extensively for a few years about "transition" and "resiliency", the importance of "gratitude" and allowing one's grief for the world.
It wasn't too surprising that along the way I ran into several references to the Shambhala teachings on warriorship as crucial to this time in our history. It was also helpful to explore a larger perspective on climate change, educating myself about the history of how climate has changed on our planet and what we might expect in the near and distant future.
I was reminded again and again that worrying about the future of our planet was not exactly being in the "now". I grew more comfortable with the uncertainty of life and death. And at the same time, I looked at my decisions and choices around energy consumption with new eyes, more aware of the consequences of those choices.
It is easy to feel overwhelmed at the scale of suffering we are witnessing day in and day out. That overwhelm may lead to feeling that there is nothing at all we can do; that we can't make a difference. Joanna Macy, in her book "Active Hope", encourages us to think of power as a verb rather than a noun, and to contemplate and recall times when we did make a difference.
Actively resisting the impulse to give up is necessary if we are to adapt. The human spirit has a remarkable ability to adapt to previously unthinkable situations. I saw this clearly in my own family as my father, previously fit and healthy at age 75, lost the use of his lower body to an autoimmune disorder that took 1 1/2 years to diagnose. His family witnessed him struggle with the unknown cause of his paralysis, the hope and fear that it entailed, and his wavering commitment to life under these new conditions. More recently we have witnessed his comeback and a new engagement with the world in spite of his paralysis. If my father could overcome this, it gives me more confidence that we as individuals and as a society have the capacity to adapt.
Another experience, that of the death of our friend and sangha member Susan Shaw, reminded me close up that we are all here for a limited time. Observing the dignity with which she lived the last weeks of her life was a reminder that whatever time we have left, as individuals or as a society, the most important thing is to live it mindfully and with compassion.
What continues to emerge is a new understanding that it is both possible to fully hold in awareness our sense of grief for the possible extinction of our species and of the natural world as we now know it, and at the same time to invest fully in a commitment to bringing about enlightened society. The Sakyong says, "We can live with tremendous strength" and that "we have the worthiness to exist on planet earth".
We can fully face the realities that are occurring with bravery and compassion. And that might guide our day-to-day choices about how we live. I have begun to reframe my "prepper" urges not just as neurosis but also as healthy movement toward adaptation, possibly even an intuitive signal that could be held with appreciation and curiosity.
All this has enabled me to trust and appreciate the Shambhala practices more, to bring the grief, the fear, the sorrow at what is unfolding on a global scale, to the cushion. To trust more and more that having people over for dinner is more important than saving food, and to have a greater awareness of my neighbors.
Yes, I still have a solar oven in my attic and spend way too much time in my garden, but I am striving to balance that with genuine practice where I can fully express my longing for an enlightened society that supports and includes the natural world. Meanwhile, if you want to help me try out my solar oven, come on over. We'll cook up a feast and invite the neighbors.
~~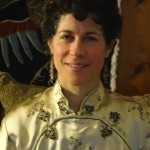 Sara Demetry is a mindfulness-oriented psychotherapist, meditator, gardener, foodie, and is dabbling in the art of fermentation. She is an active member of the Dorje Kasung in the Gesar and Desung Arms. She lives with her husband and two cats in Barnet, VT near Karme Choling.
Post Tags:
In Everyday Life
,
reflection