Saturday
Sakyong and Family
Good Morning, Destiny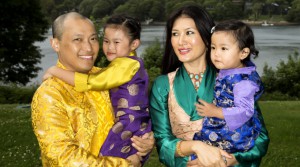 The Shambhala Times is delighted to wish a Cheerful Birthday to Sakyong Mipham Rinpoche today!
Shambhalians are warmly invited to include a celebratory lhasang in their daily practice, using the lhasang chant below. Shambhala centers that would like to incorporate a celebratory lhasang into an appropriate community event during the next week or so, in conjunction with the Sakyong's birthday, are welcome.
In honor of the Sakyong's birthday, the Kalapa Court is delighted to share this poem, written by the Sakyong in 2000.
Good Morning, Destiny

The sun danced as I slid my hand
Across the illusion of life,
Washing this blessed face, this body,
Immortal memories of childhood,
Reflections of mother and father.
Gliding across my face,
The water drips, collecting on my nose.
I cup my hand to catch this precious liquid.

The sun strikes my gaze.
I can still see my mother, my father.
I shake my head and wonder,
What has happened to me?
Who have I become?
Why do I feel the need to cleanse?

My childhood, my mistakes, my whole life
Is reflected in this clear water.
I let it caress my sun-drenched skin,
Hoping it will soothe my heart.
My mind and heart reflect each other.
I cannot shake the memories.

Who am I?
What have I become?
What is this elixir,
This moisture,
This rock, this cactus,
This leaf of life,
This dance, this dream?
Why am I deprived?
Why am I a lucky star,
A silver in the boot?

All this simmers behind my eyelids as I wash my face.
A thousand times I have washed this face,
A thousand times I have looked through these eyes
And felt with this heart, good morning.
Good morning, me.
Good morning, life.
Good morning, destiny.

20 February 2000
Halifax, Nova Scotia
From Snow Lion's Delight. To view this & other poetry offerings by the Sakyong, please click here.
To include a lhasang in your daily or center practice, arrange a lhasang and chant:
HRIH
The virtuous mark, the great banner of inspiring windhorse,
And these clouds of offerings of all desirable things
We offer to you, great being Gesar with your retinue.
Fulfill all our wishes; be victorious in all directions.

(Copyright Nalanda Translation Committee. All rights reserved.)
Circle the lhasang smoke while chanting:
KI KI SO SO ASHE LHA GYE LO TAK SENG KHUNG DRUK DI YAR KYE!
~~
And, just because Karme Choling was on top of it, we are delighted to share this cheerful message to the Sakyong!
Post Tags:
birthday
,
Mukpo Family
,
poem
,
Sakyong Mipham