Sunday
Community Articles
Risk the Mess
What don't I know in this moment?
Report from Northern California
by Leslie Gossett, Shambhala Times Regional Reporter
Of all the gems I could have gleaned from the day-long gathering, this was the one that landed in my heart with the most vibrance. The day was full of small truths like this one. A few words that spoke to something deeper. An encouragement to risk the mess. In many ways, it felt like we were all uncovering something that we otherwise had no space to look at with any sense of freedom.
On Saturday October 18th, educators, trainers, psychologists, and many other people who work with youth and children teaching mindfulness came together in San Francisco to explore diversity.
This was the second program focused on teaching mindfulness to youth, part of Northern California Shambhala's Follow Your Inspiration Series. (Read more about the first program here and more about the series here.) As part of the first Teaching Mindfulness program, which was held in April, participants offered feedback as to what they most wanted and needed in terms of continuing programs around this topic. The resounding response was centered around diversity.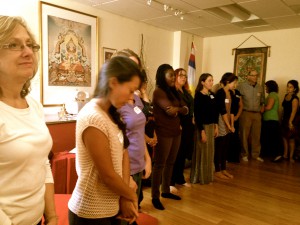 How do we teach mindfulness and compassion to all populations? How do we make these practices relevant and inclusive? How do we work with resistance? How do we work with our own experiences of diversity? How do we talk about these subjects openly and in a strong container? What does it mean for me to be a person who is white/of color/queer/middle class/etc (insert your descriptor here) and teaching students who are at risk/upper class/white/of color/etc?
All of these questions and more hold a tender spot not only in our work with children and youth, but also in society as a whole. We wanted to come together to explore these issues with understanding and heart.
Northern California Shambhala partnered with the Mind Body Awareness Project to create this day-long workshop to delve into these inquiries. The MBA Project is an Oakland based organization whose mission is to, "empower incarcerated and at-risk youth with direct access to tools, competencies and emotional stamina needed to control impulses, manage aggression, and reduce stress." Their trainers use mindfulness and compassion practices to work with youth in order to promote, "promote self-esteem, emotional competence, and self-care." (Read more about the MBA Project here.)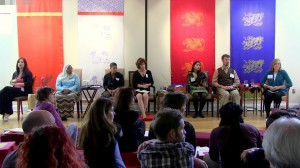 With the vision and support of the MBA Project's trainers, as well as our collaboration with other Bay Area luminaries like Meena Srinivasan, Gale Young, and Maha Jacobs, we were able to put together a day that had time and space for both contemplating our own relationships to diversity and exploring difficult dialogues as well as offering tools and resources for making contemplative practices more relevant to the diverse youth populations we work with.
The specifics of the day included guided contemplations on resistance, metta practice, panel discussions, small group and dyad discussions, experiential exercises, training in working with difficult dialogues, question and answer sessions, and time to hear from our presenters and from each other around our work with children and youth.
With the support of the Frederick P. Lenz Foundation for American Buddhism, we were able to offer 20 scholarship tickets as well as video some of the talks in order to make the program more widely accessible. You can watch the videos here.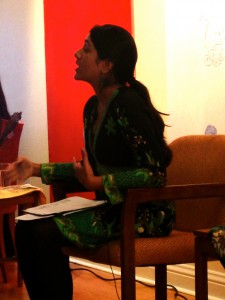 Sharchen Dzong was filled with more than 70 people all engaging in the very real and tender work of looking at diversity, committing to bring awareness, genuineness, and curiosity to our work with children and youth. It was incredibly moving to know that future generations are held in this cradle of care by those who are leading, teaching, and caring for them now. May this cradle continue to grow and grow, allowing a multitude of diverse beings to touch their inherent worthiness.
Read more about our collaborators below.
Roger Miller, Executive Director of the Mind Body Awareness Project
Meena Srinivasan, Program Manager for Social and Emotional Learning Team with the Oakland Unified School District. Author of Teach, Breathe, Learn: Mindfulness In and Out of the Classroom.
Gale Young, Professor Emerita and Communications Chair at Cal State East Bay

We were also joined by the MBA Project's Syra Smith, and Cal State East Bay's Maha Jacobs.
Post Tags:
Creating Enlightened Society
,
Follow Your Inspiration
,
NorCal training
,
Northern California