Friday
Community Articles
On Turning 70
COLUMN: In Everyday Life

A Three-Yana Journey

by Shastri Christine Sloan
I cannot be sure just when it began, this journey to 70, but it received a boost from my doctor when he called me in to say my bone scan looked suspicious. Seventy was only a few months away then. In the course of discussing our plan of action and all the possible outcomes, he had me in palliative care and all but buried. My doctor and I have known one another a long time; we can say anything to each other. He knows that I use alternatives to our conventional medical system. I was not planning to get that CAT scan, but he certainly changed my mind. Okay, I thought, I will find out and then I can go from there.
What a gift this was. Stark reality, like "death is real comes without warning," has a way of clearing the air, even providing relief. I reflected, knew I could face it (well, there's no alternative really), and began planning the possibilities of "what if."
The results were negative; no recurrence of cancer. But my entire life had already flashed before my eyes. There was no denying it. A strong sense of renunciation arose in my being. "I don't want to do this anymore." The "this" of course was go through another round of being me, or somebody else.
I should have been relieved and of course I was, but as the weeks passed, the big seven-zero once again raised its head. My brother-in-law passed away at 70, followed by my sister, also at 70. I am the last surviving member of my family. No one alive knew me as a child or during my growing up years. I discovered I was in mourning. I felt orphaned. There was a big hole somewhere in my being.
All of this took a while to discover, to sort out and get straight. I reflected on that sense of "hole." I began to think – this is how real orphans must feel, or refugees uprooted and no longer hearing their mother tongue. It must be what adoptees feel never knowing their biological parents. I heard myself saying that this is what everyone feels, cut off from others, living with this hole in their being.
I supplicated the guru. I asked him about the hole, "What do I do with this?" I was driving to the Buddhism 101 class that I was teaching to the local sangha. We were having the class on the Vajrayana. I could not keep the tears at bay, and as the sadness grew, the answer came to me. We are all family, we are the family of humanity.
I recalled the photographs in the book "The Family of Man," a collection of 503 photographs of people from 68 countries around the world. It arose from an exhibition curated by Edward Steichen in 1955 for the Museum of Modern Art in New York to prove visually the universality of human experience. The book was popular with the flower children of the 60's.
The sadness grew and it came to me that it is about falling in love – loving the mosquito who has landed on your arm and is about to take its sustenance from you, loving the ISIS perpetrator and his victim, caring without hesitation for all beings. My heart was laid bare; I felt a nervous flutter inside. I also felt great conviction.
Before the class we sat for an hour. It had been a long time since I felt so raw. Another gift and all that was needed to introduce the Vajrayana to the class.
As I write this, 70 is just around the corner. I am no longer mourning but a sweet tender sadness remains, and a new appreciation for the wonder and preciousness of all life.
~~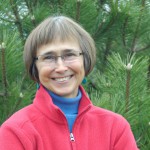 Shastri Christine Sloan has been a meditation instructor and teacher in the Shambhala Buddhist community for many years. She was a student of the founder of Shambhala Training, Chogyam Trungpa Rinpoche. In 1982 she moved to Halifax with her family to help establish Shambhala in Nova Scotia. For eight years she was a professor in the Faculty of Health Professions, Dalhousie University and until she retired in 2006, she was a consultant with the Annapolis Valley Regional School Board. Christine lives in the Valley with her partner Gregory Heming and their dog Bonnie. She is an avid gardener, beach comber, and advocate of the rural life style.
Post Tags:
aging
,
In Everyday Life
,
reflection