Saturday
Community Articles
Building a New Home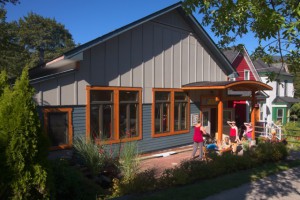 COLUMN: Shambhala on the Move
Report from Kootenay Shambhala Center, Nelson, British Columbia
written by Russell Rodgers
Thirty-five years ago, the Kootenay Shambhala Center, in Nelson, British Columbia, moved into the third floor of a brick heritage building. Nelson is a town of about 10,000 people, and our Center was right in the middle of the business district. We renovated the old warehouse and took over the whole top floor. The landlady was an Italian Catholic. She liked us, and we developed a loyal relationship with her. We paid $1,000 per month in rent and didn't bother her with building problems, fixing them ourselves. As she entered a difficult period of dementia, the building went up for sale. We faced a doubled rent and made the difficult decision to move.
After looking at many properties for sale, we settled on an old Elk's Hall three blocks from downtown, in a pleasant neighborhood with several alternative schools, daycares, and churches. The price was right at $265,000, and it was appropriately sized at 3,000 square feet. It was used most recently as a soup kitchen. The building had no windows except for a few small ones at the front and back, and no chance of installing more. The impression was bland, depressed, and run down. A building inspection unearthed asbestos issues. However, sangha members with design inclinations saw possibilities. Families were pleased to have a ground-level location with parking. Our local sangha lawyer was pleased with the simplicity of the project. Builders saw solutions. Most importantly, a financial team got to work and came up with creative financing for purchase and for extensive renovations.
Financing the Move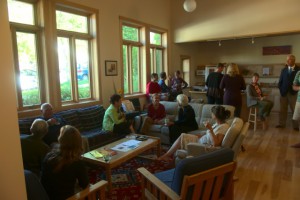 Two people divided up the membership and made personal phone calls. Some people were willing to invest in loans at 5% interest. We called them "buddhabonds," and they were unusual in that there was no principle built in to the annual payments, lowering the annual payments for the Center. Principle could be paid off at the Center's convenience as cash became available any time during the 15 years of the loan. Buddhabond holders had legal equity in the building.
Both sangha and non-sangha bought buddhabonds as investments, like buying a dividend bearing stock for retirement income. It helped that the buddhabonds fell nicely into the "ethical investments" category. Some people who didn't have large amounts of cash to invest were willing to increase their monthly dues. As it worked out, this nicely balanced the Center's interest payments on the buddhabonds. The bonds themselves totaled $240,000. The legal documents can be read by clicking here.
The second piece of the financial puzzle was outright cash donations. These totaled $115,400. To our surprise, $60,000 of that came from a sangha member in another city. Towards the end of the project, the Shambhala Trust donated $10,000, a great help as our funds grew low.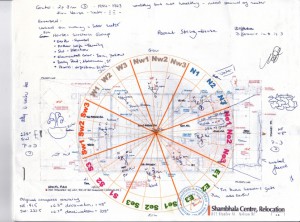 The third piece of the financial puzzle was our trust fund. Over a period of 25 years, we had been adding to an investment fund reserved for long-term vision, knowing our downtown location was not secure. We started with about $25,000 from the sale of a house willed to us by Ian Johnston, a deceased sangha member. We occasionally tapped into the trust to build structures on our retreat land or to renovate the center. Over the years we were able to hold to our stated goal of reserving it for long-term vision.
In addition to income from investments we made for the trust fund, we also donated any surpluses from operations back into the fund. By the time we liquidated the trust to buy our building, it stood at $76,000, with another $20,000 in our account.
Building the Center Together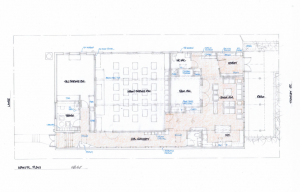 We formed a building executive team of six people. This committee included a young carpenter, a retired carpenter/volunteer coordinator, a retired bookkeeper with design passion, a new person with a lot of design enthusiasm, a business-oriented person with executive talents, and a fundraiser. Everyone did a bit of everything.
We contacted Shambhala Environments for their advice and tried to incorporate their suggestions into our building. Our internal design process became full of tension and klesha as people created competing designs. We desperately needed natural hierarchy, and someone skilled in group process. Finally, we hired a local architect, Thomas Loh, to bring it together. We showed him the Shambhala Environments website.
We held a community meeting to establish priorities for important functions. At this stage, we weren't looking for design, just rating the relative importance of different needs people wanted met. We gave those to Thomas, and he developed designs we considered and approved.
The final design incorporated the Sakyong's slogan, "food, conversation, and meditation, in that order." In our new Center, people come through the entrance into a community room with the kitchen visible at the far end. As they pass by a comfortable sitting area, they walk past French doors opening to a family room, set up for a children's program, but doubling as an extension of the community room as needed.
When competing design ideas emerged, Thomas became the arbiter, and we deferred to his judgment because we knew first hand the pain of unresolved conflicts. His experience with design and with the city approval process was obvious. A natural hierarchy emerged, with Thomas at the center. When someone grew passionate about a particular design, Thomas would gently expand our view to include the building and neighborhood as a whole.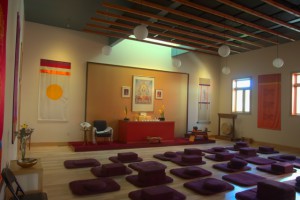 We created a spreadsheet with high and low estimates for each component and a column for completed costs. This enabled us to track where we were in our building budget. We posted this in Google Doc format on the web so that everyone on the building executive team could add numbers as estimates or numbers came in.
A team of three people phoned members and friends to find out what skills they were willing to offer. We compiled a list of 60 people who volunteered to help. All in all, the renovation project was a magnet for community involvement. We put out a weekly update on how the renovations were going, and what the volunteer opportunities were.
On the day of leaving the old center, we held a big moving and packing party. This day coincided closely with Parinirvana, so it was "Shambhala-legal" to invite everyone to a Sadhana of Mahamudra feast. Twenty-one people showed up. We included the section from the Vajrayogini sadhana where we ask the dralas to leave but please come back. After the feast, one person asked me "does this mean that we can wear our shoes in the shrine room now?" For me this was the turning point. We had said goodbye completely and properly.
Beginning Anew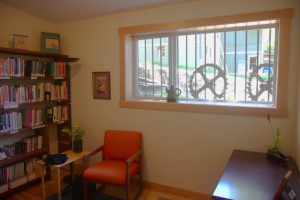 We began work on the new center in November, and moved out of the old one in March. We began sitting in the new one in August, though we often had to clear a path through the sawdust. On September 5th, ten months after we started work, Acharya Jenny Warwick came for a Center blessing. Coincidentally, we were asked by Selkirk College to host the creation of a sand mandala by a former monk, Losang Samten. The following weekend coincided with Spirit Fest, a city-wide joint celebration of spiritual paths and yoga. Over the next couple weeks we hosted an ikebana workshop fundraiser for the Center and a "big brush" calligraphy workshop. Some kind of magical convergence was happening.
Hundreds of people came through our new space, and complimented the completed work. Our new location is on a major walking route from residential areas to downtown. People never have to hurry. There have been innumerable expressions of interest in what we are doing, causing us to re-think our role in the community.
We now have the possibility of becoming a genuine community center, open to events outside what we thought of as our mandate. There is a shortage of really attractive places in town to hold community events. Our venue is already receiving requests for rentals. Now the question is how to balance our mandate as a Shambhala meditation center with the possibility of really opening out to lots of different kinds of people, each with their own manifestations and ideas of basic goodness.
~~
Shambhala on the Move is a series about Shambhala Centers and Groups who are moving into new spaces or renovating their existing homes. If your center is looking for resources, contact Shambhala Environments. Stay tuned for more articles unrolling in the coming months, and contact us if you have a story you'd like to share.
Post Tags:
Kooteney
,
Shambhala on the Move