Wednesday
Arts and Poetry
On Making Art
COLUMN: Radical Compassion
Shambhala Times Exclusive Interview with Lama Tsultrim Allione
conducted by Cameron Wenaus of retreat.guru and Sarah Lipton, Editor-in-Chief of the Shambhala Times
transcribed and written by Emma Sartwell, Shambhala Times Volunteer
You may know Lama Tsultrim Allione as the teacher of Feeding Your Demons, the founder of Tara Mandala Retreat Center, or an emanation of the Tibetan tantrika Machig Labdron. You may not know that she's also a visionary painter. We talked with her about the overlap of dharma practice and art-making.
As such a renowned teacher, does Lama Tsultrim ever experience the ego-hijacking that can so easily accompany art-making? "I actually stopped making art when I became a nun for a while," she says, "because I felt like everything I was doing was coming from the ego, and I couldn't find the right motivation." She says she would ask herself, as I'm sure many of us have, "What is my motivation here?"
After pondering the question of motivation, she came to a simple conclusion. "I came back to art," she says, "as a way to express what I was seeing and what I was feeling." As you might imagine, what Tsultrim was seeing and feeling wasn't your ordinary still life or landscape: "A lot of my painting at that time was visionary – it was visions that I was having in meditation or just in general. I've always been, you could say, a visionary, in the sense that I do have visions. I see things, and so I would paint to the best of my ability those things."
But making art wasn't simply a way to express her visions – it also became a powerful mirror for the artist's mind. "There's something about the creative process," Tsultrim explains. "Having a blank sheet and doing something with it and trying to do it with as much awareness as possible, you get immediate feedback from your work about how present you've been." It seems that Tsultrim's work has gone more in this direction of creating simple environments for direct feedback about the condition of one's mind.
So how does this look? "Lately," she says, "I've been doing a lot of seed syllables, calligraphy, painting ah or hum or om ah hum, or different seed syllables. It's a little bit like the Japanese calligraphy where you paint the circle – it's a direct reflection of so many interdependent factors that come together when you're painting. You have the paper, you have the ink, you have the brush, and then you have yourself, and your presence with all those interdependent factors."
"I think the lesson of it is that you can see every single moment where you are and how you're relating to all the interdependent factors that are around you, which are reflected by what you do," Lama Tsultrim Allione shares. With painting, she says, you see what you do. "In a way what's happening is feedback for your state. With painting it's easier to see than perhaps with writing or other kinds of work. There's a direct feedback."
"I think it's a real human need also, creativity," she shares. "My mother, who passed away this past year at 99, wrote four factors for having a happy healthy life, and one of them was to have some sort of creative pursuit, some sort of creative activity that you enjoy. She did wood sculpture. And she used to say, 'This is my meditation.'"
Read more articles in the Radical Compassion column by clicking here.
~~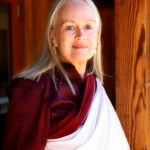 Lama Tsultrim Allione first traveled to India and Nepal in 1967, met Chogyam Trungpa Rinpoche in 1969 at Samye Ling and in 1970 she became one of the first American women to be ordained as a Tibetan nun. She was given her vows by the Karmapa, from the Karma Kagyu school of Tibetan Buddhism, who gave her the name Karma Tsultrim Chodron. Allione gave back her monastic vows four years later and married. She has given birth to four children, one of whom died from sudden infant death syndrome. Tsultrim Allione continued her studies and Buddhist practice, which led to the 1984 publication of her book Women of Wisdom, a collection of the stories of six Tibetan Buddhist emanations of Machig Labdron (founder of the Chod practice). In 1993, with her husband, David Petit, Tsultrim Allione founded Tara Mandala, a retreat center in southern Colorado, in the United States. In 2008 Tsultrim Allione's book Feeding Your Demons was published, an approach based on the Chöd lineage of Machig Labdrön that Allione has practiced since 1973. As well as offering retreats at Tara Mandala, Allione regularly teaches in the United States and in Europe.
Post Tags:
Celebrating the Arts
,
Lama Tsultrim Allione
,
Radical Compassion