Sunday
VCTR Tributes
A Turning Point
COLUMN: Radical Compassion
Shambhala Times Exclusive Interview with Lama Tsultrim Allione
and commemoration of Chogyam Trungpa Rinpoche
conducted by Cameron Wenaus of retreat.guru and Sarah Lipton, Editor-in-Chief of the Shambhala Times
transcribed by Emma Sartwell, Shambhala Times Volunteer
written by Ani Dawa Chotso, Shambhala Times Volunteer
Aha Moment: a moment of sudden realization, inspiration, insight, recognition, or comprehension (from Miriam-Webster.com)
We were able to ask Lama Tsultrim Allione where, if any place along her path, she had this moment, an aha moment, a specific moment when she realized, "Oh, I'm giving myself to this practice." Her delightful response:
"I remember after I met Trungpa Rinpoche in Scotland in 1969, I started to have the feeling that I wanted to give my whole life to spirituality. At that point, I didn't know if it was Buddhism or what, but there was this feeling of I want to make a big step, I want to make a spiritual commitment.
"I traveled back to Asia over land from London to Kathmandu through all the countries that you couldn't possibly think about going through today, like Iraq and Iran, Afghanistan and Pakistan. I arrived at the end of 1969 in Kathmandu, and His Holiness Karmapa was there, the 16th Karmapa.
"At that time the feeling intensified at that time of wanting to make a big step that would sort of throw me into the deep end in terms of my spiritual practice. What eventually evolved was that I took ordination from the 16th Karmapa in Bodhgaya in January of 1970. So the aha moment of I'm going to do this, I would say really came through the blessings of His Holiness and being in his presence and wanting to be like him.
"I was reading the Sadhana of Mahamudra from Trungpa Rinpoche every day at that point – I had received it in Scotland, at Samye Ling where I met him and was reading it daily, and there's a line in the sadhana that says "the only offering I can make is to follow your example." That caused me to take ordination, because Karmapa was a monk, so I got the idea to follow his example and that definitely changed my life completely – it was jumping in on the deep end.
"I was a monastic, the first American to become a Tibetan Buddhist nun, but I returned to 'the world' after four years. I kept my in-depth commitment to the dharma through raising three children, and continued to study and practice. I think that's something that a lot of people are trying to do now. I think what I represent for many people is a woman who had children but kept the dharma as her primary focus. I've walked that path and I have some information about how to do that and whatever I learned I'm happy to share."
Read more articles in the Radical Compassion column by clicking here.
~~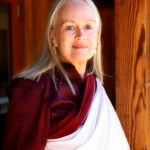 Lama Tsultrim Allione is an author and teacher who has long studied in the Tibetan Buddhist lineage. She has studied under a number of Nyingma and Kagyu teachers, including Chogyam Trungpa Rinpoche. Her latest book is Feeding Your Demons: Ancient Wisdom for Resolving Inner Conflict. From the book: "When Machig Labdron was directly asked by her son Tonyon Samdrup to define demons, she replied this way: "That which is called a demon is not some great black thing that petrifies whoever sees it. A demon is anything that obstructs the achievement of freedom…." She is currently working on a book on the Mandala to be published by Simon and Schuster.
Post Tags:
Lama Tsultrim Allione
,
Radical Compassion
,
retreat.guru
,
VCTR Tributes
Share: