Friday
Sakyong and Family, Shambhala News Service
Shambhala Royal Family Welcomes Their Third Child!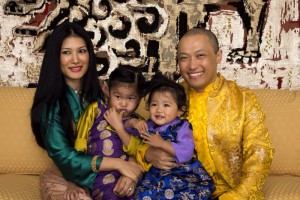 The Sakyong Wangmo of Shambhala gave birth to her third daughter at the IWK Health Centre in Halifax this morning at 4:49 a.m. local time.
"With her usual dignity and strength, The Sakyong Wangmo, Khandro Tseyang gave birth to a beautiful and healthy baby girl. Mother, father, and the newest addition to the Mukpo family are all doing well," reported Dr. Mitchell Levy, personal physician to the family.
Translations into Italian, Spanish, Polish, French, Dutch, German, Slovenian, and Danish follow.
Italian:
La famiglia reale di Shambhala dà il benvenuto alla terza figlia.
La Sakyong Wangmo di Shambhala ha dato alla luce le terza figlia al IWK Health Centre di Halifax questa mattina alle 4:49 ora locale.
"Con la sua consueta dignità e forza la Sakyong Wangmo Khandro Tseyang a dato alla luce una bellissima e sana bambina. La madre, il padre e la nuova arrivata della famiglia Mukpo stanno tutti bene," riferisce il dott. Mitchell Levy, dottore personale della famiglia.
Spanish:
La familia real de Shambhala da la bienvenida a su tercera hija
La Sakyong Wangmo de Shambhala dio a luz a su tercera hija esta manana a las 04:49 (hora local) en el centro sanitario IWK de Halifax (Nueva Escocia, Canada).
"Con su dignidad y fortaleza habituales, la Sakyong Wangmo, Khandro Tseyang, dio a luz a una hija hermosa y sana. La madre, el padre y la nueva componente de la familia Mukpo se encuentran bien", segun informa el Dr. Mitchell Levy, medico personal de la familia.
Polish:
Królewska Rodzina Shambhali wita swoje trzecie dziecko!
W centrum zdrowia IWK w Halifaxie, o godzinie 04.49 lokalnego czasu, Sakyong Wangmo Shambhali, urodziła trzecią córkę.
"Sakyong Wangmo Shambhali, Khandro Tseyang, z typową dla Niej godnością i siłą urodziła piekną i zdrową córeczkę. Mama,Tata i najmłodsza czlonkini Rodziny Mukpo czują się bardzo dobrze" wiadomość od dr Michela Levy, osobistego lekarza Rodziny
French:
La famille royale de Shambhala accueille son troisième enfant
La Sakyong Wangmo de Shambhala a donnée naissance à sa troisième fille au IWK Health Centre d'Halifax ce matin à 4h49 heure locale.
"Avec sa dignité et sa grace habituelle, la Sakyong Wangmo Khandro Tseyang a donné naissance à une magnifique petite fille . Le père, la mère et les neombreux membres de la famille Mukpo se portent très bien." Citation de Mitchell Levy, medicin personnel de la famille
Dutch:
De koninklijke familie van Shambhala verwelkomt hun derale kind
De Sakyong Wangmo van Shambhala is vanmorgen om 4.49 a.m. lokale tijd bevallen van haar derde dochter in het IWK Health Centre in Halifax.
"Met haar gebruikelijke waardigheid en kracht is de Sakyong Wangmo, Khandro Tseyang, van een prachtige en gezonde dochter bevallen. Moeder, vader, en de nieuwste aanwinst voor de Mukpo familie maken het allemaal goed." Citaat van de dr. Mitchell Levy, lijfarts van de Mukpo familie.
German:
Die Königliche Familie von Shambhala heißt ihr drittes Kind willkommen!
Heute morgen um 4:49 Uhr lokaler Zeit gebar die Sakyong Wangmo von Shambhala im IWK Health Center in Halifax ihr dritte Tochter.
"In gewohnter Würde und Stärke brachte die Sakyong Wangmo von Shambhala, Khandro Tseyang, ein hübsches, gesundes Mädchen zur Welt. Mutter, Vater und der dritte Nachkömmling sind wohlauf." Zitat Dr. Mitchell Levy, Arzt der Familie
Slowenian:
Title: Shambhala krajeva družina sprejme tretjega otroka
Sakyong Wangmo je rodila tretjo hčerko v IWK zdravstvenem domu v Halifaxu to jutro ob 4:49 po našem času.
"Z njenim običajnim dostojanstvom in močjo je Sakyong Wangmo Khandro Tseyang rodila čudovito in zdravo hčerko. Mati, Oče in najnovejša članica Mukpo družine se počutijo dobro."
Michael Levy osebni zdravnik družine.
Danish:
Shambhala Konge familien byder deres tredje barn velkommen.
Sakyong Wangmo af Shambhala, fødte sin tredje datter i IWK Sundhedscenteret i Halifax, hertil morgen, kl. 04.49, lokal tid.
"Med sin sædvanlige værdighed og styrke, fødte Sakyong Wangmo, Khandro Tseyang, en smuk og sund pige. Både moderen, faderen og Mukpo familiens nye medlem, har det godt." Dr. Mitchel Levy, familiens livlæge.
Post Tags:
Sakyong Mipham
,
Sakyong Wangmo
,
Shambhala News Service