Monday
Sakyong and Family, Shambhala News Service
Princess Lamp of Beauty Returns Home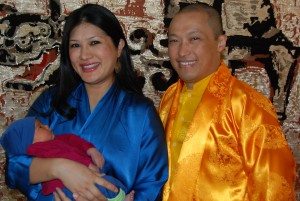 The Sakyong Wangmo and Jetsun Dzedron returned to the Kalapa Court yesterday, radiating joy and good health.
Dzedron Okar Yangchen Ziji Mukpo was born at 4:49 am on April 10th at the IWK Health Centre in Halifax, weighing 7 lbs 15 ounces. The child will be known as Jetsun Dzedron — Princess Lamp of Beauty.
The Royal Family was greeted by family and friends, and a welcome home banner made by Jetsun Drukmo and Jetsun Yudra, both born at the same hospital in 2010 and 2013.
A registry may be found at this site where greetings may be sent to the family, and contributions offered to an education fund or for family travel around the birth.
Please include your full name and city so that the Sakyong and Sakyong Wangmo know of every visitor to the registry site. They are so appreciative of kind thoughts for their family at this time.
You may also send cards to:
The Sakyong and Sakyong Wangmo
Office of the Sakyong
Sovereign Place
5121 Sackville Street Suite 601
Halifax, N.S. B3J 1K1
Canada
or email Secretary Jeanne Cain at [email protected]
Post Tags:
Sakyong Mipham
,
Sakyong Wangmo
,
Shambhala News Service