Saturday
Featured Stories
Speak Up Chicago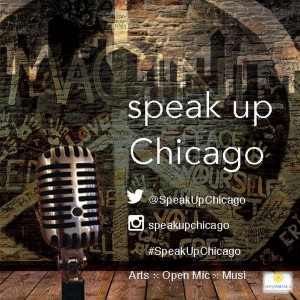 Eye Witness Report
Sakyong Mipham Rinpoche Visits Chicago
article by Janet Hasz
photos by BhhStudios
Sakyong Mipham Rinpoche is sitting on his throne before 140 Shambhalians in chairs. It's Friday night, May 8th, in Chicago. The air in the shrine room crackles with energy. Six young people quietly take their places at microphones, behind drums, at a keyboard and a guitar.
"We're glad you could make it tonight, Sakyong!" Joshua Lazu says at the microphone, his arm outstretched in welcome. This is more like the opening to a night club act than the usual supplication for teachings. The sounds of the keyboard, drums, and guitar fill the room. Then a sweet, strong voice sings, "I've come to realize we are all going to hell . . .", leading into a hip hop beat and rapping, and more voices singing to the conclusion of "rainbows and goodness . . . if you only knew!" The Speak Up Chicago band has just welcomed Sakyong Mipham Rinpoche with the song they wrote for him. The room explodes in applause.
The Speak Up Chicago band is a part of a core group of young leaders who have organized monthly open mic nights at the Shambhala Chicago Center for the last nine months. Once a month the lower level of the Shambhala Center takes on the feel of a friendly night club. Sound equipment, amplifiers, and microphones line the room. Young people pour in, along with a few older Shambhala members, and family members of the performers. Diversity abounds — African Americans, Latinos, Asians, and Caucasians from all parts of the city. Even rival gang members have performed together, putting aside their differences as they stepped into the space.
The lights dim. Joshua Lazu, founder and leader of these open mic events, welcomes everyone and lets them know they are in the place of peace and magic called Shambhala. "Be cool," he says. The performances begin. Hip hop, rap, pop, dance, light shows, an old English ballad, a song by Center Director Tom Adducci, and two young Mormon men on mission have all taken the stage. Everyone's performance is welcomed and appreciated. Hear the Speak Up leaders describe these events in their own words and see clips from the open mic events by clicking here.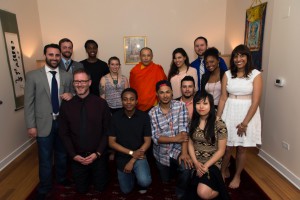 The Speak Up Chicago leaders have been meeting weekly to plan and share meals together, hosted at homes of the members of the Center's Mindfulness UniverCity thirty-something group. All of this has been guided and nurtured by Aarti Tejuja, Shambhala Chicago's Director of Social Action. Together they are planning to take Speak Up Chicago on the road to other city neighborhoods, including Englewood and Humboldt Park. In the process they have begun to feel like a family with one another, sharing the stories of their lives and looking out for each other. Here they are meeting with Sakyong Mipham Rinpoche on May 8 (see photo).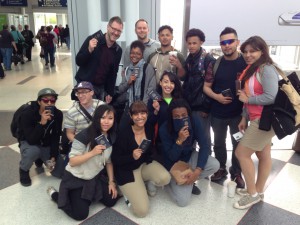 As you read this, these young leaders are in Mexico City attending the Ziji Collective 2015 Summit, doing what the Sakyong encouraged — discovering what it means to be part of a social movement within the Shambhala community. Having accomplished the enormous feat of acquiring all 13 passports in time for their trip to Mexico City, Matthew Lentz, Tobias Kaemmerer, Joshua Lazu, Joshua Gonzalez, Darius Lugo, Gabriela Villaparedes, Rachel Alston, Diamond Desiree Serrano, Wade Brown, Sai Wei, Aarti Tejuja, and Evan Carto proudly display their passports at O'Hare International Airport before their plane takes off.
The inspiration for all of this was the Sakyong's 2020 Vision that motivated many members of the Chicago Shambhala Center to think of new and inventive ways to bring enlightened society and mindfulness practices into the larger world. In particular, when the Sakyong announced that he was coming to Chicago as part of his world tour in 2013, he challenged Chicago to create an event that spoke to whatever was arising in the city at that time.
What was rising in Chicago was the murder rate, especially in the neighborhoods with the least resources. In response, Shambhala Chicago, along with 25 partner organizations, created a weekend called Imagining Peace. Young people, including Joshua Lazu and Desiree Serrano, helped to plan the Youth Congress on Peace portion of the weekend. The power of this whole day of young people describing their experience living in the midst of violence was immense both for the youth and for all listening. Shambhala Chicago committed to creating additional safe spaces for young people to express themselves. Shambhala created events with CeaseFire Illinois and the support of the Shambhala Trust for young people with basketball, face-painting, crafts, food, and mindfulness.
When Joshua Lazu said he wanted to host an open mic at the Chicago Shambhala Center, Aarti Tejuja readily agreed, sensing that this was the way to create a safe space that could really take off and that could belong to the young people with Shambhala acting as support. Speak Up Chicago has done just that with the help of the Shambhala Trust and a growing number of generous supporters. You can join these supporters online by clicking here.
As the Speak Up Chicago leaders inspire and become inspired by the young people gathered at the Ziji 2015 Summit, they will continue to embody the Sakyong's word of praise to them, "Magnificent!" Chicago promises to keep the Shambhala Times updated as these young leaders powerfully and gently create a different world — an enlightened society.
Post Tags:
Chicago
,
Imagining Peace
,
Sakyong Mipham