Wednesday
Mandala Projects
Bringing the Shambhala Principle to Prison: Part 2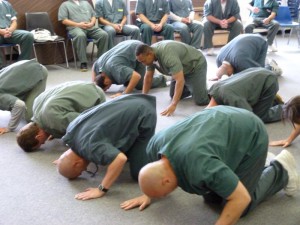 The Prison Outreach Affinity Circle was started by Trime Persinger in 2013. On March 10, 2014, a conversation was hosted by Richard Reoch and Adela Sandness The conversation was recorded and transcribed following which the transcript was edited and divided into three parts. Following is Part Two of Three. Click here to read Part One.

Conversation participants: Shastri Henry Chapin, Kate Crisp, Acharya Fleet Maull, Margot Neuman, Trime Persinger, Nealy Zimmermann (Circle Facilitator), Cara Thornley
Part II:  "It is critical to see the basic goodness in the whole thing (prison system): to see the basic goodness in the prisoners, to see the basic goodness in the correctional officers, and to see the basic goodness in the system itself."  
Margot Neuman (Founder, the Mindfulness Peace Project and the Ratna Peace Initiative): They (the inmates) all recognize our authenticity in truly believing that they have basic goodness and that goodness is what we are speaking to. They are actually very moved by it.
Kate Crisp (Executive Director, Prison Mindfulness Institute): The women in our group have a really hard time sitting for a long time. At the beginning of one class I said:  "We are going to sit for twenty minutes", and several yelled out: "I can't do it!  I can't do it!"  But they did it.  They sat there, and they did it. At the end several said, beaming: "Wow!" and "That was great!" and "I did it!"
So, it is letting them experience success with smaller portions, and then building up. They really enjoy it, and want to come back, and want more. By the end of the class semester they report that the class is a refuge for them in the prison. They develop a community with each other and it's really great to see them supporting each other.
Of course it takes time; it takes time, and practice. The women report that it's really helpful that we have a curriculum and a workbook that they can work through week after week. Also, it was really helpful for them that a few of the women, who were very inspired by the class, became leaders of the group and mentored the others to stay on track with the material and practices throughout the week. They reported that the mentors in the group were holding them to the fire when they would fall off their practices.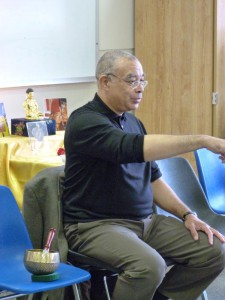 Nealy Zimmermann (prison volunteer): So, I think that the Shambhala Principle of basic goodness has, within the prison system, a very large effect (on the inmates). However, because they have to go back to this hellish environment the rest of their time, it is very hard. We were talking about how we can change the culture of the environment within the correctional system, because this environment is negative. It is not supportive of what we are doing. It is an uphill battle. It is a huge challenge to be able to do that.
Fleet Maull (Acharya, Founder, Prison Mindfulness Institute): We have seen for a long time the need to transform the system as a whole. It is a whole system of suffering. It is co-created, and we all create it. It is our prison system: it is not the prison system. So, we are focused on transforming the criminal justice system, and really that is a leverage point for transforming society all together.
The Shambhala Principle is absolutely critical for that.  Many of us go into prisons to work with prisoners. It is easy to see them as the victims of a very unjust system. There are a lot of injustices, and there are a lot of oppressions. It is a prison: by nature it is a totalitarian environment. The administration and the guards have all the power, and the prisoners have less power. So, it is very easy to fall into that. I actually think that when we fall into that it makes our work less effective on many levels.
So, we are also very involved in bringing programming to correctional officers. When you work with correctional officers, it is not that hard to begin to identify with them as being the victims, because they see themselves as victims. The correctional officers live in fear of the prisoners. They all live in fear. The minute they go on shift, they feel they are going into a war zone. Their biggest hope is that they get out of there alive, that they don't suffer an attack or something.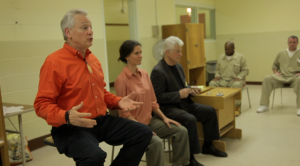 Because of that environment, they suffer worse post-traumatic stress disorder than combat soldiers and police officers. After they have served twenty years as a line officer in a prison, especially in a serious prison, their life expectancy is about fifty-eight years old. They are at very high risk for anxiety, depression, suicide, domestic violence, alcoholism and all the chronic-stress related diseases. So, it is really a system of suffering that is co-created by the prisoners and the correction officers. It is unnecessary; it could be less so:  it is kind of a chicken and the egg thing. Also, it is created by society; it is created by the media; it is created by politicians, and it is created by us. We all create it.
In order for me to be effective both in terms of delivering programs for prisoners and for correctional officers, and to bring transformation in the system, it is critical to see the basic goodness in the whole thing: to see the basic goodness in the prisoners, to see the basic goodness in the correctional officers, and to see the basic goodness in the system itself. I think you do have chronically violent people; that we need to protect them and to protect ourselves from them, but the vast majority of people in prisons are not chronically violent. The impulse to have prisons comes out of people's desire for safety, which is a natural human need, and a desire to protect society, to protect children.  The essential inspiration which is easy to forget when you go into these scary prisons and you see the injustice, and you see human beings locked up:  it is easy to demonize the whole thing.
So, for me it is really important to be able to see that this is our prison system, this is our criminal justice system:  it arises out of basic goodness, it arises out of natural human needs. Is it misguided in many ways? Absolutely. Does it lack prajna, lack wisdom, lack compassion and different things? Absolutely. But I think that by coming and seeing the basic goodness of the whole thing, then we can come in there and just be seeing humanity–guards and prisoners alike–seeing humanity, and seeing that they are all suffering, and bring a message that will actually be more transformative.
The message that we can bring to prisoners is more adult-to-adult where we are at eye level, not in some kind of rescuer role. If we come in there as adults, you know, where we are all adults in here – we are all suffering; the whole world is suffering–and we are sharing these teachings, and we all have basic goodness, and we all need to learn to take our seat and to treat each other with compassion: the guards, everyone–the prisoners to the guards, the guards to the prisoners…I think it is ultimately a much more transformative message, somehow. That is why I think the Shambhala Principle is really critical to really creating long-term transformation of the whole system.
Post Tags:
Acharya Fleet Maull
,
Affinity Circles
,
prison dharma
,
Prison Mindfulness Institute
,
Prison Outreach
,
Shambhala Principle