Friday
Featured Stories
Living with Ziji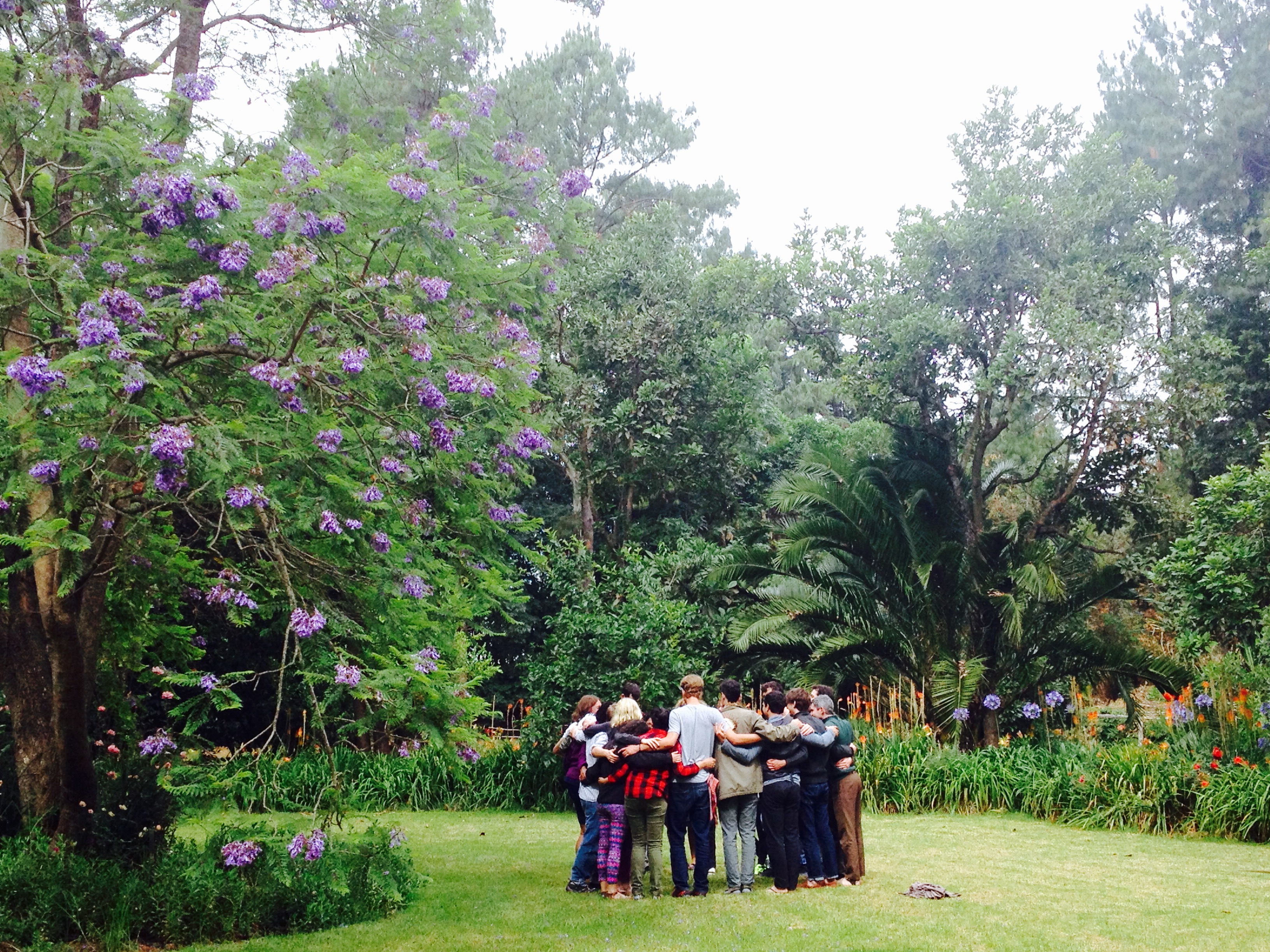 Leadership Retreat at Casa Werma
by Corey Adkins
This is a companion article to "The Vibrancy of Ziji" by Rianne Pelleboer about the Ziji Summit in Mexico City.
Vulnerability, dralas, Auspicious coincidence. These are a few words that could describe the recently completed Ziji Collective Leadership Retreat at Casa Werma / Retiro a Casa Werma.
We gathered first to perform a lhasang, or smoke purification ceremony, at Tzintzuntzan, a sacred royal site for the indigenous people of Pátzcuaro, in the same spot where Chögyam Trungpa Rinpoche and Sakyong Mipham Rinpoche had done so before. Still on our way from Mexico City, we had no idea yet of the magic and lush gardens at Casa Werma awaiting us.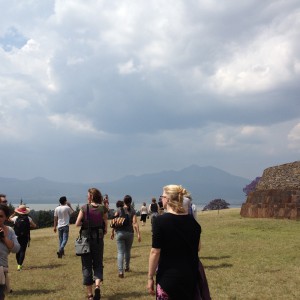 The energy and magic Tzintzuntzan was palpable, with stunning views of Lake Pátzcuaro, flanked by the monument of the yácata (pyramid), marking the capital of the P'urhépecha people, the power seat of their priest-king. It was clear why our Sakyongs had picked this site as a place of importance.
We then settled into the peaceful confines of Casa Werma to begin our five day program, led by Acharya Adam Lobel, Shastri Holly Gayley, Shastri Trinley Busby, Shastri Nick Kranz, and Marguerite Drescher. In the mornings we practiced Shambhala Meditation, and then heard talks by the Kalapa Acharya, Adam Lobel on the theme of ziji, Tibetan for "unconditional or primordial confidence." He unpacked a path an understanding of ziji over our time together using the Four Dignities in the Shambhala teachings: the gentle discernment of Tiger; the perky, erotic, juicy discipline of Lion; the spacious Garuda, transcending hope and fear; and the playful inscrutability of Dragon. The talks included insightful teaching, touching personal stories, and a sprinkling of psychology, philosophy, history, and humor.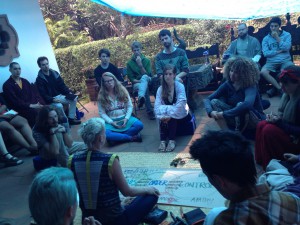 In the afternoons, we broke into modules to give us further training to be leaders in our lives and in our Shambhala communities. Marguerite Drescher of Halifax led us in the Art of Hosting, exploring forms and models for how we organize ourselves in community, while increasing our awareness of the use of each models and where our work might fit within them. Shastri Trinley Busby from Vancouver led groups in examining tools for community organizing and social action, working within community personally and creating community together. Shastri Holly Gayley from Boulder led groups in a three-fold process of conducting a youth sangha night: welcoming the group, giving a five-minute mini-talk to introduce a discussion topic around a reading from The Shambhala Principle, and leading a discussion group based on a living question and atmosphere of inquiry. Shastri Nick Kranz from Boston led groups in social meditation, a practice of mindful dialogue that several Ziji Collective groups engage in. Then each evening we went out into the picturesque colonial town of Pátzcuaro to have dinner and unpack all of what we had gathered over the day over food and conversation.
Coming out of the energetic, creative, slightly chaotic space of the Ziji Summit in Mexico City, the formal practice container of Casa Werma and this program felt like both a shock, and a welcome relief. There was more time to practice meditation, more time to be with our tender open hearts. We quickly opened into a vulnerable space, that although was sometimes painful, felt very real and present, and connected with the theme of being gentle and inclusive to all of our experience.
In the oasis of Casa Werma, it's sometimes easy to forget about the world that surrounds us, but we were given plenty of reminders: election season in Mexico meant trucks with blaring loudspeakers would sometimes pass by, and a few big thunderstorms rolled in at night, giving our campers in tents quite the harrowing experience. And during our last feast, a toast to Shastri Kranz praising his joyful demeanor was punctuated by a storm of fireworks from a nearby church celebrating a saint's day.
Marguerite Drescher led our final afternoon in an activity called "World Café," a form to harvest our collective sentiments and intelligence of our group, on the topic of the state of Ziji Collective and where we see it moving forward. Here's a few nuggets of what was shared:
"Helping the Sakyong's vision of Shambhala Centers being more than a place to meditate — community centers with a mindful view."

"Supporting each other in community."

"Making programs more accessible to young people, especially financially."

"Connecting young sangha groups with the older sangha in a way that both groups feel interested and comfortable."

"Sharing practices and wisdom between Ziji groups."
During our final ceremony, the teachers invited us to contemplate two aspirations: what we would like to bring home into our lives, and what we would like to leave behind. We were invited to post the former on the wall, and then place the latter into the fire. We then collectively roused aspirations for our group, before performing a last, rousing lhasang.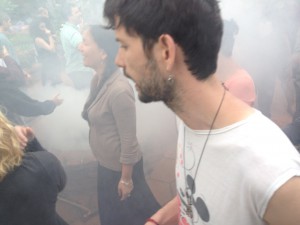 The final banquet was planned and run by the participants, featuring delicious local food and dessert! Each table was themed around a dignity. Perhaps most importantly, the back patio of the Casa Grande became the dance floor. The party went late into the night, where we got to enjoy the fruition of the week together. We got what little sleep we could, and then enjoyed one last early morning bus ride back to Ciudad de Mexico before our bittersweet goodbyes.
Now we move into our daily lives, with the training, connections, lungta and ziji that we cultivated in that week of training. It's here that the work begins to make enlightened society possible.
I, for one, can't wait!
Our thanks to…

* The Shambhala Trust for their generous grant to cover the basic retreat expenses.
* Casa Werma for hosting Ziji magnificently and offering the facilities at cost.
* The teachers for their fearless leadership and generosity.
* Local centers who were able to sponsor a young leader to attend the retreat.
* Shambhala Europe for a grant to partially cover the costs of participants from Europe.

The Ziji Leadership Retreat could only happen due to a circle of generosity, which you are invited to join….

Please help top off the Ziji European Scholarship to cover two participants in the Ziji Leadership from England and the Netherlands.
—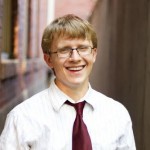 Corey Adkins is a member of the Ziji Collective from Portland, Oregon, where he helps lead the local youth sangha night. He also serves on his local Governing Council and on the Ziji Collective Global Council.
Photos from the Ziji Leadership Retreat by Katrin Welch.
Post Tags:
Casa Werma
,
Ziji Collective