Wednesday
Arts and Poetry
A Sacred Journey to Goa, India
COLUMN: Celebrating the Arts

article and photos by Melinda Rothouse
In March of 2015 I had the opportunity to travel to Goa, India, with two Shambhala friends, Whitney Hall from Austin, and Harish Rao from Los Angeles. I met Harish, whose family is from Goa, during Shambhala Art Teacher Training, and we had been talking for some time about collaborating to put together a contemplative arts retreat or workshop in India. This spring, we were able to plan a trip together to visit and start laying the groundwork for a possible program in Goa.
As Harish recently explained, "I have heard Shambhala referred to as a place where path, practice, and community come together. I have often felt this way about my native Goa, India. This stretches back to its Portuguese roots; travelers of divergent faiths and cultural backgrounds have arrived through the years to create a unique melting pot and diversity of art, spirituality, and music. It has long been a place where people have come to discover aspects of themselves they may never have known and connect with people from around the world seeking the same. It is a balance of Indian and Bohemian integration that is hard to describe, yet easy to experience. Goa, in some ways, is an untapped, secret court of riches waiting to be discovered by those who venture into its historical landscape."
For me, the journey held a quality of pilgrimage, with the anticipation of visiting a sacred land, not knowing exactly what I would discover or experience along the way. I've always dreamed of traveling to India, the birthplace of so many sacred traditions and practices, including meditation and yoga, which have deeply influenced my life's path. In addition to my meditation and contemplative arts practices, I work as a writing and creativity coach, and I am pursuing a Ph.D. in psychology, specializing in creativity studies. My dissertation research will explore how contemplative arts practices, such as those laid out in the Shambhala Art and Miksang teachings, facilitate healing, insight, and resilience in workshop and retreat settings. So for me the journey also represented a synthesis of my academic, research, and spiritual, explorations.
During the trip I took a number of miksang-style photos, through which I have attempted to convey some of my impressions of Goa. I find that the practice of contemplative photography helps to ground me in my present-moment experience and enhances my sense of wonder and everyday sacredness. It is always a delight to engage in contemplative photography practice while traveling, immersed in the sensory feast of new places, cultures, and experiences.
One of the most fascinating things about Goa is its unique cultural blend of Portuguese and Indian spiritual practices, language, and food traditions, all set within in the lush, tropical landscape of the western coast of India. As I reflect on our trip through the lens of my photos, what most touches me is the vibrancy of everyday life: the brilliant hues of fishing floats; an offering of flowers left in a church courtyard; the intermingling of people, animals, and nature. To me, the images convey a sense of beauty and vividness in the simple details of life, and a sense of appreciation.
Like any pilgrimage, the trip presented its own challenges, from the requisite violent stomach bug (which left me feeling simply happy to be alive, as I sipped on the ubiquitous Indian tonic of fresh lime soda), to the sensory overload of cars, mopeds, pedestrians, and animals all sharing the narrow streets, the sweltering heat and humidity, and the immense piles of trash left by the sides of the roads or burning in the open air. India is a place where where life, death, and decay commune and co-mingle much more fluidly than in the West. For example, one day we awoke to the sight of a dead dog left in the trash pile outside our hotel, which stayed there for several days in the searing heat, gathering flies, until a group of neighborhood men unceremoniously dragged it down the dirt road to the beach and out of sight. Another day I delighted in witnessing a sow and her piglets sifting through the same trash pile, a crow riding blithely on the sow's back. Above all, in Goa I experienced a palpable sense of richness perhaps best conveyed through images.
These first two photos are from Dona Paula, the area where we stayed, a small fishing village on the outskirts of Panjim, Goa's capital city:
………………………..To me, the fishing nets almost resemble strings of brilliantly colored pearls, the individual floats popping with vivid color. The canoes appear perched on the sand, waiting to be taken out to sea, carrying with them a sense of possibility and buoyancy. They recall the feeling of the warm, nourishing waters of Goa's beaches, of the sun sparkling on the water, of journeys to new lands.
Another photo shows a garland of flowers – carnations or marigolds—left on a low wall in the courtyard of a Catholic church we visited in Old Goa: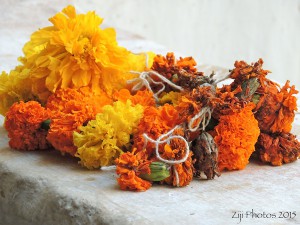 This church, the Basilica of Bom Jesus, actually houses the mummified remains of the missionary St. Francis Xavier, who traveled to and set up Catholic communities all over Asia. In contrast to the dark, musty interior of the basilica, and the aged glass casket housing the shriveled body of the monk, the courtyard felt like a breath of fresh air, the garland of flowers evidence of a fresh and living devotion.
Other memorable scenes include: a crow basking in the rays of the late afternoon sun: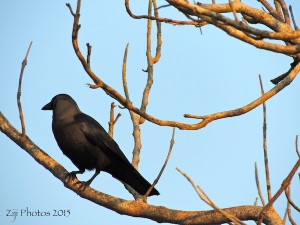 A working woman dressed in a brilliant yellow sari, carrying jugs of water, her children running along with her: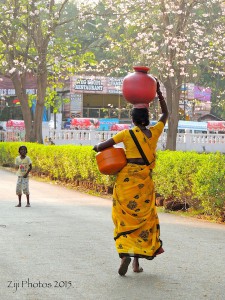 Palm fronds in green and brilliant orange at the seaside: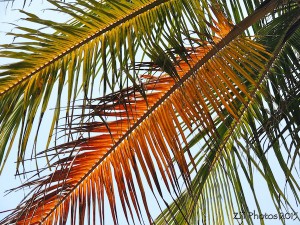 A stack of plastic crates and woven baskets by the side of a road, evidencing both manual labor and skilled handiwork: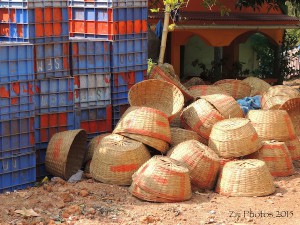 The rusty anchor of a ferry boat casting a shadow in the blazing mid-day sun: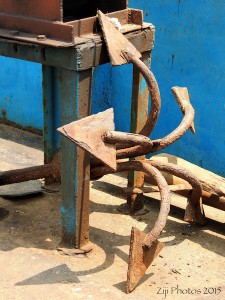 Fishermen tending their nets at the bounteous mouth of the Terekhol River: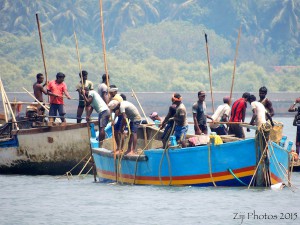 A pair of young lovers nestled into an alcove of an old Portuguese fort at dusk: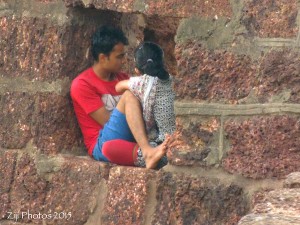 And finally, the sun drawing near to the horizon over the Arabian Sea, shrouded by a thin veil of wispy clouds, whispering to me of fullness, peace, and contentment: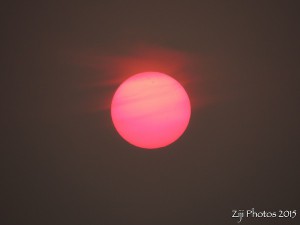 The journey to Goa filled me with a sense of resonance, healing, and deeper insight into the simple and varied ways that basic goodness manifests; we have only to open our senses fully to witness and appreciate it. I will always savor the taste of fresh papaya in the mornings, the delicately spiced seafood and curries, the warm tingle of masala tea on the tongue, the sight of water buffalo strolling idly through the streets, and the soft caress of afternoon ocean breezes. With its lush landscapes and languid pace, Goa offers the ideal location for a contemplative arts retreat, and I hope one day to help share the wonders of Goa with others in such a context.
Post Tags:
Celebrating the Arts
,
India